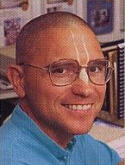 On page 51 of this issue, you'll find Indian Prime Minister Atal Bihari Vajpayee's speech at the opening of a new temple of the International Society for Krishna Consciousness (ISKCON). The Prime Minister's attendance at the opening shows that ISKCON is a prominent spiritual society in India today.
Before traveling to America in 1965, Srila Prabhupada had worked hard but without much success in his native India to revive interest in the teachings of Lord Krsna. After his success in America, Srila Prabhupada returned to India in 1970 to resume his work there. During subsequent world tours, he traveled to India often and inspired many of his countrymen in spiritual life.
Today ISKCON has more than fifty temples in India. In this issue you'll read about the fast-growing Radha-Gopinatha temple in Chowpatty, near downtown Mumbai. You'll also hear from a senior disciple who traveled with Srila Prabhupada during his 1970 tour of India. And you'll read how a visit to India in the 1970's helped solidify one young man's commitment to spiritual life.
There's lots more here too. We invite you to sample as much as you'd like. (You'll find a Glossary on page 15.)
Hare Krsna.
(Nagaraja Dasa, Editor)
Our Purposes
• To help all people discern reality from illusion, spirit from matter, the eternal from the temporary.
• To expose the faults of materialism.
• To offer guidance in the Vedic techniques of spiritual life.
• To preserve and spread the Vedic culture.
• To celebrate the chanting of the holy names of God as taught by Lord Sri Caitanya Mahaprabhu.
• To help every living being remember and serve Sri Krsna, the Personality of Godhead.