We've finally acknowledged the economic and health benefits
of vegetables but what about their spiritual value?
Vegetables. They used to be those small, wet mounds relegated to the outer limits of the dinner plate. They were sneered at, scorned, ignored, and shoved around by the forks of finicky children. Finally, they're coming into vogue.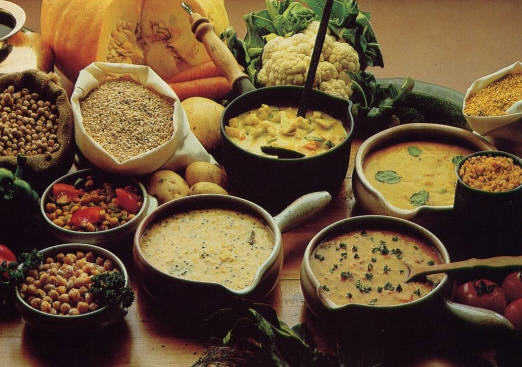 We like vegetables more these days because we understand more how good they are for us. Vegetables contain no cholesterol, little or no fat, and a wealth of vitamins, minerals, and fiber. Vegetables are also affordable. They come in a variety of tastes, textures, and colors, and they combine well with grains, beans, and dairy products. So it's not so surprising that vegetable dishes often receive starring roles in carefully considered meals.
If you're interested in expanding your vegetable-cooking repertoire to include some of those starring dishes, Lord Krsna's cuisine features an incredible variety, from the simple to the elaborate. You'll find vegetables cooked whole, mashed, pureed, diced, sliced, cubed, and shredded. You'll find them baked, sauteed, steamed, boiled, and deep- or shallow-fried. You'll find eggplants, tomatoes, and sweet peppers stuffed. You'll find vegetables in high-protein dal soups, in rice dishes, in flat breads, stuffed pastries, pakoras (fritters), even cooked in sweetened milk for dessert. The possibilities are many.
The ingredients of Lord Krsna's cuisine are not difficult to obtain. Essential seasonings like coriander, fresh ginger, and green chilies are grown and sold locally in most places. And what were once gourmet vegetables, like okra and white radishes, are now in most supermarkets. While you'll still have to visit a local Indian grocery to pick up a few spices, today Lord Krsna's divine cuisine is more accessible to you than ever before.
Now, maybe you don't like following recipes. Or maybe you prefer some other cuisine. Fine. But whether you follow a recipe or your imagination, whether you cook from the Eastern tradition or the Western, whether your. meals are simple or elaborate the crucial factor is your consciousness.
And the highest consciousness is to lovingly cook for the Supreme Personality of Godhead, Krsna. Besides making you transcendentally joyful, this Krsna conscious cooking will also gradually elevate you in spiritual life.
That's what my teacher, Yamuna-devi dasi, taught me. And she learned that from her teacher, Srila Prabhupada, the founder-acarya of the International Society for Krishna Consciousness. Before Srila Prabhupada introduced it, this type of cooking was unknown in the West. Its unique principles and its focus on pleasing Lord Krsna place it apart from and transcendental to all mundane cultures and cuisines including Indian. Cooking for Krsna and honoring the remnants as His prasadam (mercy) is a highly evolved form of spiritual meditation.
Want to try it? Don't forget that the ingredients must be pure vegetarian. Don't forget that the most important ingredient is your consciousness. And don't forget Krsna. If you'd like to know more about the transcendental art of cooking for Krsna, of if you'd just like to share your experiences, please write me.
(Recipes from The Hare Krishna Book of Vegetarian Cooking by Adi-raja dasa)
Creamy Vegetable Soup
(Milijuli sabji ka soup)
Preparation time: 45-50 minutes
Servings: 4-6
3 tablespoons ghee (clarified butter) or vegetable oil
2 bay leaves
1 teaspoon ground coriander
¼ teaspoon ground asafetida
1 ¼ teaspoons turmeric
1 ½ pounds assorted vegetables, washed and diced
5 cups water
1 ½ teaspoons salt
¼ teaspoon black pepper
3 tablespoons butter
2 tablespoons white flour
1 ½ cups hot milk
1. Heat the ghee in a heavy saucepan over a medium flame. Fry the bay leaves, coriander, asafetida, and turmeric for a few seconds. Then immediately add the diced vegetables. Stir-fry the vegetables for 4 to 5 minutes, allowing them to brown in spots. Now add the water, salt, and pepper. Cover, and simmer over a medium-low flame (stirring occasionally) until the vegetables are tender and soft. Leave the vegetables intact if you prefer, or mash them to a puree, or blend them in an electric blender. Remember to remove the bay leaves if you blend the soup.
2. While the vegetables are cooking, heat the butter over a medium flame in a small saucepan. Add the flour and stir-fry carefully for 1 or 2 minutes until it begins to brown. Add the hot milk. Whisk the mixture constantly for about 2 minutes until the sauce is fairly thick. Mix it into the soup and heat just until boiling. Remove from the flame and offer to Krsna.
Dal and Vegetable Soup
(Dal tarkari)
Preparation time: 1 hour
Servings: 4-6
1 cup mung dal or green split peas
4 cups water
2 to 3 teaspoons salt
4 bay leaves
1 cinnamon stick, 3 inches long, broken in half
2 teaspoons turmeric
1 tablespoon butter
10 ounces assorted vegetables, washed and cubed
2 tablespoons ghee or vegetable oil
½ teaspoon cumin seeds
2 dried chilies, crushed
1 teaspoon fresh ginger, grated ¼ teaspoon asafetida
1 tablespoon chopped coriander leaves
2 lemons, each washed and cut into 8 wedges
1. Clean and wash the dal. Drain. Combine the water, salt, bay leaves, and pieces of cinnamon stick in a large saucepan or heavy pot and bring to a boil. Put the dal into the boiling water.
2. When the water comes to a second boil, partially cover the pot, lower to a medium-low flame, and cook for about 20 minutes or until the dal grains are quite tender. Remove any froth that collects at the top. Then put in the turmeric and butter. Drop in the cut vegetables, replace the lid, and continue cooking on the same flame until the vegetables are tender and the dal is completely broken up. Let the dal simmer while you prepare the seasonings.
3. Heat the 2 tablespoons of ghee in a small frying pan and toss in the cumin seeds and the crushed chilies. Stir once. When the cumin seeds darken, put in the grated ginger and the asafetida and fry for a few more seconds. Swirl and tilt the pan, and then pour the seasonings into the dal in one swoop. Cover the pot immediately and allow the seasonings to blend into the dal for 4 to 5 minutes. Remove from the flame, garnish with fresh coriander leaves and lemon wedges, and offer to Krsna hot.
Vegetable Greens Cooked in Their Own Juices
(Sak)
Preparation time: 30 minutes
Servings: 4-6
2 pounds spinach or other leafy greens such as radish or broccoli leaves
2 tablespoons ghee or vegetable oil
½ teaspoon fennel seeds
½ teaspoon fresh ginger, grated
2 fresh chilies, seeded and minced
½ teaspoon turmeric
¼ teaspoon asafetida (optional)
2 potatoes, peeled and diced (optional)
1 teaspoon salt
2 tablespoons lemon juice
1. Wash the vegetable greens in severa changes of water and discard the tougf stems. Let the greens drain, then chop them into small pieces. In a medium-size sauce pan, heat the ghee and fry the fennel seeds grated ginger, and minced chilies together for 30 to 40 seconds. Add the powdered spices and fry them briefly. Then immediately drop in the diced potatoes and stir fry for 8 to 10 minutes, scraping the bottom of the pan as you stir. Let them brown to golden color on all sides.
2. Next, put in the chopped vegetable leaves, cover, and cook slowly for about 15 minutes or until the greens are cooked and the potatoes are soft. (Leafy greens that are juicy and cook quickly may not need additional water, but leaves that stay dry and need to cook longer will need a small amount of water.) Add the salt and lemon juice. Stir. Remove from the heat and offer to Krsna.
Vegetable Semolina
(Upma)
Preparation time: 35 minutes
Servings: 4-6
1 pound assorted vegetables
2 tablespoons ghee or vegetable oil
2 teaspoons cumin seeds
1 teaspoon black mustard seeds
'/2 teaspoon fenugreek seeds
2 teaspoons fresh ginger, grated
1 dried chili, crushed
6 curry or bay leaves
½ teaspoon turmeric
¼ teaspoon asafetida
5 cups water
¼ cup raisins (optional)
3 teaspoons salt
2 2/3 cups semolina or farina
1 cup butter or ghee
½ teaspoon black pepper
2 tablespoons lemon juice
2 tablespoons butter
1. Begin by cutting the vegetables. Green beans and peppers can be cut into pieces, carrots sliced, potatoes cubed, tomatoes quartered, and cauliflowers cut into flowerets. Heat 2 tablespoons of ghee in a saucepan over a medium flame and fry the cumin seeds, black mustard seeds, fenugreek seeds, curry leaves, ginger, and chili. After 30 to 45 seconds, toss in the turmeric and asafetida. Then add the cut vegetables. (If you want to give your upma a special taste and texture, lightly deep-fry the cubed potatoes, sliced carrots, and cauliflower flowerets and add them to the upma at the end.) Stir the vegetables until they brown. Then add a little water to prevent scorching. Lower the heat, cover, and simmer until the vegetables are tender. While the vegetables simmer, put the water and salt in a small pot to boil.
2. Melt the butter in a 5-pint saucepan, add the semolina, and stir-fry gently over a medium-low flame, stirring every time the bottom layer of semolina appears lightly browned. It should take 10 to 15 minutes for all the semolina to turn light brown.
3. When the grains are ready and the water is boiling, put the cooked vegetables into the grains and toss in the raisins. Then pour the boiling water into this mixture. Be careful! The mixture will erupt and sputter. Lower the flame. Stir several times to break up any lumps. Then cover the pot to trap the steam. Let the upma simmer on the lowest flame. After 5 minutes, lift the lid to see if the grains have absorbed all the water. If not, stir briskly several times and cook a few more minutes uncovered. Finally, add the pepper, lemon juice, and butter. Mix again and offer to Krsna.