The worldwide activities of the International Society for Krishna Consciousness (ISKCON)
World News
North America
Eight oxen and six teamsters are being trained in New Vrindaban by Balabhadra Dasa, head of the International Society for Cow Protection (ISCOWP). ISCOWP moved to New Vrindaban to help with a plan for a self-sufficient ox-powered village located on the road to Prabhupada's Palace. Balabhadra's goal is to train twelve teamsters and twenty-one oxen by next August.
Houston's top Hispanic radio station carries a monthly one-hour call-in talk show on Krsna consciousness. ISKCON congregational member Diana Hernandez hosts the show, which has attracted so many Spanish-speaking people to Krsna consciousness that the temple now has special Spanish lectures at the Sunday feast.
The Idaho Statesman ran a front-page article in August on Back to Godhead columnist Ravi Gupta, noting that Ravi, age 13, is a freshman at Boise State University with a 4.0 grade point average. The article told how Ravi credits his home life for his success. Marianne Flagg, the author, visited Ravi at his home the Boise temple, run by his parents. She wrote, "It's an environment steeped in love of learning, a devotion to the Hare Krsna religion and the culture of India, where his parents were born."
Devotees in Edmonton, Alberta (Canada), opened a temple they built in the suburb of Millwoods. Omkara Dasa and his wife, Yadurani Devi Dasi, both professional architects, designed the temple, which opened last October. The building has a temple on the main floor and a kitchen and hall in the basement. Each floor is three thousand square feet. The devotees have installed Deities of Radha-Krsna named Radha-Govindaji.
Great Britain
Judges at the Lord Mayor's Parade in Manchester, England, awarded first prize to ISKCON's entry in last summer's parade. Devotees dressed as Sita and Rama chanted Hare Krsna and danced beside the Padayatra bullock cart carrying the Deities of Sri Sri Nitai-Gaurasundara. The devotees also passed out prasadam to spectators along the parade route.
India
Mayapur was hit with floods at the end of September. The grounds of ISKCON's Mayapur Chandrodaya Mandir were under six feet of water for two weeks. The whole area within five to ten miles of the temple was flooded. ISKCON sent out up to eight parties every day to give people prasadam (food offered to Krsna) and medical aid.
The flood severely damaged the temple's gardens and destroyed thousands of rupees in crops. The project's managers are seeking financial assistance to get things back into shape for the Hare Krsna World Convention in February.
A show on Krsna consciousness now broadcasts from Bombay on Hindus Ind, the cable network owned by the Hinduja family. The half-hour program, called Aatma, shows paintings by ISKCON artists, video excerpts from ISKCON Television (ITV), classes and discussions by ISKCON speakers, and musical performances by celebrity artists.
The channel now reaches 800,000 viewers in Bombay and 200,000 in Delhi and will reach twelve other areas of India this year.
Children competed for prizes at the Bal Utsav ("Children's Festival") held at the ISKCON Auditorium in Juhu, Bombay, last August. The areas of competition: Vedic dance, Krsna conscious writing and drawing, singing of bhajanas (devotional songs), talks on Srila Prabhupada, and recitation of Bhagavad-gita verses. Well-known singers Mitali and Bhupinder Singh inaugurated the program.
Two candidates for mayor swept the road in front of Lord Jagannatha's chariot to start ISKCON Baroda's Rathayatra festival last summer. The procession included two brass bands, three decorated elephants, a chanting party of one hundred devotees, and a group of young people dressed as Sita-Rama, Radha-Krsna, and Nrsimhadeva. Sri Vagheshkumarji, a leader of the Vallabhacarya disciplic line, spoke at the festival. The Gujarati daily newspaper Sandesh, the largest newspaper in Baroda, gave front-page coverage to the festival.
Europe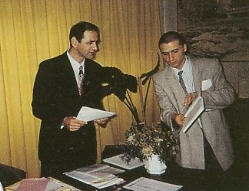 Sarajevans and officials from the United Nations and the Bosnian government flocked to a rare cultural event in war-torn Sarajevo last September a program put on by Hare Krsna devotees. Agence France Press, a news service from France, reported: "Several [of the people in attendance] said after the show that they intended to join the sect, whose local leader Mirza Ajic said had 15 members in Sarajevo and up to 400 sympathizers. UN spokesman Alexander Ivanko commented: 'If more people were members of Hare Krishna, there would probably be fewer wars.' "
Bihac, Bosnia, Mayor Adnan Algic welcomed Hare Krishna Food for Life volunteers from Pula and Zagreb to his city last October. The devotees presented him with copies of Srila Prabhupada's books. The meeting was televised on Bosnian TV.
During their stay in Bihac, the Food for Life volunteers gave out hot meals, bread, cakes, and fresh fruit, and then chanted Hare Krsna while people enjoyed the prasadam. The devotees also visited schools to give school supplies to students.
Hare Krishna Food for Life has now opened an office in Bihac and plans to regularly distribute prasadam there.
More than 250 devotees from Poland and around the world assembled last July for the 1995 Laksmi Narasimhadeva Traveling Festival Summer Tour of Poland. The tour lasted five and a half weeks and visited thirty-five towns and cities. Besides giving out books, prasadam, and the holy name daily, the devotees put on sixteen major outdoor festivals, with 2,000-5,000 people attending each one.
The tour party, organized by Indradyumna Swami, was made up of thirty devotees from Polish temples, devotees from fifteen other countries, children from the St. Petersburg, Russia, gurukula school, and many ISKCON congregational members.
ISKCON congregational members from Slovenia, Croatia, and Austria gathered for a five-day retreat in northern Slovenia last summer. They camped in 130 tents, with one large tent serving as a temple, kitchen reception, gift shop, and kindergarten. Several ISKCON leaders gave seminars on various areas of Krsna consciousness.
A house designed by one of Norway's most famous architects has become a Radha-Krsna temple. Arnstein Arnebert, who designed the Oslo City Hall, King Harald's private palace, and the UN Security Building in New York, completed the neo-classical Elsero house in 1923. Though protected by the Norwegian government, the stately mansion (20,000 square feet) in Oslo had been vandalized in recent years. When reporting on the devotees' purchase of the building, Aftenposten, Norway's largest newspaper, wrote, "Finally this mansion has gotten into the best hands, those of the Hare Krishnas."
The Indian ambassador to Norway, S. K. Mathur, spoke at the temple opening.
The building was donated to ISKCON by Navalanga Devi Dasi, a disciple of Harikesa Swami.
Commonwealth of Independent States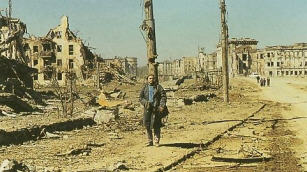 The Chechen Government of National Revival has allocated 320 million rubles ($70,000) to help Hare Krishna Food for Life in Chechnya, where devotees have already given out 400,000 prasadam meals without government aid. The grant was reported by Itar-Tass, the Russian Information Agency.
Two one-ton eggless cakes were served to Moscovites taking part in City Day last September. Organizers of Moscow's "birthday" celebrations had asked Hare Krishna Food for Life to prepare the cakes for the event. People lined up for hours to get a piece of the cakes. Food for Life volunteers also passed out free meals. An estimated 5,000-7,000 people received prasadam.
Africa
President Ketumile Masire of Botswana met with ISKCON leader Bhakti-tirtha Swami for an hour in September. The president, who had heard about Bhakti-tirtha Swami's two-week tour of Botswana and had asked to meet him, listened with interest as Bhakti-tirtha Swami gave him ideas for building Botswana on a spiritual platform. The president, a vegetarian, was also happy to receive a Hare Krsna cookbook.
The first public Krsna temple in Zimbabwe opened in September, in Marondera, a city of about 50,000 people and the capital of Mashonaland East Province. A local Gujarati business man, Ashok Gulab, initiated in ISKCON as Sat-cid-ananda Dasa, financed and oversaw the construction of the 2,500-square-foot building on his estate. The mayor of Marondera and 250 native Zimbabweans attended the opening.
Padayatra News
Padayatra Iceland
Six devotees spent a week walking in and around Reykjavik, the capital of Iceland, last July. Led by Parasurama Dasa of the UK Padayatra, they walked about fifteen kilometers each day, chanting Hare Krsna and passing out books. Although summer in Iceland, the temperatures were around 10 degrees C (50 degrees F). The Padayatra was covered on local television and in the area's two largest newspapers.
Padayatra Canada
For two weeks last July, 10-50 devotees walked 108 miles in and around Vancouver, British Columbia. They chanted and passed out books and leaflets during the day and held programs at the homes of hosts in the evening.
Padayatra Israel
Twenty-six devotees performed a 70-kilometer, five-day Padayatra in Israel last September. They walked around the Sea of Galilee, which is both a place of pilgrimage for Christians and a summer resort area that draws people to the beaches during the holidays. Vacationers happily received the devotees, sometimes joining the classes and aratis (Deity-worship ceremonies) held on the beach.