Are pets part of our family, or are they our only family?
Have you ever fought with your neighbours? Perhaps yes. It's not unusual. But what if you were sen tenced to death for this?
In USA Mr. Duke Menendez was awarded the death sentence for fighting with his neighbour. Injustice! Too severe a punishment for a small offence – our readers might think.
Grief-stricken relatives of Duke appealed to the Supreme Court, but lost. As a last resort they have appealed to the public (see picture on next page ). They are securing online support from the people to help them save Duke.
We wish them luck. Oh! But before I forget , let me remind you that the protagonist in this story, Mr Duke, is a dog! (left)
The peace loving Duke (as his caretakers describe him), has in the past two years ferociously attacked his neighbour three times . Although this was not considered a serious crime in the American constitution till recently, it is now considered an offence punishable by death penalty.
When I heard about this issue of global concern and read the media frenzy it aroused, it made me laugh. And cry.
Now in India, as in the West, the pet care industry is booming like never before. Beauty salons and barbers – err! I mean hair care experts, speciality restaurants, boutiques, even psychiatrics for pets, have become as common as the street corner pan shop. The world, at last, has realized their importance.
TO LOVE AND BE LOVED
My heart reaches out to relatives to Duke Menandez. But as a member of the Hare Krsna movement, I also wish to present the Vedic view point on the phenomenon of keeping pets.
To give love to someone and to receive love is the natural tendency of the spirit soul. But in a world based on selfishness these loving tendencies find no reciprocation. Egoistic desires creat e a deep divide between two individuals. People fear to create relationships with each other because of certainty of the pain of separation. Gone are the days when joint families lived under one roof. Now even a mansion hosting just a couple becomes suffocating – it's either you or me. Families are crumbling. Elderly parents are sent to old age homes; husbands and wives are divorcing as if marriage is a play of dolls; 'mothers' so conveniently kill their own babies as if nothing has happened.
So when human relations become so stressful and intolerable, we take shelter of those living entities whose false ego does not clash with us. The pet becomes the family member who is universally loved by everyone in the family, and who in turn loves everyone else. In the modern family he becomes the 'missing link' of love.
Some one may ask, "What is wrong with this? If I can not love another human, why can't I love my dog or cat? I am not harming anyone?"
It is however not all that simple.
The purpose of human life is not just to enjoy our current state of existence but to plan for life ahead. And this includes planning for life after death. The perfection of human life is achieved if one leads a God conscious life and at the moment of death quits his body remembering God. Then one can be assured of permanent residence in the kingdom of God. However, mundane attachment to pets that overcomes our natural love for God can be a big stumbling block to reaching the goal of life.
Lord Krsna describe in the Gita (8.6):
yam yam vapi smaran bhavam
tyajaty ante kalevaram
tam tam evaiti kaunteya
sada tad-bhava-bhavitah
"Whatever state of being one remembers when he quits his present body, in his next life he will attain to that state without fail."
We cannot push thoughts that we have meditated upon all our life from our consciousness at the hour of death. Many people say, "OK. I have to remember the Lord at the time of death. I will do that. Let me enjoy now." But this is like a student who does not read the whole year and opens the textbook just a day before his exams .. No points for guessing his result.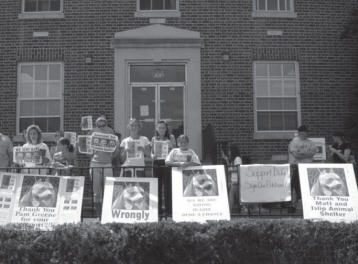 An example is a story from the fifth canto of Srimad-Bhagavatam. King Rsabha's son , Bharata Maharaja, in the prime of his youth left his opulent kingdom, beautiful wife, lovely children , and royal comforts to engage in devotional service in the forest. Just before he reached the perfection of his practice, he became attached to a deer. So attached that he began to neglect his regulated sadhana. At the time of his accidental death, he was immersed in the thoughts of the deer, so even after so much hard labour he failed the test and had to accept the body of a deer in his next birth.
This does not mean that the Hare Krsna devotees hate dogs. The Bhagavad-gita describes the vision of a devotee: "The humble sages, by virtue of true knowledge, see with equal vision a learned and gentle brahmana, a cow, an elephant, a dog and a dog-eater [outcastel." (B.g 5.18)
We respect animals by not eating them. We know that as God loves us His sons and daughters, similarly He loves other living entities also. A devotee does not consider himself greater than other living entities born in other species, but he considers himself fortunate that not only he h as received the rare human life but also received the valuable association of devotees. A pride less devotee with a heart full of gratefulness and compassion tries his best to help all the living entities.
Still there is one quality in dog that makes it unique amongst the animals. That is its faithfulness. Srila Prabhupada writes in the purport of text 4.29.30-31 of Srimad Bhagavatam: The living entity's position is herein likened to a dog's … An intelligent human being, however, can understand that if he has to live the life of a dog, he had best become Krsna's dog. In the material world a dog is sometimes elevated and is sometimes on the street, but in the spiritual world, Krsna's dog is perpetually, eternally happy. Srila Bhaktivinoda Thakura has therefore sung: Ohe vaisnava thakura tomara kukura baliya janaha more. In this way Bhaktivinoda Thakura offers to become a Vaisnava's dog. Oh Vaisnava Thakura please accept me as your dog.'
Srila Prabhupada continues: "A dog a lways keeps himself at his master's door and does not allow any person unfavorable to the master to enter. Similarly, one should engage in the service of a Vaisnava and try to please him in every respect." Following in foot steps of Srila Bhaktivinoda Thakura we should aspire to be a servant dog of the Vaisnava. If we become the dogs of the Vaisnavas and the Lord, then they will also strive to save us from maya just like the relatives of Duke Menendez are trying to save him.
Vamsi Vihari Dasa is the editor of Bhagwad Darshan, the Hindi edition of Back to Godhead. He serves full time at ISKCON Mumbai.