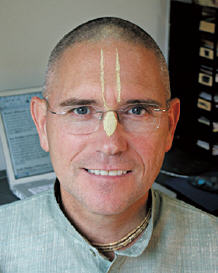 ISKCON's New Vedic Cultural Centre in Pune, Maharashtra, sits on six landscape acres and comprises 200,000 square feet of built-up space, including two temples. While visiting Pune in 1976, Srila Prabhupada requested a prominent businessman to build a temple there. Thanks to an ever growing congregation inspired by a core of dedicated devotees, Prabhupada's request has now been fulfilled.
The inauguration of a stunning project like the new Pune temple is a time of joyous celebration. Devotees spontaneously glorify Lord Krishna, acknowledging that without His blessings, the successful completion of the project would have been impossible. While devotees know that whatever Krishna chooses to do is always for our spiritual benefit, how do we react when He sends tragedy our way? In the context of an event that shook the Mumbai ISKCON community last year, Caitanya Carana Dasa, in "Tears of Sorrow, Tears of Gratitude," helps us see the good in the apparently bad.
Krishna's deepest motive is His limitless love for His devotees. As Rasa Purusa Dasa shows in "Krishna Controlled by Pure Devotees," Krishna's devotion to His servants inspires Him to serve them, a reversal of His normal status, and a display of one His most endearing qualities. Hare Krishna
Our Purposes
• To help all people discern reality from illusion, spirit from matter, the eternal from the temporary.
• To expose the faults of materialism.
• To offer guidance in the Vedic techniques of spiritual life.
• To preserve and spread the Vedic culture.
• To celebrate the chanting of the holy names of God as taught by Lord Sri Caitanya Mahaprabhu.
• To help every living being remember and serve Sri Krishna, the Personality of Godhead.