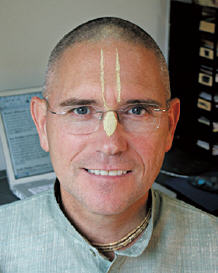 Members of local congregations of the International Society for Krishna Consciousness are working together in cities around the world to help spread Lord Krishna's teachings. One of the most conspicuous endeavors by ISKCON's congregation is the building of temples, the creation of beautiful spiritual havens for Krishna devotees old and new. In this issue we spotlight the new temple in a place many of us may never have heard of: Gaborone, the capital of Botswana, a country just north of South Africa.
In this issue we also hear again from world-traveling preacher Indradyumna Swami. Over the years, we've read about his visits to Siberia, Java, and the Amazon rainforest, to name just a few places where he has taught Krishna consciousness. This time he's in Macedonia, delivering a talk in the place of Alexander the Great and Mother Teresa.
The worldwide reach of Krishna consciousness attests to its transnational appeal. And as Nikunja Vilasini Devi Dasi shows in "Touched by Srila Prabhupada's Books," that appeal is trans-generational as well. That's because, as Mukundamala Dasa explains in "The Laws of Bhakti," Krishna consciousness is a science whose validity we can all test for ourselves. Hare Krishna.
Our Purposes
• To help all people discern reality from illusion, spirit from matter, the eternal from the temporary.
• To expose the faults of materialism.
• To offer guidance in the Vedic techniques of spiritual life.
• To preserve and spread the Vedic culture.
• To celebrate the chanting of the holy names of God as taught by Lord Sri Caitanya Mahaprabhu.
• To help every living being remember and serve Sri Krishna, the Personality of Godhead.