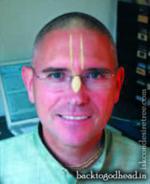 Surapala Dasa, from Poland, wanted urgently to spread Krishna consciousness, but when he and his wife, Krishna-mayi Devi Dasi, moved to America, they had no idea they'd end up starting a temple in the spiritually challenging atmosphere of Las Vegas. Krishna blessed their endeavor, however, and you can read about the progress they've made in "Krishna's New Playground." Lisa Chastain, one of the beneficiaries of their efforts, tells her story in "I Found Krishna in Las Vegas."
This issue also celebrates a milestone for Back to Godhead magazine: Ten years ago some of our staff members launched the website Krishna.com. Now run from the BTG offices by second-generation Hare Krishna devotees, it has become an online destination for millions of devotees and anyone else who wants to learn more about Krishna.
In the last issue, Satyaraja Dasa introduced us to the first five of the twenty-four gurus mentioned in the Srimad-Bhagavatam. This time he writes about the other nineteen in "A World of Gurus." Visakha Devi Dasi tells us about "The Magic of Hearing About Krishna and His Devotees," and Navina Syama Dasa discusses the three gunas, or modes of material nature, the cosmic forces that influence everything we do.
Hare Krisha.-Nagaraja Dasa, Editor
OUR PURPOSES
•
To help all people discern reality from illusion, spirit from matter, the eternal from the temporary.
•
To expose the faults of materialism.
•
To offer guidance in the Vedic techniques of spiritual life.
•
To preserve and spread the Vedic culture.
•
To celebrate the chanting of the holy names of God as taught by Lord Sri Caitanya Mahaprabhu.
•
To help every living being remember and serve Sri Krishna, the Personality of Godhead.