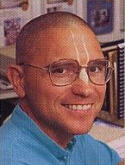 In This Issue we present Kalakantha Dasa's article "The Bittersweet Taste of Spiritual Separation" to commemorate the twenty-fifth anniversary of the passing of His Divine Grace A.C. Bhaktivedanta Swami Prabhupada, the founder/acarya of the International Society for Krishna Consciousness. Though not directly about Srila Prabhupada, the article, most of which is a poem, shows the intense longing devotees feel when the Lord or His pure representative leaves their vision. Disciples and followers of Srila Prabhupada honor the anniversary of his departure by rededicating themselves to his mission, guaranteeing themselves eventual reunion with him.
"Srila Prabhupada's Gifts to Malaysia" highlights some of Prabhupada's contributions to the world during the twelve years he spearheaded the Hare Krsna movement. Prabhupada spent only a few days in Malaysia, but he successfully planted seeds of Krsna consciousness that are bearing fruit today.
Prabhupada delivered his supreme spiritual gifts first to the West and then to the rest of the world. Those who feel indebted to him try to repay him by following his example. In this issue we travel with a group of intrepid disciples and granddisciples as they brave racial tension to carry the message of Krsna to Zulu homelands.
Hare Krsna.
(Nagaraja Dasa, Editor)
Our Purposes
• To help all people discern reality from illusion, spirit from matter, the eternal from the temporary.
• To expose the faults of materialism.
• To offer guidance in the Vedic techniques of spiritual life.
• To preserve and spread the Vedic culture.
• To celebrate the chanting of the holy names of God as taught by Lord Sri Caitanya Mahaprabhu.
• To help every living being remember and serve Sri Krsna, the Personality of Godhead.