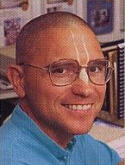 THIS ISSUE we visit the temple of Ranchor Raya in western India, where Lord Krsna is lovingly remembered for once having fled from battle, apparently out of fear. Of course, Lord Krsna is never afraid of anything; His apparent desertion served several purposes, especially His desire to attend to a confidential letter from Rukmini, His first wife.
Unlike Lord Krsna, we're subject to fear, especially today, in light of the recent terrorist attacks in the United States. In "How Scared Should You Be?" Arcana-siddhi Devi Dasi writes about how she's dealing with fear and how we can take help from the Vedic literature to feel safe in higher knowledge.
Overcoming fear of bodily harm through philosophy is one thing. But what about the fear of failure in spiritual life? With his characteristic insight, Satsvarupa Dasa Goswami takes on this topic in "Facing Our Reality, Living With Our Ideals."
Generally, the ultimate thing we fear is death. But devotees of Krsna, assured of a better destination, tend to approach death with calm. In "Where to Die?" Sarvabhauma Dasa gives some examples of ISKCON devotees who passed away fearlessly in the loving company of fellow servants of the Lord.
Hare Krsna.
(Nagaraja Dasa, Editor)
Our Purposes
• To help all people discern reality from illusion, spirit from matter, the eternal from the temporary.
• To expose the faults of materialism.
• To offer guidance in the Vedic techniques of spiritual life.
• To preserve and spread the Vedic culture.
• To celebrate the chanting of the holy names of God as taught by Lord Sri Caitanya Mahaprabhu.
• To help every living being remember and serve Sri Krsna, the Personality of Godhead.