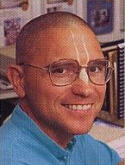 This Issue was in its final stages of production the day terror struck in New York and Washington. At the Back to Godhead office, we watched as one of the twin towers collapsed on live television. We knew at once that thousands had died.
Although I hesitated to throw the magazine off schedule, I felt that BTG couldn't wait to say something about this tragedy. Then we began receiving submissions from devotees who had spontaneously written about the attacks and the consequent suffering. We decided to free up some pages (including my editorial page) to bring you the thoughts of some devotees in the wake of the events.
The three related articles appear under the title "Feelings and Philosophy: Responses to the Terrorist Attacks." The first is a letter from Hridayananda Dasa Goswami to his disciples, stressing the need for true compassion in response to the events. Yogesvara Dasa, who works in Manhattan and was there the morning of the attacks, gives his perspective as both a New Yorker and a devotee of Krsna. Finally, Kalakantha Dasa sent us an essay he wrote originally for his own benefit a kind of therapy, he said.
Hare Krsna.
(Nagaraja Dasa, Editor)
Our Purposes
• To help all people discern reality from illusion, spirit from matter, the eternal from the temporary.
• To expose the faults of materialism.
• To offer guidance in the Vedic techniques of spiritual life.
• To preserve and spread the Vedic culture.
• To celebrate the chanting of the holy names of God as taught by Lord Sri Caitanya Mahaprabhu.
• To help every living being remember and serve Sri Krsna, the Personality of Godhead.