People in Malaysia today are reaping the benefits of Srila Prabhupada's presence there thirty years ago.
YEARNING TO spread Krsna consciousness throughout the world, Srila Prabhupada circled the globe fourteen times. His travels took him to parts of Southeast Asia, including Brunei, Thailand, Malaysia, Singapore, Indonesia, and the Philippines. Some countries welcomed him with open arms and accorded him full honors. In Malaysia, for example, the sole Indian minister in the cabinet, Tun V. T. Sambanthan, took a personal interest in Srila Prabhupada's travel schedule and offered to help in many ways.
Malaysia has a migrant population from South India of more than two million. The British brought Hindus to Malaysia during the colonial era to build roads and railways and work on plantations owned by private entrepreneurs. Remnants of Vedic traditions are still seen in many of their customs, such as marriages, the consecration of temples, house-warming ceremonies, and the offering of oblations to departed forefathers.
Srila Prabhupada visited Malaysia from May 5 to May 9, 1971. Before his arrival, Vaisnavism was not well known here. Soon after Srila Prabhupada's visit, a group of brahmacaris (celibate students), including a young Singaporean Chinese man who was later initiated by Srila Prabhupada, spent at least six months touring the country and teaching Krsna consciousness. The local people received them well, and their programs attracted capacity crowds. But the fruits of their untiring efforts were not to be realized until a decade later.
The early disciples set about explaining Lord Krsna's actual position according to the scriptures and painstakingly helped clear up many misconceptions about Him. While many people turned away from Krsna consciousness because of its strict principles, some were attracted for the same reason. Those who took it up began teaching friends, relatives, and family members, and to this day it is common to see families and their friends becoming adherents to Krsna consciousness together.
Srila Prabhupada's books transformed lives in Malaysia, just as they have all over the world. The Malaysian branch of the Bhaktivedanta Book Trust has published some of Prabhupada books and helped translate some of them into the South Indian language Tamil. During the various local Hindu festivals, there is always a great demand for Srila Prabhupada's books.
Chanting, Prasadam, And Festivals
The chanting of the Hare Krsna maha-mantra, another gift of Srila Prabhupada's, has greatly benefited the people of Malaysia. After taking up the chanting, many Malaysians have become vegetarians and given up bad habits.
Srila Prabhupada instructed his disciples to accept only Krsna-prasadam, food prepared for and offered to Krsna. This has become a standard practice all over the world. Likewise in Malaysia: One can walk into any ISKCON temple and expect to be served sumptuous Krsna-prasadam. Outside the temple, prasadam distribution goes on through the ISKCON Food for Life program. Whenever there is a need for mass distribution of food be it a festival or a disaster Food for Life is ever ready to serve out piping hot meals. Devotees also regularly deliver prasadam to schools, orphanages, and retirement homes. Many benevolent and well-to-do members of the public contribute generously to this program. At markets, Chinese vendors of fresh vegetables readily agree to donate large amounts of their stock for this cause.
Yet another gift that has transformed people's lives in Malaysia is Hare Krsna festivals. As a child in Calcutta, Srila Prabhupada celebrated Rathayatra, "The Chariot Festival." And as the spiritual master of the Hare Krsna movement, he bade his disciples to rejoice in this festival in as many cities as possible. In Malaysia fifteen Rathayatras are held annually, probably the highest in the world. Many people, including non-Indians, are now familiar with the bright canopy of mixed hues hovering over the tropical sky. As the gaily decorated chariot winds its way through the streets, carrying the beaming deities of Lord Jagannatha, Lord Baladeva, and Subhadra Devi, the instant response from the spectators is "Hare Krsna!" Thus Srila Prabhupada showed how to give the Lord's mercy to thousands of people even without their asking.
Festivals such Krsna Janmastami and Rama Navami were already being celebrated in the Hindu community on a small scale, but with the advent of Srila Prabhupada these festivals were solemnized with greater pomp and splendor. For instance, at the annual Krsna Janmastami celebration in Kuala Lumpur, the capital of Malaysia, at least five thousand people line up to see the worship.
The Vedic philosophy advocates a life of simplicity and tells us how to solve modern economic ills by protecting the cows and depending on Moth-er Earth's natural fertility. To demonstrate the practical values of "simple living and high thinking," Srila Prabhupada started farms all over the world. Malaysia has a large farm outside Kuala Lumpur. Devotees dismayed with life in the cities, which are becoming increasingly hellish, opt to go there for a homespun life. While some have dedicated their lives to this cause, others take a break from the rat-race and spend a few days at the farm enjoying the wonders of nature.
With the burgeoning of centers all over the country and the rapid increase of congregation members, a new phenomenon has developed in ISKCON Malaysia: the annual National Convention. It offers an opportunity for devotees from all over the country to take part in dramas, dances, bhajanas, seminars, and spiritual discourses. A recent convention, held at the seaside resort of Port Dickson, drew devotees from as far as China, Taiwan, and Hong Kong. The number of participants 835 made it one of the largest festivals after ISKCON's international Gaura Purnima Festival in Mayapur.
Countrywide Congregation
Because Srila Prabhupada's teachings are universal, transcending manmade boundaries like race, religion, and language, they attract people all over the world. Malaysia is no exception to this transcendental exercise. Apart from the Indians, members of the Chinese community are also coming forward to join the movement.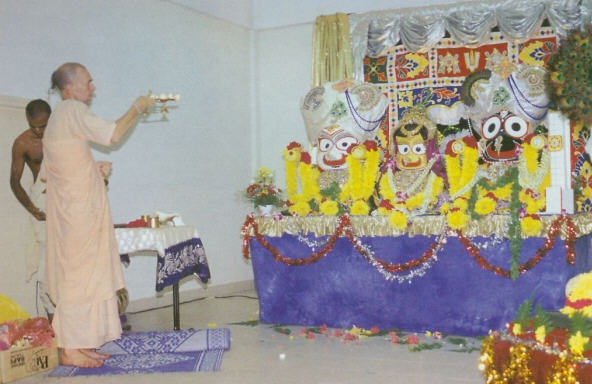 As a tribute to the success of Srila Prabhupada and his movement, a temple stands in the capital city of Kuala Lumpur, and nearly all other major towns have either temples or organized congregations where weekly classes on the Bhagavad-gita are held. The temples offer a program by which aspirants can enroll and seek spiritual progress at different levels. The congregational groups of which there are more than a hundred around the country help guide genuine seekers. Congregation members take part in a host of activities, such as festivals, house programs, book distribution, and Food for Life. Senior congregation members interact with newcomers in a loving and caring spirit and offer supervision when needed.
The Malaysian government has officially recognized the need to help young Indian residents who are increasingly taking to a life of crime and gangsterism. ISKCON is now working closely with Malaysian Hindu Sangam, the official body authorized to discuss with the government all matters concerning Hinduism. Thanks to this alliance, ISKCON devotees counsel convicts in prisons and drug addicts at rehabilitation centers.
When Krsna consciousness first arrived in Malaysia, many considered it a queer religion and the behavior of its followers strange. But over the years that opinion has reversed. People of different occupations and walks of life students, teachers, doctors, lawyers are becoming active members of the movement. Srila Prabhupada's disciples and grand-disciples are carrying on his work. In Malaysia, Hare Krsna is here to stay.
Adi Purusa Krsna Dasa and his wife, Lokanandini Devi Dasi (Dr. Latha Anand), are medical doctors and disciples of His Holiness Jayapataka Swami. They have been serving ISKCON in Malaysia for twenty years. Adi Purusa Krsna was a leader in the campaign to open the temple of Sri Sri Doyal Nitai-Gaurahari in Teluk Intan last year. He now serves as an advisor to the temple committee