The French army wanted him but so did Krsna.
BORN INTO a French Jewish family on July 4, 1957, I had the privilege to receive a strict religious education throughout my childhood. That training would prove helpful to me in my spiritual search.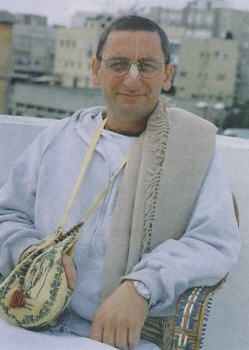 Paris is not the ideal place to spend one's teenage years, but it offered me an opportunity to learn the hard facts of life. After many failures in trying to enjoy life, at age fifteen I felt a great urge for spiritual emancipation. At seventeen I gave up meat-eating and turned to the East for answers.
Lord Krsna came into my life unexpectedly just before I started my first job, as a clerk. I had decided to get myself a motorcycle to ride to work. A local dealer had exactly what I wanted, but for some reason my father decided to take me to a dealer in the next suburb, Fontenay aux Roses. The shop was right across the street from what was then the Paris Hare Krsna temple.
I saw two devotees walking down the narrow street, which was filled with the strong fragrance of incense from the temple's Spiritual Sky incense factory. The effulgent devotees drew my full attention, and my heart felt an intense spontaneous desire to be with them. My vision ended in an instant, though, as I suddenly found myself pushed brusquely inside the shop by my father, who was muttering about strange aliens.
But it was too late. I couldn't keep the devotees out of my mind, and my attraction to them only grew.
When Srila Prabhupada came to Paris and lectured at the Salle Pleyel in 1975, I wanted to go but my father objected. He said I was too young, but I know that he saw my attraction to Krsna consciousness as an insult to our Jewish family tradition.
Through the education and training my father had given me, I had no doubt gained faith in the existence of God as the supreme father and controller of everything. But looking into the daily practices of Judaism, I found no blissful satisfaction to encourage me to pursue it further. So, shortly after Srila Prabhupada's visit, at the age of eighteen I left for India in search of my spiritual identity.
In Search of the Real India
National borders from Europe to India were open then, and for many young people the journey to India was the road to heaven. The Magic Bus would take you from Amsterdam to Katmandu for only $100. No seats. Everyone sat on the floor. The bus was full of young hippies running away from Western culture to the culture of drugs and so-called gurus India had to offer. But it also had more to offer than that. Waiting to be found lay the timeless Vedic culture and Krsna consciousness.
After a rough journey through Greece, Turkey, Iran, Afghanistan, and Pakistan, I arrived in Amritsar, Punjab, in June 1977, and then made my way to New Delhi, barefoot and penniless. Srila Prabhupada was in Vrndavana, and I used to meet his disciples in the market across from the New Delhi railway station (Paharganj). They would invite me to the Delhi temple and suggested I go to Vrndavana. I knew that if I ever put even one foot in the temple, I'd want to join the devotees and I'd lose my independence. And I knew that if I went to Vrndavana, Prabhupada would get the better side of me and I would have to bid farewell to all my material conceptions and plans.
I wasn't ready yet, so I booked a seat on the next train to Varanasi, where I stayed at the house of a sitar maker and spent a month learning how to play the sitar. Back in Paris my parents were getting regular visits from the military police, because I was of age for national service. My father sent me repeated letters asking me to return quickly and avoid further complications with the army.
I was well settled in Varanasi and lived by the bank of the Ganges. I felt I was midway to the spiritual sky. But I knew I had to deal with the army. At the same time, the idea of becoming a devotee was growing stronger; I knew I had to get a spiritual master. To deal with both matters, I decided to go back to France.
Catching buses, hitchhiking through the Afghani and Iranian deserts, and even walking through the mountains, I finally reached Paris, only to find my anxious parents expecting me to become a soldier. My plan was different. I wanted to avoid military service and instead engage in devotional service.
When I presented myself at the recruiting center, I carried a set of chanting beads and a Srimad-Bhagavatam I had bought from devotees on the street. The two days of physical tests went well, but I asked for an appointment with the psychologist. When I entered his office, I found myself alone with a tall man in a white shirt, wearing thick, square glasses on his broad face. He looked at me intensely, but he didn't seem concerned that my uniform included a bag of chanting beads hanging around my neck. I prayed to Lord Krsna to help me find the right words and promised that if He'd get me out of the situation, I'd become His devotee.
The psychologist asked me what was hanging around my neck. I showed him the beads and explained to him they were for chanting the names of God. He opened his eyes wide and then asked what book I was reading. I showed him the Sanskrit on the pages of Srimad-Bhagavatam. I went on to explain that I had just been to India looking for a spiritual path and that although I was not against military service, I had a more important mission to fulfill.
His reply was quick and brief: "We can provide you with all facilities for your worship in the army. You're fit; you should be drafted."
I saw no promising signs on his face or in his words. So I tried again. I said that bhakti-yoga is practiced twenty-four hours a day. I pleaded that this was an urgent phase in my life and I wasn't trying to avoid my national duties.
The words yoga and duty seemed to move him. He paused for a while and then briskly grabbed the rubber stamp on his desk, pressed it onto his red ink pad, and after holding it briefly in the air, abruptly marked a sheet of paper.
He held the paper out to me, looked straight into my eyes, and said, "Here, my boy, you're free. Become a spiritualist and a yogi, but don't be a hypocrite. Do it properly all the way."
I just couldn't believe what I'd just heard. I thanked him and ran out the door towards the exit, excitedly waving the paper in the air. I jumped onto the train and went home to celebrate my freedom. My parents were happy because they felt that now was the chance for me to become serious in life and take the right direction.
Yes indeed, but this time it would be Krsna's direction. I began to go to the temple every week and to attend festivals. The Paris temple was filled with many wonderful devotees. Srila Prabhupada was very ill at that time, but he somehow made a last trip to the West, visiting the Bhaktivedanta Manor, his temple outside London. There was a chance that Prabhupada would visit Paris, so I excitedly thought of finally meeting him. My first temple service was to paint Prabhupada's bathroom, just in case he decided to come. But by Krsna's desire, Prabhupada returned to Vrndavana from London.
Moving In
One main inspiration for me from the beginning was the association of Indradyumna Swami, who was then married, not yet having accepted the renounced order. For me, he was the example of a devotee who had already reached the spiritual world. His strict practice of Krsna consciousness and his enthusiasm in leading us in the chanting of Hare Krsna touched me deeply.
One day as I was walking out of the temple to go home, he called out to me and said, "You've been coming for a while now. You should begin to chant rounds," * (Devotees chant on a string of 108 beads, reciting one Hare Krsna mantra on each bead. One set of 108 mantras is called a round. Srila Prabhupada set the rule that initiated devotees in the Hare Krsna movement must chant at least sixteen rounds every day.) and he handed me a set of brand-new beads.
He also kindly invited me to attend the Janmastami festival (Lord Krsna's appearance day), soon to be celebrated at ISKCON France's New Mayapur farm. I accepted both gestures as the mercy of Srila Prabhupada.
From that time on I knew that nothing else would hold me back from moving into the temple. I finally decided to move into the devotees' association for the rest of my life. On Friday, September 20, 1977, at 10:30 A.M., by the grace of Srila Prabhupada I became a devotee of Lord Krsna at the Hare Krsna temple in Paris, France.
Radha Carana Dasa is a disciple of Sripada Tamal Krsna Goswami. Radha Carana has served in many parts of the world and is now helping spread Krsna consciousness in Israel.