Cook for Krsna and rise above religious dogmas and cultural turbulence.
I was browsing in the cookery section of our local library the other day when I came across three passages that revealed a sour irony: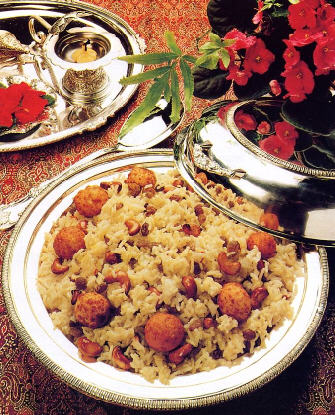 1. "Although thousands of years old, man's natural diet has been slandered, ridiculed, and feared by people throughout the ages. And despite its proven economy, nutritional benefits, and harmlessness toward life, the vegetarian diet has been largely ignored in the West in favor of one containing meat" (Eating for Life, by Nathaniel Altman).
2. "Flesh-eating by humans is unnecessary, irrational, anatomically unsound, unhealthy, unhygienic, uneconomical, unaesthetic, unkind and unethical" (Simple Food for the Good Life, by Helen Nearing).
3. "Another friend was a Muslim from Uttar Pradesh, known to bring beef cooked with spinach, all deliciously flavoured…. Many of us were Hindus and not supposed to eat beef. So we just pretended not to know what it was. Our fingers would work busily around the tender meat that covered the bones and our cheeks would hollow as we sucked up the spicy marrow from the marrow bones" (Indian Cooking, by Mudhur Jaffrey).
The irony? On the one hand. Westerners have given up their inherited cuisine (which, some say, is harder than changing marriage partners), to embrace vegetarianism, while on the other hand, an Indian has rejected her traditional vegetarian diet as unsubstantiated religious dogma and has delved into meat-eating with the zeal of a giddy young girl on her first date.
I can understand Madhur Jaffrey's girlish "excitement" in breaking the tenets of her religion. My father (Jewish) and my mother (Anglican) told me that when they were children they had to follow strict religious regulation. My Jewish grandmother kept two sets of silverware, turned the lights off at five on Fridays, and insisted that my father master Hebrew. My Anglican grandmother had my mother go to Church each Sunday to pray and confess, lest she risk eternal damnation. When my parents became adults, they both broke free from the grip of religious ritual and became atheists. As Srila Prabhupada writes, "Religion without philosophy is sentiment, or sometimes fanaticism…." Being untrained in the philosophical aspect of religion, and being neither sentimental nor fanatical, my parents, like Madhur Jaffrey, decided that religious practices were optional.
When one gives up religious tenets, however, and decides intellectually and philosophically what should and should not be eaten, the menu becomes most muddled. In fact, there is a growing war over the dinner table. Marilynn Marter, food writer for thePhiladelphia Inquirer, writes, "Your next gourmet delight may be another person's passionate political cause…. The protesters find the practices involved in the procurement of frogs' legs and production of foie gras no less disdainful than the clubbing of baby seals…." Protesters cite the cruelty of lopping off the legs of live frogs and the disruption of the ecological balance by rampant frog-killing as reasons for abstaining from frog's meat. Most people, they claim, can't distinguish frog's meat from chicken anyway.
Another group, known as FARM, objects to the mass methods used to raise such "edible animals" as chickens, cows, pigs, and turkeys. "These methods," they protest, "treat food animals no differently from feed grain something to be planted, fertilized, watered, and harvested."
Even vegetarians, like Altman and Nearing (quoted above), wrangle. Nearing favors raw foods and avoid eggs, salt, and milk. Milk, she says, is meant for the calf, not for humans. (But she admits to occasionally succumbing to the ice-cream-eating binges she relished as a child) On the other hand, Altman doesn't mention raw foods, and the recipes in his book include eggs, salt, and milk.
For Srila Prabhupada, his predecessors, and those who follow him on the spiritual path, these ideas about what to eat and what not to eat are mental speculation, a product of philosophy without religion. "The ultimate goal is Krsna," Srila Prabhupada writes. And Krsna's desire is the sole criterion that guides the lives of His devotees and governs their diet. Steeped in the science and philosophy of Krsna consciousness, devotees of the Lord transcend emotional religious rituals and the opinions born of errant minds.
Dogma? Blind faith? Some may denigrate a devotee's faith. Yet a devotee's deep conviction rests on his educated acceptance of the Supreme Lord as the ultimate proprietor of everything, the supreme enjoyer, and the dearmost friend of all beings. A devotee follows Lord Krsna's direction and eats wholesome, well-balanced, delicious, and controversy-free meals.
(Recipes from The Hare Krishna Book of Vegetarian Cooking, by Adi-raja dasa)
Saffron Rice with Cheese Balls
(Kesar panir pulao)
Preparation time: 30-40 minutes
Servings: 4-6
1 cup good-quality long-grain rice
¼ cup raisins
4 ounces pressed panir (milk curd)
¼ teaspoon powdered saffron, or 10 to 15 saffron strands
2 teaspoons sugar
½ cup warm milk
2 tablespoons butter
2 ½ cups water
2 teaspoons salt
¼ cup blanched almonds or cashew nuts, toasted
1. Wash the rice, soak it for 15 to 20 minutes in cold water, and let it drain. Knead the panir until it is soft, and roll it into small balls. (Or press it and cut it into cubes.) Deep-fry the panir balls until they are browned all over. Drain. Dissolve the saffron and sugar in the warm milk, and put the raisins and deep-fried panir balls in the saffron-milk to soak.
2. Melt a tablespoon of butter in a large saucepan over a medium flame and stir-fry the rice for 3 minutes. When the grains become lightly toasted, pour the water and salt into the rice, bring to a boil, and cook covered over a very low flame. After 10 minutes, remove the cover and gently stir in the nuts and the saffron milk (set the panir balls aside). Be careful not to break the grains. Cover the pot and cook for 10 minutes more or until the rice is completely cooked. Then remove the cover and allow the rest of the water to evaporate by cooking it another 2 or 3 minutes.
3. Finally, dot the rice with butter and mix gently with a fork. Garnish with the panir balls and offer to Krsna hot.
Dal Croquettes in Yogurt
(Urad dal bara)
Preparation time: 30 minutes
Servings: 4-6
1 ½ cups urad dal, soaked in water overnight
2 fresh chilies, minced
¼ teaspoon asafetida
1 teaspoon baking soda
6 teaspoons salt
3 ½ cups warm water ghee (clarified butter) or vegetable oil for deep-frying
2 cups plain yogurt
1 teaspoon cumin seeds,toasted and ground
1. Drain the dal and blend it in an electric blender (or a grinder) with the minced chilies, asafetida, baking soda, and 1 teaspoon of the salt until it is a smooth paste. Add a little water and beat the mixture vigorously until it is so light that a drop will float on water. Set aside. Reserve ½ teaspoon of the salt and dissolve the rest in the warm water.
2. Heat the ghee in a wok or pot until it is hot but not smoking. Drop lumps of the batter, one after another, into the ghee. In seconds the baras will become round and float and begin sizzling. Fry them on all sides. They should become nicely browned in 5 or 6 minutes. Then drain them and put them in the salt water to soak. Add the remaining ½ teaspoon of salt to the yogurt, mix well, and set the yogurt aside.
3. After 20 to 30 minutes, when the baras begin to become light-colored, gently remove them and squeeze the excess water out of each one. Place them in a serving dish, cover with yogurt, and garnish with ground cumin. Offer to Krsna. Serve urad dal baras as part of a main meal or as a special treat.
Fresh Mint Chutney
(Pudina chatni)
Preparation time: 15 minutes
Servings: 4-6
2 ounces fresh mint leaves
1 tablespoon fresh ginger, grated
2 fresh chilies, minced 4 tablespoons lemon juice
1 teaspoon salt
2 teaspoons sugar
Wash the mint leaves thoroughly and shake them dry. Use only the leaves and the thinnest stalks; discard the thick stems. Blend all the ingredients together in an electric blender with just enough water to make a smooth paste. Chill and offer to Krsna.
For a tasty chutney using both mint and coriander leaves, mix the same ingredients, but use only 3 ounces of mint leaves. Add 3 ounces of coriander leaves, 6 ounces of roasted or deep-fried peanuts, and 4 ounces of tamarind pulp. Chill and offer to Krsna.
Vegetable and Cheese Stew
(Matar alu tarkari)
Preparation time: 40 minutes
Servings: 4-6
1 tablespoon ghee or vegetable oil
6 cloves
2 cinnamon sticks, 3 inches long
½ teaspoon ground cardamom seeds
3 bay leaves
4 potatoes, peeled and cubed
1 pound fresh peas, shelled
1 teaspoon turmeric
1 ½ cups water
5 medium-size tomatoes, washed and quartered
1 teaspoon fresh ginger, grated
¼ teaspoon fresh nutmeg,grated
½ teaspoon brown sugar
2 teaspoons salt
½ cup sour cream
1 tablespoon chopped fresh coriander or parsley leaves
½ cup almonds, lightly toasted
8 ounces panir, cubed and deep-fried
1. Heat the ghee in a large saucepan over a medium flame. When it begins to smoke, toss in the cloves, cinnamon sticks, ground cardamom, and bay leaves. Stir-fry for about 30 seconds; then put in the potatoes. Fry them for 5 minutes, frequently scraping the bottom of the pan with a spatula, until they are lightly browned. Add the peas and turmeric. Stir once, pour in the water, and cook for 10 minutes with the pot covered. Then add the tomatoes, along with the grated ginger, nutmeg, sugar, and salt. Stir to mix, and cook covered for 5 more minutes.
2. Now fold in the sour cream, coriander, almonds, and the fried panir cubes. Remove the whole spices. Offer to Krsna.
Tomato Soup
(Tamatar ka soup)
Preparation time: 30-40 minutes
Servings: 4-6
4 ½ pounds firm red tomatoes
6 tablespoons ghee or vegetable oil
1 teaspoon ground coriander
¼ teaspoon asafetida
1 teaspoon salt
4 tablespoons chopped fresh coriander leaves
1 ½ tablespoons white or brown sugar
¼ teaspoon ground black pepper
¼ teaspoon cayenne pepper
1 cup milk
2 tablespoons butter
2 tablespoons white flour .
1 tablespoon lemon juice
1. Wash the tomatoes and cut each one into 8 wedges. Heat the ghee in a heavy saucepan and fry the ground coriander and asafetida for a few seconds. Add the tomatoes and ½ teaspoon of salt. Adjust the flame to medium-low and cook the tomatoes for 20 to 25 minutes, or until they appear pulpy and the skins become loose.
2. Blend the tomatoes in an electric blender, or press them through a sieve, and put them back in the pan. Add the chopped coriander, sugar, pepper, cayenne, ½ teaspoon of salt, and milk.
3. Heat the butter in another saucepan and stir-fry the flour over a low flame to brown it lightly. Now slowly add the soup and continue to cook (while stirring continuously to prevent lumps from forming) until the soup thickens. Add the lemon juice and offer to Krsna hot.