Describe one incident in your life where you clearly felt the presence of Krishna?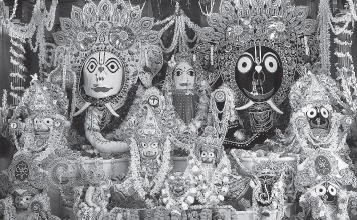 Every year during ISKCON's Jagannatha Rathayatra in Hyderabad, my husband was able to donate only 516 rupees. This year I asked him to give 5,116 rupees. I remembered him telling me he'd helped a friend a year ago, and I suggested he ask this friend to repay the debt. I told my husband to ask for 10,000 rupees, so that his friend would give us at least 5,000. My husband refused. But the next day, the friend arrived at our house uninvited and gave us 10,000 rupees. My husband hadn't mentioned his friend's name before, so it came as a bit of a shock. "Pleased to meet you," he said, introducing himself to me. "My name is Jagannatha Reddy."
(Meenakshi Veerapaneni,Hyderabad)
It was May 15, 2008. There was Deity welcoming ceremony in my home. All arrangements were done. The program was about to start with a lecture by Gauranga Prabhu. But in the beginning only the mike of the sound system failed. In my small town there was no possiblilty of bringing new mike system immediately. Gauranga Prabhu told all the devotees that they should take prasada first, then lecture would start.
But I was still under tremendous anxiety of arranging new sound system. Suddenly a person came forward. He was not invited for the program; he came with one relative. He was a technician and soon fixed the problem, and the lecture started. It was a unique program where there was first prasada and then lecture and kirtana.
Initially I was thinking that I had made perfect arrangements for the Deity welcoming, but after the incidence I realized that ultimately all arrangements are done by Krishna only.
(Dr. Navnath Janjale,Nasik)
During the opening of Radha Pandharinatha temple in 2005, my service was to drive visitors. I had no time to see what was happening inside the temple because I was too busy. At the end of the ceremony, I was extremely tired, and I decided not to do anymore driving. But a senior devotee approached me asking if I could drive home a guest. I agreed although I hadn't slept well in the last two nights.
While driving on the Mumbai-Pune highway, I started dozing off. In my half-asleep state, a beam of light from a speeding truck pierced my eyes. I saw death fast approaching. The truck was only a few meters away when I loudly cried out for Krishna. How I was saved I don't know, but I feel it couldn't have happened without Krishna's involvement.
(Gadadhara Pandita Dasa, Solapur, Maharashtra)
4.30am. Closed structure, lofty steps and stuck in the steep slopes reaching to the Tirupati temple, I was breathless, clueless, and had no strength to climb any further. With no help in sight, I sank to a seat hoping for some rescue. Finally I saw someone coming a devotee chanting with a resounding clear voice. She stopped and encouraged me, "Chant, chant" and then continued climbing further. Trying for one last time, I started chanting and climbing. I started pondering over what I was going through.
Indeed I felt the presence of the Lord in His holy names He who is non different from His names, who has invested all His energies in them and has not maintained any rules for chanting these names, thus enabling us to easily approach Him. Indeed by His mercy, I reached up the hills without gasping, at a stretch covering over two thousand steps in just a few hours.
(Brajasvamini Devi Dasi,Mumbai)
I was in Puri to attend the 2006 Ratha-yatra. The day before the Ratha-yatra, I was diagnosed with malaria, but I still went to attend. Unfortunately I got caught up in stampede a dozen pilgrims crushing me from all sides. Somehow the Lord saved me, but I left breathless, exhausted, and without taking darshana.
Feeling highly despondent, I kept chanting Hare Krsna until 3 am the next morning. I prayed to Lord Jagannatha, "You allowed everyone to take Your darshana, but me. I cooked chappan bhoga for You was there any mistake in it? I beg forgiveness, and if You really love me, please allow me to take your darshana tomorrow morning."
The next morning, a devotee offered to take me for Jagannathaji's darshana. I was ready in no time despite my weakness, and soon I was in front of Lord Jagannatha. It was a miracle. With tears of repentance and heart filled with joy, I begged forgiveness and offered my grateful prayers.
(Shridhar,Mumbai)
During my school-days, with my bicycle, I not only perfected race driving but also mastered the art of taking sharp turns and cuts with perfect timing. Once I was crossing a highway, I saw a truck coming with speed. I judged and decided to cross. After crossing that lane, suddenly I found another speeding car very close. On the opposite side, there was another truck parked on the road. That moment, I found no way I could have saved myself and simply closed my eyes. When I opened my eyes, I found myself not only on the other side of the road safely driving but surprisingly untouched by either the speeding car or the parked truck. Still this miraculous escape is beyond any engineering theory or present scientific understanding. It was the Lord Krishna who not only saved but nicely taught me the lesson of my life against rash driving.
(Rajesh Kumar Mishra,Mumbai)
On 26th July, 2005 I left my office to go home just a 15 minutes drive. Half way through, the bus stopped due to traffic jam because of heavy flooding. Just then, right in front of my eyes, I saw one of the walls of Hotel Jal collapse. The severity of the situation penetrated my head; till then, sitting by the window of the bus, I was enjoying the rainfall. I pulled out my bead bag and started chanting intensely.
After sometime, the bus moved through unknown by lanes, rain water slowly seeping into the footboard. Further ahead, I felt like floating; the bus could not maintain the balance in waist deep water. Soon after, the bus completely broke down. But when I looked around, the place hardly had any waterlog, and was so near my house.
Many of my colleagues were stuck in the office, which had meanwhile flooded up to neck level, for two days without proper food and water. Lord Krishna guided me to safety.
(Vraja Vijaya Devi Dasi,Mumbai)
As a new entrant to ISKCON and a parched soul trapped in material life, I was trying to have my fill of its every glorious pleasure. Suddenly, my employers announced a fast track promotion process for top executive cadre and I was eligible. Office was agog with every eligible candidate in feverish preparation alone and in groups with one notable omission. I was too immersed in my blissful world! I underwent the promotion process indifferently. In each of the three steps, I surprised everyone, mainly me! There I was the only successful candidate among a 100, and one of 13 among 1000! I was transferred out of Mumbai and my heart broke. Yet, devotees showered me with their blessings and here I am, seven years and many cities later, still in the cooling shelter of loving Vaisnavas. That really is the mercy of Krishna!
(Kalanidhi Dasa, Hyderabad)