After almost ten years in the making, an authoritative, comprehensive
cookbook of Lord Krsna's cuisine hits the bookstands.
In Vrndavana, India, in the fall of 1976, Yamuna Devi, one of Srila Prabhupada's first disciples, went to see him in his room in the Krishna-Balaram temple. "The devotees have asked me to write a cookbook," she said. "I would like to present cooking as you've taught it to me."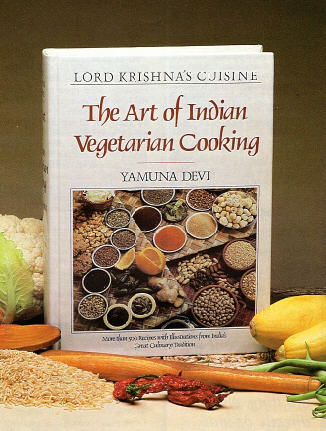 Yamuna's sublime cooking, along with her inspired singing and Deity worship, had made her famous throughout the Hare Krsna movement. Srila Prabhupada had appreciated Yamuna's cooking expertise for years and had requested her to distribute what she'd learned to others. So it was not surprising that Srila Prabhupada thoroughly approved of the cookbook plan, and for the next four days he helped Yamuna develop her ideas for the book.
After her meeting with Srila Prabhupada, Yamuna spent four weeks on a cooking tour of India to increase the knowledge she'd already gained through years of recipe research. She met cooks in the famous sweet shops of Calcutta, in the gourmet restaurants in Bombay, and in the homes of connoisseurs. She explored the back rooms of musty bookstores to find old cookbooks, and she observed the techniques of the ubiquitous street vendors. Then she returned to her home in the woodsy part of southern Oregon.
Recipe by recipe, she began deciding what Western ingredients to use and what aspects to bring out of them in each dish. She resolved to strike a medium between the original Indian versions generally spicy hot and the more health-oriented Western preferences.
By 1978 she'd written 675 recipes, about eighty-five percent of which were dishes that Srila Prabhupada had either taught to his disciples himself or had instructed his cooks to learn from Indian experts. Srila Prabhupada had been pleased with Yamuna and others for mastering these often difficult dishes. "When I came to America," he once commented, "I was prepared to live on bread and potatoes. I never thought that my disciples would learn to cook like this."
In the spring of 1978, I was asked to illustrate Yamuna's cookbook with photographs. She and I had met seven years earlier, during my first trip to India, but we had not yet worked together. It turned out to be much more than a photo session. A warm, dynamic, and often humorous friendship developed around our devotional service, and through it I discovered that such a rare friendship is one of the most valuable relationships that one can have in this world. I stayed with Yamuna in the guest room of her small home and learned to milk her cow, care for her garden, worship her Deities, and, eventually, cook her recipes. And I learned how much I needed a friend like Yamuna to help me grow materially and spiritually.
Afterwards, as the years rolled by, I winced to hear of her struggles, her late night vigils as she worked to perfect the many facets of the book. So, I was pleased when I learned that Bala Books would publish her book and E.P. Dutton and Company and Angus and Robertson, Limited, would distribute it worldwide.
"I would like to see this book selling widely," Yamuna says. But her reasons are not the same as those of other authors. "I want everyone to appreciate Srila Prabhupada's standard of cooking and the culinary excellence of Lord Krsna's cuisine. From the serious cook to the casual one, anyone who is willing to try will find something wonderful in Lord Krishna's Cuisine."
I'm delighted that my good friend finally has her cookbook under her arm, and I'm sure that, given her creative flare and culinary agility, she has many more cookery books to come.
(Recipes from Lord Krishna's Cuisine: TheArt of Indian Vegetarian Cooking, by Yamuna Devi. Copyright 1987. Used by permission.)
The following dishes are favorites of Yamuna's and can be served as lunch or dinner. If you'd like a more elaborate menu, add a soup, salad, beverage or all three. And don't forget the most important step: offer everything to Krsna with devotion.
Sauteed Spinach and Dal Noodles
with Herbed Tomato Sauce
(Tamatar sak)
Preparation time: a few minutes
Cooking time: 40 minutes
Serves: 5 or 6
4 medium-sized tomatoes
5 tablespoons ghee or olive oil
1-2 hot green chilies, seeded and finely chopped
1 teaspoon cumin seeds
6-8 curry leaves, preferably fresh
½ teaspoon yellow asafetida
1 teaspoon each salt and sugar
5 plain pappadams cut with scissors into noodles 1/3 inch wide
3 pounds fresh spinach, trimmed, washed, and torn into large pieces
1 cup fresh basil, lightly packed, or 1 teaspoon dried basil
2/3 cup sour cream
5-6 sprigs of fresh coriander, basil, or parsley
1. Place the tomatoes on an aluminum-foillined cookie sheet and set under a pre-heated broiler, about 6 inches away from the heat. Broil, turning, until all sides of the tomatoes are charred, about 10 minutes. Set aside to cool, then remove the skins and coarsely chop.
2. Heat 2½ tablespoons of the ghee or oil in a 12-inch frying pan over moderate heat. When it is hot, add the green chilies and cumin seeds and fry until the cumin darkens a few shades. Drop in the curry leaves and asafetida and fry for a few seconds, then add the tomatoes, salt, and sugar. Stirring, cook until thickened. Remove the pan from the heat, sprinkle half of the pappadam noodles over the top, cover, and set aside for 3 minutes. Fold in the soft noodles and sprinkle with the remaining pieces. Cover and set aside.
3. Place the remaining 2½ tablespoons of ghee or oil in a large nonstick saucepan and pack the spinach and basil in the pan. Place the pan over moderately high heat, cover and cook until you hear a sizzling sound, then cook for 2-3 minutes more. Uncover and turn the leaves over with 2 forks, so that the uncooked leaves on the top switch places with the cooked leaves underneath. Uncover and cook until the water has evaporated, tossing to prevent scorching.
4. Add the noodles and tomato sauce and mix very gently. Fold in half of the sour cream. Garnish each serving with a spoonful of sour cream and a sprig of the fresh herbs.
Lemon Stuffed with Almond-Chickpea Pate
(Kabli Channa Badaam Salaad)
Preparation time : 15 minutes
Chilling time: 1 hour
Serves: 4
4 large lemons
¾-inch piece of scraped fresh ginger root, sliced
1-2 seeded jalepeno chilies
3 ounces cream cheese or fresh panir cheese, cut into small pieces
2 cups drained cooked chickpeas
3 tablespoons toasted sesame seeds
6 tablespoons sour cream or creme fraiche
1 tablespoon ghee or vegetable oil
½ teaspoon yellow asafetida
¼ teaspoon freshly ground black pepper
1 teaspoon coarsely crushed dry-roasted cumin seeds
1 tablespoon minced fresh parsley or chervil
4 watercress sprigs
Bibb lettuce leaves
crudites such as radish flowers, cucumber twists, or tomato flowers (optional)
1. Cut off the tops of the lemons and reserve. Scoop out the pulp with a grapefruit spoon or knife until the shells are empty. Squeeze the pulp through a strainer and save the juice; discard the membranes and seeds. Trim a thin slice off the bottom of the lemons so they stand upright. Cover and chill until needed.
2. Fit a food processor with the metal blade. Turn on the motor, drop the ginger and chilies through the feed tube, and mince. Add the cheese and process until smooth. Drop in the chickpeas, sesame seeds, sour cream or creme fraiche, salt, oil or ghee, asafetida, and pepper. Process until smooth, adding up to 2 tablespoons of the reserved lemon juice for flavor and to obtain a uniform, spoonable consistency. Add the cumin seeds and pulse 2 or 3 times to crush them.
3. Fill the lemon cups, using a pastry bag fitted with a large star nozzle, or simply spoon in the pate, slightly piling it up over the edge of the cup. Sprinkle with the fresh herbs and top with the reserved caps. Place some Bibb lettuce on each plate and add the vegetable garnishes. Chill until you are ready to serve.
Cardamom Shortbread Cookies
(Elaiche gaja)
Preparation time: 15 minutes
Baking time: 1 hour
Makes: 2 dozen small bars
1 cup unsalted butter, room temperature
1 teaspoon crushed cardamom seeds or 2 teaspoons fresh ginger paste
½ cup superfine sugar or jaggery
2½ cups unbleached white flour
½ cup fine semolina
¼ teaspoon salt
¼ teaspoon baking powder
1. Preheat the oven to 250°F. Cream the butter and cardamom or ginger in a mixing bowl, then gradually add the sugar and beat until light and fluffy. (If you are using a dried fruit puree, work it into the sugar-butter mixture.) Combine the flour, semolina, salt, and baking powder on a sheet of waxed paper and mix well. (If you are using nuts, add them to the dry ingredients.) Add the dry mixture to the butter and work with your hands until thoroughly blended into a dough. Alternatively, place all of the ingredients in an electric mixer and, with a dough hook, mix on low speed until thoroughly blended.
2. Press into an 8 x 10-inch rectangle on an ungreased baking tray. Score the surface to make 24 cookies, and prick the surface with fork tines at 1-inch intervals. Bake for about I hour or until pale gold but not brown. Cool for 10 minutes in the pan. Carefully cut again over the scored markings. (If you want to sprinkle the surface with sugar, do so as soon as the pan comes out of the oven.)