By the shores of the Ganges in Mayapur, West Bengal, an educational institution is
arising to fulfill a global prophesy of ISKCON's founder Acarya, Srila Prabhupada.
Although his friends in Melbourne, Australia, went to Krsna schools, Mahamantra Dasa always attended public schools and visited the local temple only on the weekends. But when he reached puberty, Mahamantra started to see what Srila Prabhupada meant when he referred to materialistic schools as "slaughterhouses."
"Sexual promiscuity was the norm," he says, "both inside and outside the classroom."
After he finished the ninth grade, his devotee parents gave him permission to leave school and move into the temple as a full-time brahmacari. Krsna consciousness, he knew from reading the Bhagavad-gita, is the "king of education."
Now twenty, Mahamantra has fond memories of his teenage years in the temple lots of cooking and cleaning, public chanting, sharing Krsna consciousness with others, even a stint on the 24-hour chanting party at ISKCON's temple in Vrndavana, India but he still felt incomplete in his education. So when an opportunity came along to attend the Bhakti-sastri course at the Mayapur Institute for Higher Education (MIHE) in India, he seized it with a passion and was challenged by its goodness. His four month immersion in the basic books of Krsna consciousness awakened him to a calling in Prabhupada's mission.
"The course really sobered me," Mahamantra says with a handsome smile, "the way I see and deal with people. It was the teachers. They empowered and challenged me to apply what I was learning. To complete the course, I had to discipline my mind and senses more than ever. But I also tasted more love and trust with the devotees than I ever have. I want to learn more, and teach others."
An appreciation like this encourages the MIHE's director, Janmastami Dasa, who launched the institute's first semester in the year 2000, a small miracle of hard work and prayer. His inspiration? The Vrindavan Institute for Higher Education (VIHE). Organized by ISKCON educator Bhurijana Dasa in 1987, the VIHE was the first school to start fulfilling Prabhupada's desire to systematically educate his international disciples in a sacred setting, where the philosophy and culture of Krsna consciousness could be lived, breathed, and tasted.
"The first month I attended the VIHE," says Janmastami Dasa, "I felt I learned more than in my previous eleven years in Krsna consciousness."
That experience brought him back to the VIHE six more times, each semester increasing his taste and conviction to serve Prabhupada's mission. A highly successful seller of Prabhupada's books back then, he later moved with his wife and two sons to ISKCON Mayapur and committed himself to improving the education offered there. In 1999, when he arranged some teacher-training and leadership/management seminars, the response was so good that he had to turn devotees away. Inspired with the idea to do an "MIHE," he took the concept to Mayapur's management, who accepted it on the condition that he would commit to its development for at least five years.
"Five years and growing strong," Janmastami says with a grin, "especially in Bhakti-sastri. The fifty-four students who lived here to take it from November '03 to March '04 came away completely transformed. And with the top-notch teachers we have lined up this year, we're expecting seventy students or more."
Spiritual Foundation
Completely transformed. Hmmm. Is this an educator talking or a public relations man? The answer comes clearly as I speak with another MIHE student, nineteen-year-old Vijaya Devi Dasi, from Bolivia.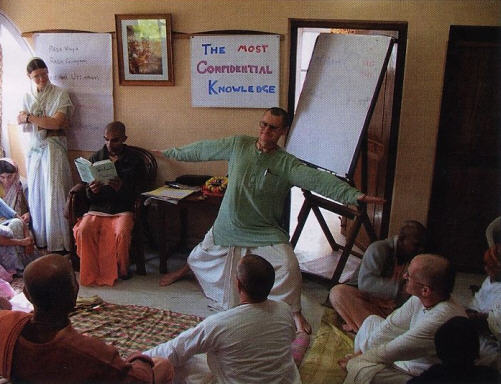 A medical student, Vijaya looks beautiful and bright-faced as she sits with me and her father, Hari Sankirtana Dasa from La Paz. Her father had encouraged her to take Bhakti-sastri the year before, but Vijaya rejected the idea. Medical training is long and rigorous, she reasoned. Better to get on with med school and do Bhakti-sastri later.
But her first year in college left her tired and a little shocked. In place of altruism and the quest for knowledge, she found a good-grades-at-any-price game.
"The way some students would flatter the teachers for high marks was outrageous," says Vijaya. "To continue medical school, I needed spiritual strength and focus. My father was right. I needed the foundation that Bhakti-sastri would provide."
To finish her first-year exams in Bolivia, she had to start Bhakti-sastri in Mayapur a full month late, a formidable handicap for anyone. But with the love and support of the MIHE's teachers and students especially from her fiancee, Ekanatha Dasa she caught up and even excelled.
"It was the way the teachers taught," says Vijaya, her eyes brightening. "Lots of group work and interactive learning, using music, art, and drama. At nineteen, I was the youngest student, and I was afraid to speak in front of so many senior devotees. But they encouraged me and gave me confidence that I could realize the truth of the Bhagavad-gita. I read it all the way through for the first time."
Vijaya is staying in India for the rest of this year to study Ayurveda. When she returns to med school, she wants to lead a spiritual study group and apply what she learned at the MIHE to help her friends entering college.
"Bhakti-sastri pacified my heart and gave my studies and career goals a transcendent purpose to please Krsna. I owe a lot to my facilitators."
"The teacher as facilitator is an approach our students love," says Janmastami. "It's the standard set by the VTE the Vaisnava Training and Education team headed by Rasamandala Dasa in Oxford, England. The aims and objectives of VTE courses are student-centered. The content must be consistent with Srila Prabhupada's instructions, of course, but trained facilitators know how to present the material to address students' real needs, interests, and concerns."
The Best Use Of a Hard Bargain
I begin to wonder what I did to deserve the years of irrelevant info I had to cram and forget the next day in materialistic schools. Yet we all pay our dues before receiving real knowledge at a place like the MIHE, and our next student is a classic example.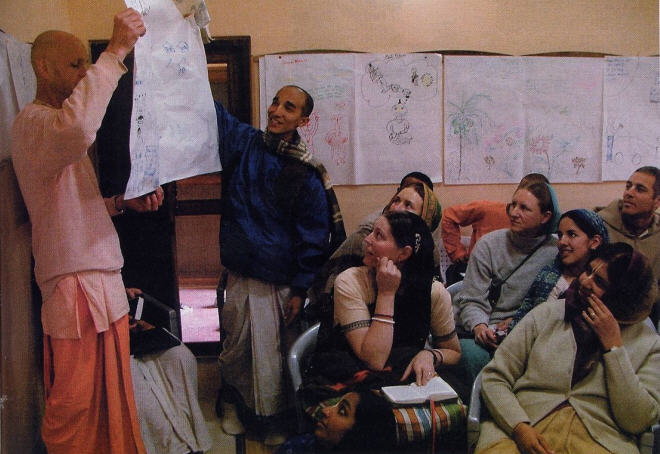 Twenty-four years ago, Santavigraha Dasa came into this world on the West Indies island of Trinidad, where he grew up in the village of Hardbargain. He has no recollection of his mother, who died in a car accident when he was seventeen months old. The bargain improved when his father gave him to his maternal grandparents for raising.
"That eased the pain of separation they felt after the departure of my mother," he explains. "The love and care I received from my grandparents was unimaginable. I am very grateful to them for their kindness."
Trinidad has a large Hindu population, Santa-vigraha's relatives among them, so from an early age, he was exposed to Hindi and the local Hindu temple. As a teenager, questions like What is the soul? and Who is God? started to surface in his mind.
"I began to ask these questions to a lot of the temple leaders and other learned Hindu pundits, but somehow I felt they did not have a clear idea of what they were speaking. Their answers weren't precise, and I was never satisfied."
His skepticism seemed to increase when he met Damodara Dasa, a Hare Krsna devotee. Though his friends were attracted to Damodara, Santavigraha found his scriptural preaching fanatical.
"I would raise challenges and even personal attacks, but every time he would shoot me down and lay my arguments to waste. I was impressed, but due to pride I would not relent. Then one day he challenged me: 'What is your problem? Do you have something personal against me?' I was taken aback, and from that day my mood changed. We became very good friends, and I began to associate with him very closely."
Once Santa-vigraha started reading Srila Prabhupada's books, he couldn't stop.
"I was so impressed with his style of presentation and how exact it was. Practically every question I could ever have was being answered so crisply and clearly. I was convinced that this was it."
He credits his schoolmate and devotee friend Rupa Gosvami Dasa for prodding him to chant sixteen rounds of the Hare Krsna mantra on beads, give up bad habits, and finally receive spiritual initiation from ISKCON's Guru Prasada Swami.
"After initiation, I moved to my father's place to pursue a college degree. His house was close to the college and the temple, Sri Sri Radha-Gopinatha Mandir."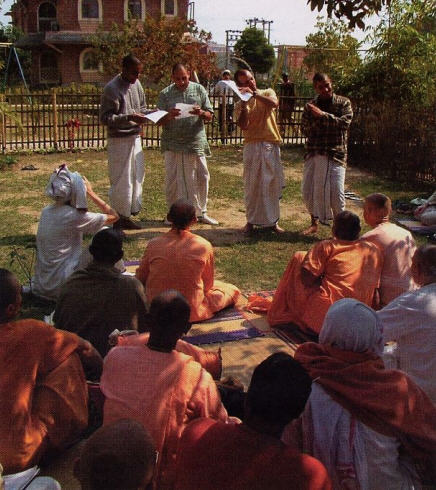 In 1999 a friend returned from Vrndavana and told him how wonderful it was to study Bhakti-sastri at the VIHE in the holy land. Already in love with Krsna's philosophy as presented by Srila Prabhupada, Santa-vigraha started to meditate and pray on how he could go to India to study deeply.
"I had no money, but I was always asking friends and India pilgrims to pray for me that I might be able to go someday."
By 2003 he still had no money, but when he heard about the upcoming installation of Panca-tattva in Mayapur, he determined that he would take Bhakti-sastri at the MIHE.
"I had no money, not one red cent. I was praying like anything, and a breakthrough came. The temple president said that the temple would be willing to fund me the equivalent of eight hundred U.S. dollars. With this, I went to my father and asked him to fund me the rest of the cash. After a grave and sober silence, he assented."
Though penniless, Santa-vigraha had paid the price intense eagerness. And how the Lord loves to test and temper our eagerness! En route to Mayapur, Santa-vigraha stopped in Vrndavana and promptly caught one of its hardest bargains: malaria.
"I developed a nagging cough from the dust. The malaria was the worst. A friend said he could feel my temperature a foot away. By the mercy of Srimati Radharani, I survived and left for Mayapur at the end of October in time to start the Bhakti-sastri."
Great expectations. Poets and sages have warned us about them, and with good reason. Yet in the Lord's abodes, His mercy flows as fast and far as the Ganges, sweeping us all to a divine dimension, satisfied beyond our dreams. Listen carefully to Santa-vigraha:
"I must say that the Bhakti-sastri course exceeded my expectations. I thought it would be lectures with questions and answers, but it was so interactive; practically the students were involved in the teaching process from the beginning. The course materials and recordings were professionally done, the facilitators well trained and chosen, and the classes well organized. And the MIHE staff was always ready to help us with whatever inquiries or problems we had. I was astonished at how hard they worked, practically day and night, to make sure everything ran smoothly."
An Educator's Inspiration
It's midnight. Another MIHE Mayapur Festival semester has just ended, and Janmastami is pacing his office, catching up on his chanting. Before he and his family leave for Jagannath Puri for a much-needed respite from the pressures of the past five months, I want to thank him for making possible my studying and teaching. The headaches and heartaches of management sometimes break even seasoned administrators, and their families with them. When I ask what keeps him inspired, he presses play on his recorder, and once more I listen to Santa-vigraha:
"While taking Bhakti-sastri, I personally felt that I made some friends for life. I had the feeling that we in ISKCON are really part of a big family, and I got a deeper appreciation for the devotees from all over the world who are serving in their various capacities. I have gotten valuable gems of experience I cannot wait to take home to Trinidad and share with my friends, family, and well-wishers. I am convinced that by the mercy of my spiritual master and the devotees, I am able to remain as a servant in this unique and wonderful society of devotees founded by Prabhupada to fulfill the mission of Lord Caitanya."
Janmastami Dasa smiles and puts down his beads.
"When I hear responses like that, I know that we are receiving Srila Prabhupada's blessings."
He opens his laptop, searches the Vedabase, and stops at Prabhupada's first purpose for founding his International Society for Krishna Consciousness: "To systematically propagate spiritual knowledge to society at large and to educate all peoples in the techniques of spiritual life, in order to check the imbalance of values in life and to achieve real unity and peace in the world."
As the words sink in, I start feeling like a revolutionary again. Restoring education as ISKCON's top priority is the life and soul of educators like Janmastami, who clicks on the MIHE website to read the lead quotation, a letter excerpt from Prabhupada:
"Throughout the whole world there is no institution to impart education in the matter of spiritual understanding. So we are going to open a big center in Mayapur where this education will be internationally imparted. Students from all parts of the world will go there to take education in this important subject."
Srila Prabhupada was empowered to spread Krsna consciousness worldwide, and his vision for Mayapur education soared to the summit of Lord Caitanya's Golden Age. The MIHE is the seed of that sage vision.
Suresvara Dasa has studied and taught at the MIHE. He distributes Srila Prabhupada's books from his base at ISKCON Hawaii and is currently pursuing a degree in Teaching English As a Second Language.
For up-to-date information about the MIHE and its Bhakti-sastri, Bhaktivaibhava, and Mayapur festival semester courses, please visit www.mihe.info.
MIHE Mission Statement
PROVIDE AN IDEAL facility and atmosphere in Mayapur that will help devotees:
(1) increase their abilities to associate lovingly with Vaisnavas,
(2) develop a higher taste for studying Srila Prabhupada's books,
(3) systematically strengthen their sadhana [spiritual practices] and sastric [scriptural] knowledge,
(4) develop practical skills in preaching, worshiping, and living,
(5) enhance their appreciation of Sri Mayapur Dhama,
(6) become spiritually enlivened and empowered to preach,
(7) deepen their faith in Srila Prabhupada's movement,
(8) become properly situated in Srila Prabhupada's movement,
(9) deepen their Krsna conscious realizations, and
(10) develop a deeper appreciation for Srila Prabhupada's gifts.