On a recent trip to New York I visited the Bronx Zoo. My husband and my brother-in-law taking turns behind my two year-old son in his stroller, we toured the bird sanctuary and the reptile house, at last coming to a particularly large and prominent sign: "The Most Dangerous Animal in the World."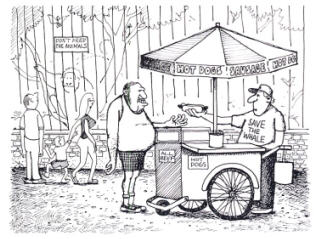 Curiously I read of the beast that could quickly and easily annihilate all other species. Instinctively I drew back within the darkened chamber, raising my eyes to peer through the bars. And then I saw it a mirror!
While I appreciated the conservationists down at the New York City Department of Parks and Recreation that's one more voice against man's cruelty toward other species I also detected hypocrisy. After all, only an hour earlier my brother-in law, a vegetarian, had gone to a zoo concession stand to buy lunch. "It's disgusting," he had said on returning empty-handed. "They don't serve anything here but meat!"
That's hypocrisy. You have a group of people who, on the one hand, work diligently to protect panthers, whales, and seals, yet who, on the other hand, blatantly support the slaughter of cows.
Eating meat, say India's ancient Vedic scriptures, is violent, irresponsible, and risky. They especially warn us that a heavy curse of karmic punishment befalls all who associate with the heinous crime of cow slaughter. Of course, we may not accept the Vedic scriptures that's voluntary. But karma, you'll find, is mandatory. No one is exempt from karma's stringent control. And, as the law of karma says, you reap what you sow. The animal killer, the flesh eater, is risking repeated births among the animal species, forfeiting for perhaps eons his chances for higher consciousness. With conservationists backing such humanitarian campaigns as "Save the Seals" and "Save the Whales," it's ironic that they shun the most important campaign to save the human beings from becoming animals. In the transcendental sense, human beings are the real endangered species, since so many people seem bent on risking everything for the dubious benefits of indiscriminate eating. It would appear that man is his own worst enemy, his own natural predator.
I still consider the officials of the Bronx Zoo hypocrites for advertising themselves as the kindly custodians of the animal kingdom. But I have to admit that in citing man as the most dangerous animal in the world, they are far more accurate than they imagine.