Fifty Padayatras to Celebrate ISKCON's Fiftieth Anniversary
Starting March 2014 till the end of 2016, ISKCON's Padayatra Ministry will organize 50 padayatras all over the world. Padayatra is a low-cost project of variable duration that can be carried out in many different styles: a one man venture like Bhaktimarga Swami in Canada, a weekend padayatra as an outing for the congregation around your city or a farm; a summer padayatra, an annual walk or a continental or trans-continental walk.
Nilachal Dham Farm Supplying Daily Needs of ISKCON Juhu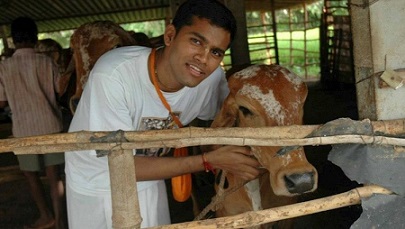 Thalaseri, Maharashtra: Cucumber, okra, karela (bitter melon), pumpkin, turia (luffa squash), and tomatoes are the various vegetables that grow here. The farm is also home to many exotic herbs with medicinal properties, and several indigenous varieties of rice that are on the brink of extinction due to modern farming practices, such as Lal Dangi, Padma, and Kali Karsni.
Organic marigolds and indigenous roses produce here are transported daily to ISKCON Juhu to be used in the service of Sri Sri Radha-Rasabihari. And it also supplies milk, ghee and vegetables to ISKCON's Mira Road temple as well as ISKCON Juhu.
"6,000 villagers visited Nilachal Dham during Janmañöami this year. Next year we are expecting 10,000," explains Damodara Dulal Dasa, the project manager.
Maharashtra CM Receives Bhagavad-gita As It Is
Nagpur, Maharashtra: Avatari Caitanya Dasa from Pune gifted a copy of Sri la Prabhupada's Bhagavad-gita As It Is to Maharashtra Chief Minister Devendra Fadnavis.
Vedic Education at ISKCON Seattle
Seattle, Washington, USA: More than 100 students attend Bhagavad-gita classes at the ISKCON temple here. On Sundays, children attend the Vedic School. One hundred fifty students have enrolled this year. Academic and values education is provided throughout the week
Higher education for teens and adults is available in the Vedic University which offers systematic degree courses like Bhakti-sastri and Bhakti-vaibhava. Auxiliary subjects such as "Time Management", "The Happiness Seminar", "The Intricacies of the Mind", "Habits: Form Good ones and Break the Bad Ones", "Take Charge of Your Emotions" are offered for development of life skills based on the timeless wisdom of the Vedic scriptures.
Urjasvat, Senior Disciple of Sri la Prabhupada, Passes Away
Tucson, Arizona, USA: "I am just waiting for the Vaikuntha Express, to come and take me," Urjasvat Prabhu had said a few days before his departure. He left his body lying on the floor with the book Gaurasatanam Stotram in his hand. He was absorbed in sastra and was chanting the holy names.
ISKCON Organizes First Diwali at Rome City Hall
Rome, Italy: Devotees headed by ISKCON Communications director for Italy Parabhakti Dasa organized and participated in the Diwali celebrations at Rome's City Hall on October 23, with positive results.
"If Brussels is the diplomatic capital of Europe, Rome is its capital from the religious and cultural point of view," Parabhakti says. "So it is important that our movement is well represented and clearly visible in this world-famous city."
Yamuna Devi Bio Reveals Life of Unalloyed Devotion
A new twovolume work will give readers an indepth, personal look at the journey of one of the most beloved devotees in ISKCON — Yamuna Devi, an ISKCON pioneer and one of the first disciples of Srila Prabhupada. She passed away on December 20, 2011 at the age of 69.