President of India Presented With Bhagavad-gita As It Is Deluxe Edition
New Delhi: His Holiness Gopala Krishna Goswami met the honorable President of India, Mr. Pranab Mukherjee on June 12, 2014, at the President's official residence in New Delhi and presented him the BBT's deluxe edition of the Bhagavad-gita As It Is along with the maha-prasada of Their Lordships Sri Sri Radha Parthasarathi.
Bringing Vedic India into Australian Schools
The Vedic India program has been well received in 14 different schools in the last couple of years. The school programs usually consists of about 7 or 8 workshops, where children are introduced to such things as Festivals & Culture of India, Vegetarian cooking, Yoga & meditation, Vedic Music & Dance, as well as Henna art, traditional Vedic dress, Krishna pastimes, badge and garland making. These workshops are run throughout the school day, with the highlight usually being the lunch time harinamasankirtana and prasada distribution.
If you are interested in doing similar programs in your community, please write to Navadvipa isvari Devi Dasi on nala_aravind@hotmail.com.
Bhakti Festival in Italy

Villa Vrindavana, Italy: Between June 6 and 8, around 500 yoga practitioners gathered to attend a yoga festival with a difference: the third annual Bhakti Festival at Villa Vrindavana, Italy.
The festival was established in 2012 by ISKCON Villa Vrindavana and Yogendra, leader of the Samadhi yoga school in Florence.
Worldwide Rathayatra Celebrations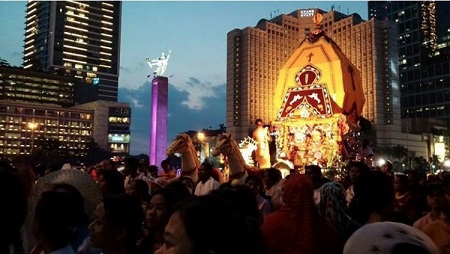 Jakarta, Indonesia: While the city was celebrating its 487th anniversary on June 22, Hare Krishna devotees took this opportunity to celebrate their third annual Rathayatra festival.
London, UK: On June 15, London's most famous landmarks were brought to life in a dazzling display of sound, music and color, as thousands of devotees from across the country came to the streets of London's West End to celebrate the 46th annual Rathayatra festival.
Daytona Beach, Florida, USA: The 6th annual Daytona Beach Rathayatra festival was held on May 24, 2014.
Six Students Graduate from Sri Mayapur International School
Mayapur, WB: Six students from Sri Mayapur International School successfully completed their Advanced level education (A-levels) in accordance with Cambridge International Examinations.
ISKCON Devotees Present Vaishnava Culture at Italian Schools
This year, two primary schools in Tavazzano and Sordio, in the province of Lodi, Italy, presented the culture of India. As part of the curriculum — sponsored by the educational department of Italy — ISKCON devotees Raghunath Das and his wife Pritha Dasi were invited to explain Gaudiya Vaishnavism as taught by the International Society for Krishna Consciousness.
Harinama on NYC Streets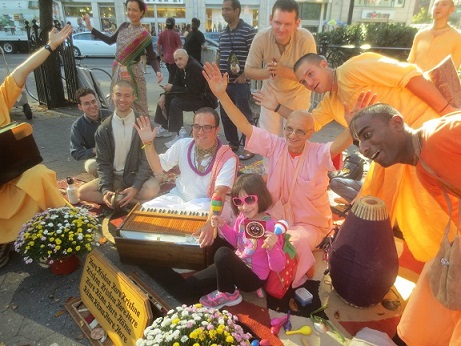 New York City, USA: Ramaraya Dasa leads parties of twenty-five or more devotees in chanting the Hare Krishna maha-mantra at Union Square Park in Manhattan, New York City, every day without fail. Hitting the streets from their very own Harinama Ashram, they chant and dance enthusiastically, spinning about in their traditional dhotis and saris, passing out books by ISKCON Founder Srila Prabhupada and drawing passersby to join in the fun.