New Helicopter Service to Mayapur Mayapur, WB:
Helicopter service to transport pilgrims from Kolkata to Mayapur may soon become a reality. On May 30, the first journey was made that brought several devotees to the holy dhama.
ISKCON Participates in PM's Swearing-in Ceremony New Delhi:
ISKCON was invited to attend the grand swearing-in ceremony of India's new Prime Minister Mr. Narendra Modi on May 26. Vrajendranandana Dasa, ISKCON India's Communications Director, attended the event.
Sankirtana Dindi Pandharpur, MH: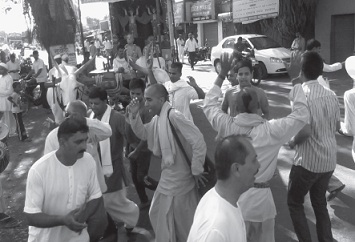 Celebrating Lord Caitanya Mahaprabhu's 500th anniversary of the South India tour, devotees from Maharashtra went on a walking pilgrimage across the towns in the state where the Lord visited. The walking tour, known locally as dindi , started from the temple town of Kolhapur and passed through Aravade, Pandharpur, Satara, Pune, Mumbai, and Wada, before culminating in Nasik on June 31. Around 700 devotees participated in this event.
ISKCON Greets new Gujarat Chief Minister Ahmedabad, GJ: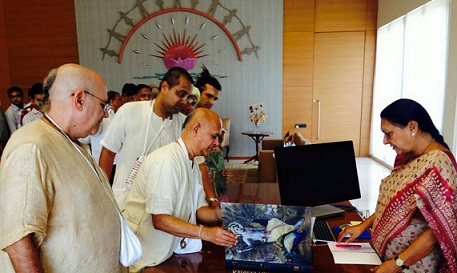 ISKCON devotees paid a congratulatory visit to the new Gujarat Chief Minister, Anandiben Patel. "We are hoping that Anandiben and her team will extend support to ISKCON's rapidly expanding activities here in the state of Gujarat, where ISKCON now has centers at Ahmedabad, Baroda, Dwaraka, and several other cities," said Basu Ghosa Dasa.
New Temple for ISKCON Sri Lanka Colombo, Sri Lanka: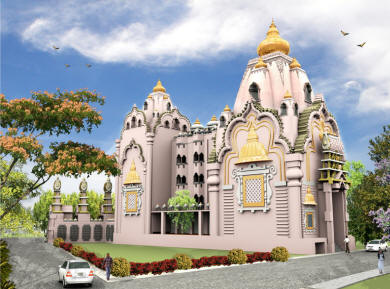 A new temple is coming up here in a prominent place and is expected to operate as the headquarters for ISKCON Sri Lanka. His Holiness Jayapataka Swami and His Holiness Bhanu Swami, both GBC members for Sri Lanka, initiated the construction.
The approximate cost for building the temple is US $1.2 million, and the inauguration may happen in the year 2016.
Grand Opening of ISKCON Houston Houston, Texas, USA: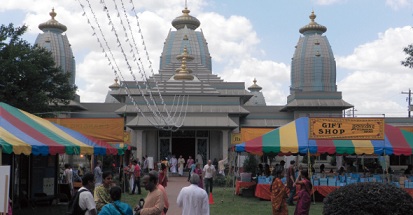 Spread over 1.2 acres of land that once belonged to a Baptist Church, the new ISKCON here temple has an area of 24,000 square feet and a central çikhara (conical tower) 72 feet high. The opening celebration was conducted between May 16 and 18. More than 11,000 people attended the event.
Worldwide Rathayatra Festivals Rome, Italy:
On May 31, ISKCON devotees here put up a Rathayatra festival for the first time in this city. The event was held in the same place where, 30 years ago, a group of anarchists had attacked devotees while performing harinama-sankirtana on the streets.
Munich, Germany: Devotees sang and danced during the Festival of Chariots celebrated here.
Clearwater Beach, Florida, USA: On May 3, ISKCON devotees organized the fifth annual Jagannatha Rathayatra festival here.
Devotees Chant at NC Retreat Boone, North Carolina, USA:
About 1400 devotees participated in a festival of kirtanas, classes, and prasada. "Just by hearing the holy name in association of devotees, every devotee sees an evolution in himself. It is such a profound experience, that helps us gain firm and fixed faith in Krishna," said Badahari Dasa, sharing his realizations about the festivals.
BBT Media Releases New Audio Books
BBT Media is happy to announce that two audio books are now available from bbtmedia.com: Sri Isopanisad by His Divine Grace A. C. Bhaktivedanta Swami Prabhupada, and Sri Brihad Bhagavatamrta, Part 1, by Srila Sanatana Goswami.