Festival of Colors Explodes Across North America Spanish Fork, Utah:
By 2007 the number of attendees had risen from just 100 to 3,000. But in 2008 attendance took a giant leap to 10,000, and today, an unbelievable 50,000 people – a huge amount of them Caucasian Americans, including Brigham Young students – participate. This year, there was a two-day Festival of Colors at the Krishna temple in Spanish Fork on March 29-30.
Washington, D.C: On April 5, about 3000 people participated at the Holi festival celebrated at the ISKCON temple here.
Alachua, Florida: On April 12, about 2000 people participated at the Holi festival here, the largest ISKCON community in North America.
New Vrindavan and Pittsburg: On April 19, 5000 students from the University of Pittsburg participated in the Festival of Colors. New Vrindavan devotees will celebrate Holi on September 13, and 6000 people are expected.
Ramayaëa Collection to Open at Villa Vrindavan Museum Villa Vrindavana, Italy:
On July 11, the second floor of the Museum of Spiritual Art (MOSA) will be completed and receive an internal opening ceremony attended by devotees.
The museum is the second branch of MOSA in ISKCON, modeled after the original in Radhadesh, Belgium. It is located in the most historic part of Villa Vrindavana's Villa, dating back to the 16th century.
The Southernmost Rathayatra in the World Pucón, Chile: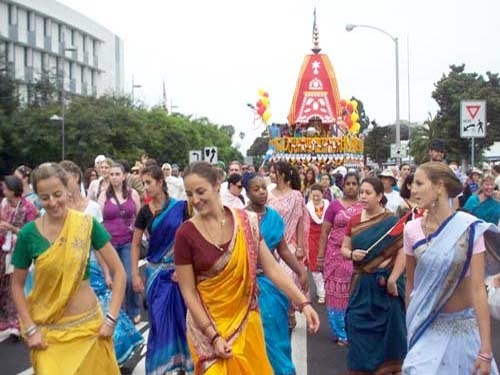 This is a city in the south of Chile nestled in the middle of majestic landscapes of volcanoes, lakes and forests. It has a population of 22,000. This year, for the third consecutive year, was held the Festival of India Rathayatra through the main streets of the city.
Green Revolution at ISKCON's Headquarters
Thanks to the solar water heaters, the Ishodyan building at the ISKCON Mayapur complex will now be saving a 450 KW of electricity. "The water heating project at Ishodyan is just the first step, we have many more lined up and coming up soon", assures Gaura Narsimha Dasa, Co-director of ISKCON Mayapur. Mr. UVK Rao, an international energy expert and Hari Lila das, an engineer with sound technical knowledge are a part of this promising 'green team' at Mayapur and help things function at the ground level."
Devotees Discover Prabhupada's Belongings at Delhi Residence New Delhi: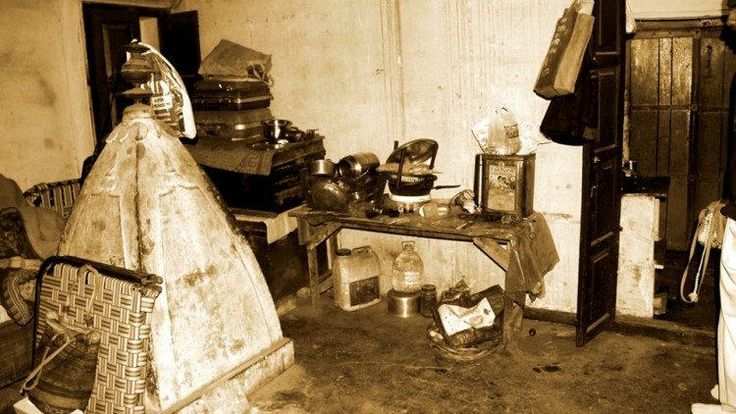 Devotees overseeing the restoration of the Delhi temple where Srila Prabhupada stayed in the early 1960s before leaving for the US have discovered a treasure of his personal belongings. Breaking open the locks on a door that had not been opened for 25 years, they were amazed to find the items still in his room at the Chippiwada Sri Sri Radha-Vallabha Mandir in Delhi's busiest market, Chandni Chowk, after so long. The items included Sri la Prabhupada's harmonium and the original covers of the First Canto of his Sri mad-Bhagavatam translation and commentary, which he later brought with him to the US.
New Hip-Hop Album to Promote Vedic Wisdom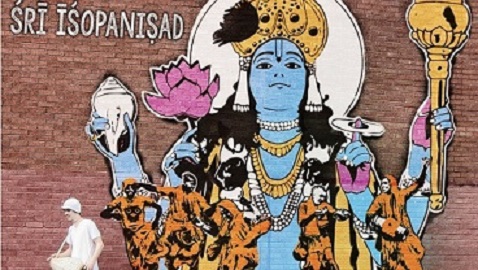 For Rama-navami this year, young poet and hiphop musician Mikey Jay came out with a new music album the "Sri Isopanisad", consisting of 19 songs — an Invocation and 18 songs based on the 18 Mantras of the ancient scripture Sri Isopanisad. Mikey grew up in Cardiff, UK, and received a psychology degree from Queen's University in Kingston, Ontario, Canada. He also lived as a Vaisnava monk in India for two years.
ISKCON Houston Deities Move Into Their New Home Houston, Texas, USA:
On April 4, on the auspicious occasion of Ramanujacharya's appearance day, the presiding Deities of ISKCON Houston, Texas, were moved into Their beautiful new home.
Contributed by Madhava Smullen, Cintamani Madhavi Dasi, and Nanda Priya Nivedita Dasi.