The Festival of India in Mumbai
Mumbai: The city saw a new color of culture and devotion during a three-day long Festival of India celebrations held in Ghatkopar, a suburb in central Mumbai, from January 17-19. More than fifty thousand people were exposed to the great Vedic ideals of simple living, and high thinking.

On the first day, there was Go-dhan Symposium, dedicated to protection and the importance of cows in our life. Prominent speakers included Mohan Singh Ahluwalia, Pathmeda's Anantha Chaitanya Maharaja, and other independent activists. The topics covered include the alarming levels of milk adulteration happening in India, the need and methods of cow protection, how cow protection can prove to be a profitable business model, and how we all need to adopt and consume cow products derived through non-violent methods, and stop consuming chemical-based products. The highlight of the program was the display of a wide variety of products based on cow dung, such as soaps, shampoos, toothpastes and several others.
The second day saw the annual procession of Lord Jagannätha. His Holiness Radhanath Swami spoke on the topic Unity in Diversity, highlighting the need for coming together and working towards environmental protection as an essential part of Krishna consciousness.
The third day saw a unique program called the Global Indian Entrepreneur program where innovative entrepreneurs were invited to present their ideas that can contribute to social development and varëäçrama projects. Bollywood actress Juhi Chawla, the chief guest for the event, presented the prizes for the best entrepreneurs. She also spoke on the dangers of electromagnetic radiation on human health.
Ratha-yatra in Indonesia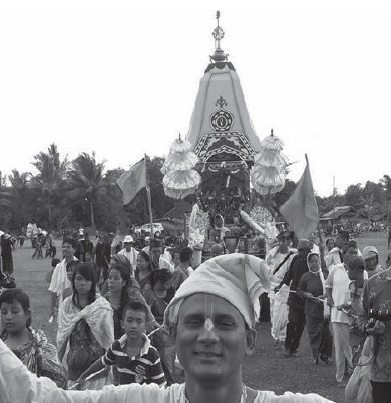 Indonesia: Three Ratha-yatra festivals were celebrated in three separate towns in a span of 36 days.
Actor Johnny Lever Receives Bhagavad-gita As It Is

Mumbai: Johnny Lever, a popular actor best known for his comedy roles in Indian cinema, received a copy of the Srila Prabhupada's Bhagavad-gita As It Is from ISKCON's Narasimhananda Dasa. Johnny has visited ISKCON Juhu for various functions organized by Bhakti Kala Kshetra at ISKCON Auditorium.
ISKCON Begins Plans For 50th Anniversary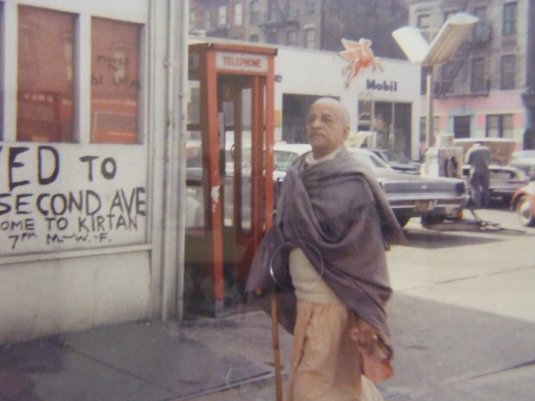 ISKCON is gearing up for its 50th anniversary, with plans for celebratory events all over the world throughout 2016.
It all began, of course, in 1965, when A.C. Bhaktivedanta Swami Prabhupada was 69 years old. Leaving his home in Vrindavana, India, he travelled to New York city aboard a cargo steamship to introduce "India's message of peace and goodwill" to the Western world.