A hard look at the Soviet commitment to human rights.
In 1981, in Kommunist, the official journal of the Communist Party in the Soviet Union, Semyon Tsvigun, the Deputy Chairman of the KGB, wrote that "the three greatest threats to the Soviet way of life are Western culture, rock-and-roll music, and Hare Krishna."
Thus began an era of unprecedented government persecution of the Hare Krsna movement throughout the Soviet Union. With the full backing of Yuri Andropov, the new Soviet leader who had served for years as the KGB chief, the secret police launched an intensive campaign against the Hare Krsna movement. Today, under Gorbachev's stated policy of glasnost, there is an appearance of a more liberal approach to dissidents in Soviet society. Nevertheless, twenty-three Hare Krsna devotees remain confined in prisons, labor camps, and psychiatric hospitals, with no signs that they will be soon released.
The first to be arrested was Ananta-santi (Anatoli Fedorovich Pinyayev), the first Soviet Hare Krsna devotee. In September of 1980 Ananta-santi was taken into custody in Riga, the capital of Latvia, and placed in a psychiatric hospital for two weeks. At the end of April 1981, he received a phone call from a KGB agent who claimed to be someone calling on behalf of a Western devotee who wanted to see him. When Ananta-santi arrived at the agreed meeting place, he was arrested. He was then held in a psychiatric hospital for two weeks, over the protests of his friends and relatives.
The harassment continued. In June 1981 the secret police framed him with a charge of using "filthy language." He was sentenced to ten days in prison. Police raided his apartment, threatening his mother and confiscating anything related to Krsna consciousness.
In September 1981, as Ananta-santi was leaving his apartment, he was forced into a police car and taken to the Serbsky Institute of Forensic Psychiatry. Charges of "parasitism" were lodged against him, but during the course of the legal proceedings he was deemed "not responsible for his actions" and confined to Psychiatric Hospital No. 5, about forty miles outside Moscow. He remained there for five months, when he escaped.
In October of 1982, Ananta-santi was again arrested in Baku, the capital of Azerbaijan in southern USSR, and was sent to a psychiatric hospital thirty miles away. Two weeks later he was sent back to Psychiatric Hospital No. 5, where he remained confined until March 1983. He was then taken to a prison in Moscow and charged with crimes under Article 227 "Infringement of Person and Rights of Citizens Under Appearance of Performing Religious Ceremonies."
While awaiting trial, he was confined to the Butyrskaya Investigations Prison. In June 1983 he was tried "in absentia" and found guilty but "nonaccountable" for his crimes. He was therefore sentenced for an "indefinite period of time" to the Smolensk Special Psychiatric Hospital. There he was continually administered haloperidol, a neuroleptic drug that caused convulsions in his facial muscles and deterioration of his mental condition. In April 1986, Ananta-santi was transferred to the Special Psychiatric Hospital in Oryol, where he remains today, undergoing the same severe treatment.
By the time of Ananta-santi's transfer to Oryol, his case had attracted worldwide attention from Hare Krsna devotees and human rights organizations. Several parcels and hundreds of letters arrived at the psychiatric hospital, where the staff responded by strapping Ananta-santi to his bed and administering sulfazine, a drug that induces a high fever, pain, and hallucinations. This treatment is typical of the abuse undergone by devotees imprisoned in Soviet psychiatric hospitals.
Recently Ananta-santi's wife asked the doctors when her husband would be released. They replied, "One's understanding of life and reality are not so quickly cured."
Conditions in labor camps, where devotees such as Vrndavana dasa (Vladimir Alekseiyevich Kustrya) are confined, are not much better. On October 31, 1984, in the village of Kurdzhinovo in the Stavropol region east of the Black Sea, a force of forty policemen simultaneously raided nine homes of members of the Hare Krsna movement. They confiscated literature, pictures of Krsna, altar incense anything that at all appeared to be associated with India. In the aftermath of this raid, on November 14, Vrndavana dasa was arrested and, under the infamous Article 227, charged with organizing an unlawful religious group from 1978-1984, attending unlawful meetings, lecturing, and translating, printing, and distributing literature on Krsna consciousness.
At the conclusion of his trial in June 1985, the court sentenced him to five years in a particularly harsh labor camp in the Ust-Kulonskaya District. Vrndavana has refused to engage in the prescribed punishment labor, proclaiming he is innocent of any crime. As a result, in March 1987 his sentence was increased by two years and eight months, and he is forced to spend much of his time in solitary confinement in a cramped cell furnished only with a fold-down cot and a bucket for a toilet.
Vrndavana is suffering from diabetes, malnutrition, and dystrophy. He maintains his Krsna consciousness by chanting the Hare Krsna mantra many hours a day and studying Sanskrit. His wife, Udarakirti, at great risk to herself, acts as a prominent spokeswoman for the Hare Krsna movement in the USSR. They have a three-year-old daughter.
Efforts to influence Soviet authorities have not gone unrewarded. One of the most successful cases has been that of Premavati-devi dasi (Olga Khamidovna Kiseleva). A graduate of Moscow State University, where she specialized in Thai literature, Premavati is a published poet. She is married and has two daughters,
She joined the Hare Krsna movement in 1978, and her active role in propagating Krsna consciousness led to her arrest in August 1983 in Soviet Estonia. Despite her being pregnant, Premavati was sent to the Matrossklaya Tishina State Prison in Moscow, where she remained for the extensive pre-trial investigation. There she endured inadequate food, bad living conditions, and violence from other prisoners. She finally went to trial in her ninth month of pregnancy, and she was charged with various crimes under Article 227 leading an illegal religious group, translating religious literature, and being in contact with foreign agents. The trial judge said that her vegetarianism was equal to insanity and sentenced her to four years in a labor camp.
Premavati's daughter Marika was born in a prison hospital. Shortly thereafter, mother and child were sent to a special labor camp. Without explanation, the child was placed in quarantine, and Premavati was allowed to see her only one hour a day. On January 9, 1985, the prison authorities informed her that Marika was dead. Other prisoners reported that they had seen Marika the day before and that she appeared to be in perfect health.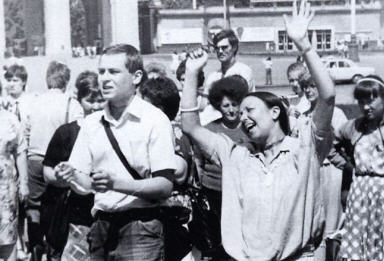 The prison authorities proposed to Premavati that if she formally denounced her affiliation with the Hare Krsna movement, she would be released. But she adamantly refused.
By this time, through the efforts of the Committee to Free Soviet Hare Krishnas (CFSHK), Amnesty International, and other human rights organizations, Premavati's case had attracted worldwide attention.
In 1985, CFSHK representatives in Washington. D.C. presented Nancy Reagan with petitions requesting freedom for Premavati and a letter asking her to raise Premavati's case with Raisa Gorbachev, wife of the Soviet leader. After the Reagan-Gorbachev 1985 summit meetings in Geneva, a Russian Hare Krsna devotee, listening to the Voice of America in Moscow, heard a report that Mrs. Reagan had indeed spoken to Mrs. Gorbachev about Premavati. In January 1986, Soviet authorities conditionally released Premavati from the labor camp.
This sequence of events indicates that persistent efforts to focus public opinion on the plight of the imprisoned Soviet Hare Krsna devotees can influence Soviet authorities to release them.
Most of the following devotees have been officially adopted by Amnesty International as:
Prisoners Of Conscience
Visvamitra dasa (Vladimir Kritski) Visvamitra is a computer scientist serving eight years in a strict regimen labor camp near Perm and is thirty-six years old.
Nugzar Chargaziya Nugzar is serving two years in a labor camp.
Gagik Buniatyan Gagik is serving a two-year sentence in a labor camp.
Alexander Levin Alexander is currently serving four and a half years of compulsory labor in Udmurtskaya A.S.S.R. He is a twenty-six-year-old journalist.
Vakresvara Pandita dasa (Ashot Shaglamdzyan) Vakresvara Pandita is serving two and a half years in a labor camp.
Asutosa dasa (Aleksei Musatov) At age twenty-eight, Asutosa is indefinitely confined to the Special Psychiatric Hospital in Smolensk. He previously worked as a kindergarten guard.
Agvan Arutyunyan Agvan is serving a three-year sentence in a labor camp.
Oleg Stepanyan Oleg is serving two and a half years in a labor camp.
Japa dasa (Yuri Fedchenko) A graduate in biology from Moscow State University, thirty-one-year-old Japa dasa is serving a four year sentence in a labor camp in the Stavropol Territory.
Atmananda dasa (Armen Saakyan) Formerly a scientist at the Yerevan House of Scientists, thirty-two-year-old Atmananda is confined indefinitely in a Soviet psychiatric hospital.
Amala-bhakta dasa (Yevgeny Lyubinsky) Amala-bhakta is serving a four-year sentence in a labor camp. He has a wife and three small children.
Sarkis Ogadzhanyan Sarkis is serving a two-year sentence in a labor camp.
Anatoli Samoilov Anatoli is serving three years in a labor camp.
Sanatana-kumara dasa (Sergei Priborov) A music instructor, Sanatana-kumara is now serving a four-year sentence in a labor camp in the Stavropol Territory.
Kamalamala dasa (Karen Saakyan) a twenty-nine-year-old radio technician, he is confined indefinitely in a Soviet psychiatric hospital.
Rafael Dzhanashvili Rafael, twenty-nine years old and a former ambulance aid, is being held indefinitely in a psychiatric hospital finitely in a psychiatric hospital.
Otari Nachhebiya Otari is serving three years in a labor camp.
Sannyasa dasa (Suren Karapetyan) Sannyasa dasa, twenty-nine years old, graduated in cybernetics from Yerevan State University. He is confined indefinitely in a Soviet psychiatric hospital.
Yamaraja dasa (Jakov Dzidzhevadze) A thirty-two-year-old musician, Yamaraja is serving two and a half years at a labor camp in Sukhumi.
Oleg Mkrtchyan Oleg has been sentenced to two years in a labor camp.