In the heart of Mumbai, a hospital with a difference.
Ambulances sounding their sirens screech to a halt. Bodies, mutilated beyond recognition, keep pouring in. Ten kilometers north, another blast the seventh in eleven minutes has terrorized the city. As anxious and bereaved relatives rush in, the neighborhood and the media are hysterical. Local politicians vie for space on news channels. Meanwhile, the staff at Bhaktivedanta Hospital quietly rushes to offer their service to another victim of the mindless carnage.
On this fateful night as many succumb to their wounds, the Spiritual Care team at the hospital comforts the grief-stricken families while the medical team saves hundreds of lives. The traumatized relatives spend the long and anxious night soothed by Srila Prabhupada's chanting of the holy names, resounding on overhead speakers. As Lord Jagannatha's miniature cart reaches out to each bed, Mr.Lalge, wailing in pain, offers a silent tear in gratitude. Each day for the next two months, while Mr.Lalge battles for life and eventually survives, Lord Jagannatha will come to his bed and look upon him mercifully.
A Hospital-Temple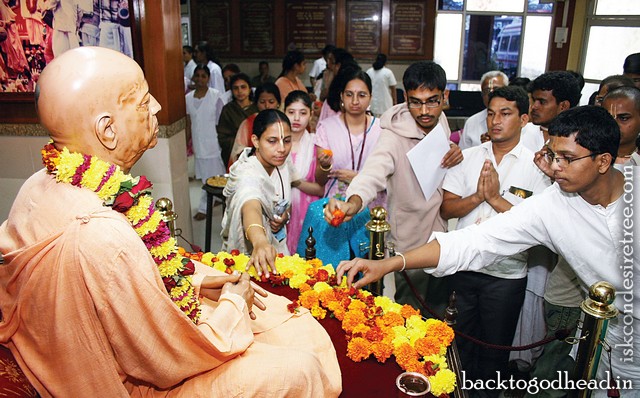 "Please do not remove your footwear," announces a prominent notice at the entrance to Bhaktivedanta Hospital. I can't help smiling, realizing that any first-timer could easily mistake this building for a temple. Welcoming visitors to the hundred-bed state-of-the-art hospital are a sparkling lobby, a regal deity of Srila Prabhupada, and soft chanting of Hare Krishna on the two hundred overhead speakers placed everywhere from the reception area to the mortuary. Bhaktivedanta Hospital is located in a noisy, crowded northern section of Mumbai, amid schools, colleges, and, in the same complex, an ISKCON temple. The ambience inside is a refreshing contrast to the honking rickshaws, traffic fumes, and burning asphalt outside.
Inside, Ramasarana Dasa greets me with a buoyant smile. A member of the Spiritual Care team, he is happy to show me around the hospital. Now in his mid-thirties, Ramasarana relinquished a lucrative career with the governmentowned Canara Bank and joined the hospital seven years ago. His wife, Kshama, who also worked in the private sector, is now an officer in the hospital's administrative department. What prompted this couple to change their careers?
"We were both keen to be at a workplace that was spiritually surcharged, and where we needn't feel apologetic for being devotees," says Ramasarana, who is also a popular actor in the annual drama festivals organized by the devotee community.
Echoing similar sentiments, Ms. Sumedha, who has worked with the human resources team for over a decade, feels that her weekly need to visit a temple, a practice since childhood, attained perfection when she joined the hospital.
"Now it's a temple visit daily," Sumedha says with a smile.
Doctors I see every Sunday at the local ISKCON temple, clad there in the traditional Vaisnava attire of dhoti and kurta, now look different. They sport beautiful clay Vaisnava tilaka on their foreheads, but wear shirts, trousers, and neckties. They look busy. Giving last-minute instructions to their assistants, they hurry to another appointment, but not before greeting me with a personal touch of "Hare Krishna."
As I enter a fourth-floor ward, I see that the hospital provides for almost all major specialities. I silently celebrate the festive blend of professionalism and devotion.
Spiritual Care in Action
I soon notice that the place doesn't smell like a hospital. The fragrant incense lends a spiritual touch, as do the walls adorned with beautiful paintings of Lord Krishna.


"This has a deep psychological effect and goes a long way in healing the patient," asserts Damodara Pandita Dasa, a senior counsellor to the patients and their relatives.
A person admitted to a hospital carries an emotional burden, he reasons. Financial pressure, family stress, and work-related trauma are common stress inducers and tend to play on the mind of the patient, thereby worsening his or her condition. Bhaktivedanta Hospital has a team of counsellors under the Spiritual Care team that addresses these needs for patients and their relatives. This is to serve the mission statement: "With love and devotion, we will offer everyone a modern, scientific, and holistic health care service based on true awareness and understanding of the needs of the body, mind, and soul."
Through counseling, the troubled souls are made to see themselves in a new light.
"We tell them that the body is just like a covering and they should learn to detach themselves from the body and concentrate on purifying their souls," says Damodara Pandita. "This concept works like a tranquilizer and helps ease their troubles."
A Cultural Reunion Of Patients and Doctors
Two young ladies in their twenties, Prema Puja Devi Dasi and Ratikeli Devi Dasi, meet patients and their relatives, befriending them with kind words, while the doctors and nurses administer the best medical treatment.
"We propose to offer lifestyle counseling, free of cost," says Prema Puja. "Most patients readily agree, and they fill out a form that tracks their daily schedule. Then we study it and suggest simple changes that can help them avert a recurrence."
The simplicity of this approach convinces patients that good health is not beyond them, and a deeper bond of affection grows between the hospital and visitors.
Later the patients and their family members are invited for a cultural reunion where their respective doctors orient them on certain diseases and how to avoid them with spiritually-based health practices. This monthly festival, called Premanjali ("offering of love"), includes dramas, lectures, chanting of the Lord's holy names, and a dinner feast. It has been a favorite of ex-patients for over a decade. It ensures that patients keep coming back and encourages them to refer their friends and neighbors to the hospital.
Touching the Heart and Soul
Mr.Char, marketing manager with a reputed multinational corporation, suffered from paralysing TB meningitis. His family took him to different hospitals, but his condition worsened. When he finally arrived at Bhaktivedanta Hospital, he was comatose. While the medical team worked hard to revive him, his wife, Veena, got emotional support from the Spiritual Care team.
"The piped chanting of the Lord's holy names, the constant prayers, and the counseling helped our family during that two-month ordeal," recalls Veena.
Mr.Char survived and resumed his job. A year later he retired and joined Bhaktivedanta Hospital as a coordinator for the Spiritual Care team.
Spiritual Care's policy is to place sacred Ganges water and a Tulasi leaf in the mouth of the dying. The devotees read from the scriptures and encourage relatives to do the same.
"This way," observes Prema Puja, "their emotional grief and mental trauma are channeled into something constructive and positive. The practice gives them the strength and fortitude to accept the loss of a dear one."
I learned an important lesson: A heart that cares with love and serves in devotion can do more for easing human suffering than a mere professional hand.
Integrating with The Secular World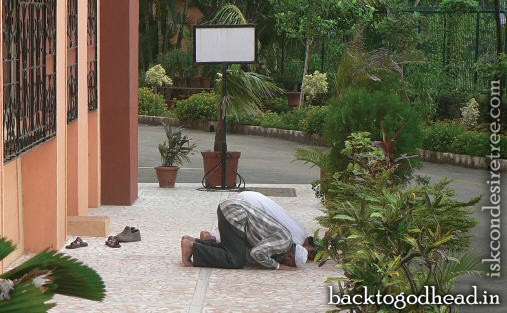 Hindus and Muslims have had strained relations in India for decades. Since thirty percent of the patients here are Muslims, I wondered if they are intimidated by the spiritual ambience.
"No," Ms.Razina Latif, a Muslim and a former patient, answers emphatically. "We all look for good medical treatment, and we get that here. Besides, the spiritual part is reasonable, and the hospital workers are respectful to people of all faiths." Razina is a regular participant in the monthly Premanjali.
A group of doctors from the hospital sometimes visits an area of the city to offer medical services for the residents of that area for a certain period. In Muslim areas and a nearby Chrisitan village, these community camps, as they are called, have earned good will for the hospital.
At the bedside of a Muslim or Christian patient, the relatives are encouraged to read from the Koran or the Bible. Hindus and even the nonreligious look forward to devotees' reading from the Bhagavadgita. All patients and visitors seem to appreciate the devotional mood.
The hospital extends help during emergencies, and the Citizens Forum, part of Mumbai civic life, comes together to assist the hospital's relief efforts. Tsunamis, earthquakes, and terrorism have brought people from all walks of life together to work as a team. Mr. Raghuvanshi, chairman of Prominent Citizens and Health Forum, proudly calls Bhaktivedanta Hospital "the Tajmahal of Mira Road."
How It All Began
In 1982 a group of young soon-to-be doctors were introduced to Krishna consciousness. Through small gatherings organized by Damodara Pandita Dasa, these second-year medical students became good friends and dreamt of having their own hospital. Soon they took initiation, and Visvarupa Dasa, Giriraja Dasa, Dvarakadhisa Dasa, Krishna Prema Dasa, Madhavananda Dasa, and Vaisnava Seva Dasa were ready to unfold their dream. At first they had no takers and were content with a mobile clinic that visited the interiors of Maharashtra state. Here they learned the rigors of austere life centered on service. Still dreaming of a hospital to serve together, each one planned a specialty that could later help them pool talents and offer a variety of services. Vaisnava Seva specialized in surgery, Giriraja in orthopedics, and Madhavananda in pediatrics. Seeing their enthusiasm, a wealthy philanthropist invited this band of raring-to-go doctors to take over his hospital. The doctors served for some time and in their enthusiasm created a sensation through massive propaganda against abortion. This made some of the trustees of the hospital insecure, and the devotees were politely told to leave.
A Vision Unfolds
A lesson well learned, they now began a massive search to get their own place. Through the help of Rohininandana Dasa, who convinced a wealthy educator, Mr. Niranjan Lal Dalmia, to donate two acres, the devotees got land. Then with the financial help of Krishna Candra Dasa (Mr.Hrishikesh Mafatlal), the devotees began the construction. His Holiness Radhanatha Swami gave the vision for the hospital and encouraged devotees to remain united during this long uncertain phase.
Giriraja Dasa was offered a small but well-established hospital by his father, but he would have to break away from the team's long-cherished dream. When he was wondering if he should accept the offer, Radhanatha Swami counseled, "Individually each one of you can achieve success, but if you come together as a team to serve and glorify Srila Prabhupada, you can do something miraculous and unprecedented that history will forever remember."
This spurred new enthusiasm in the group of doctors, which now included more members. Vaisnava Seva Dasa, a surgeon, supervised the construction, and in January 1998, Bhaktivedanta Hospital was inaugurated.
Community Services


A decade later, Bhaktivedanta Hospital continues to be the leader in holistic health care service for the Mira Road–Bhyander area, a suburban section of northern Mumbai. No hospital in the area comes close to its professional standards of service. Besides, the community and outreach services initiated by the hospital have endeared the devotees to the people of the district.
The hospital conducts free eye camps and cataract surgeries in Mumbai, other places in Maharashtra, and even in the north Indian holy town of Barsana, the birthplace of Srimati Radharani, the eternal consort of Lord Krishna. The hospital performed fifteen hundred free surgeries in 2007 and has attracted well-known doctors to offer their services in these camps.
The hospital plans to increase the number of free operations to five thousand. This charitable drive has spurred Dr. Santosh Chowdhary and his wife, Vaishali, a gynecologist, to give up their career with the W.H.O. and assist the hospital's outreach projects full time.
"Our relatives really tried hard to get both of us to our native town in Bihar to set up our own practice," confesses Santosh, "but we are content here. Besides, the selflessness of the doctors and staff and their loving bond has inspired us to be a part of this family."
The hospital also runs an inhouse nursing college, offering a three-year degree course in spiritual nursing, the first of its kind in the district. Principal Mrs. Uma Shetkar travels a long distance daily to teach here. She worked for three decades at a prestigious hospital in south Mumbai. Like many others in the hospital, she was attracted by selfless service.
"I was fed up with politics and business-minded life. This hospital is what I had been looking for my whole life, and I am glad I am allowed to serve here." Uma's childlike exuberance belies her age and position.
Serving the Devotees
Visvarupa Dasa, head of Spiritual Care, is enthusiastic to share the original purpose in building the hospital: "It is to provide a Krishna conscious working environment to doctors, paramedical staff, and devotees of the congregation. That was Radhanatha Swami's vision. He often expressed his desire to serve the devotee community worldwide." The hospital staff is unanimous in its conviction that this is the best medium for them to express their heartfelt gratitude to devotees who have served Srila Prabhupada's mission for decades and now in old age need medical attention.
Among others, ISKCON leaders His Holiness Bhakti Tirtha Swami and His Holiness Niranjana Swami have taken treatment here.
"I don't feel like leaving the hospital whenever they discharge me," says Niranjana Swami with great affection.
His Holiness Jayapataka Swami spent five months recuperating at Bhaktivedanta Hospital after suffering a cerebral stroke. While leaving, he appreciated the family spirit among the hospital staff and expressed happiness at having had the first-hand experience of being treated for the body, mind, and soul.
"I am extremely happy to see devotees engaging in their medical profession and simultaneously being spiritually nourished," he said during his farewell address. "I can see that many of the staff and doctors here are spiritually advanced. This is a loving family dedicated to medical and spiritual healing."
Inspired by a vision given by His Holiness Giriraja Swami, since 2006 palliative care for terminally ill patients has been initiated both in the hospital and in Vrndavana.
United by Devotion
More than twenty-five years of camaraderie and service displayed by the leadership has inspired many talented doctors and nurses to join the hospital.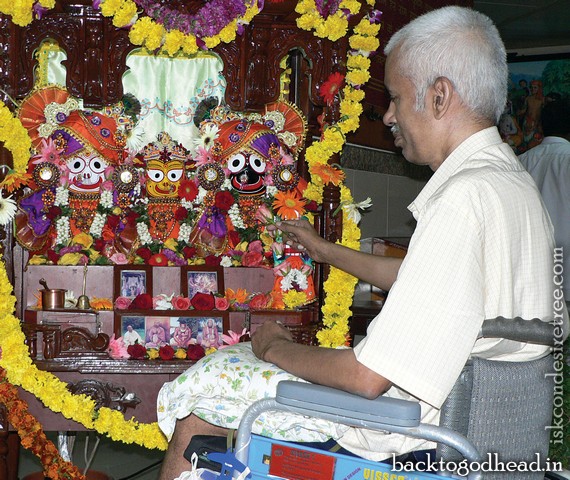 "Although the work stipulations and the wage structure is in line with the industrial norms, that's not what attracts me," reveals Jesse Jose, the head nurse of the intensive care unit. Six years ago her family went through a crisis, and the whole hospital gathered around to offer her emotional support. Since then, for Jesse there has been no question of ever leaving the Bhaktivedanta Hospital family.
The hospital faced a labor union crisis in 2002, after which reforms were initiated. Madhavananda Dasa, the director of the hospital, feels that the ups and downs over the last two decades have only bought the team together. Management can be tough, and I wondered how he avoids conflicts within the staff.
"Radhanatha Swami instructed us to have a fortnightly family gettogether of the senior doctors," Madhavananda says. "In these gatherings we discuss only spiritual topics, have kirtana, and honor prasadam together. There is absolutely no management talk."
Such spiritual gatherings have now been introduced for the younger group of employees and doctors. This keeps the spiritual spark burning, and the drive to serve together gets strengthened.
Vaisnava festivals like Janmastami, Jagannatha Rathayatra, and Govardhana Puja bring all employees together to cook and make garlands, decorations, and festoons. An annual pilgrimage to holy places helps the hospital team stay spiritually charged.
Four times a day, before the start of each shift, all employees meet in the spacious lobby and chant prayers in unison, and a senior staff member gives a ten-minute talk on the importance of spiritual purpose in holistic treatment. All patients, staff, and visitors are then served prasadam.
Lasting Impression
Every evening during my visit, I excitedly accompanied the mobile Jagannatha temple to each bed. In the ICU especially, it was touching to see patients on the ventilator offer a prayer and a flower to Jagannatha, Baladeva, and Subhadra, carried in a small well-decorated cart. For the unconscious, the cart carrier, Kishor, touches a flower to the patient's hand and offers it to Their Lordships on his or her behalf.
Five days later I returned to my temple reflecting on Visvarupa Dasa's words of wisdom: "We cure so many diseases, but life sends one unpleasant experience after another. Therefore we need a little kindness to help each other survive the hardships of this world and eventually cure the ultimate disease of death."
Back in the brahmacari ashram, I think about patients who leave this world while at Bhaktivedanta Hospital. They die while hearing Krishna's names, in the company of Krishna's loving devotees. Such departure guarantees them eternal joy, and no return to this world of birth and death.
Vraja Vihari Dasa, MBA, serves fulltime at ISKCON Chowpatty (Mumbai) and teaches Krishna consciousness to students at various colleges.