When the whole world is under the grips of terror and violence,we wonder if there is any hope for peace and unity
In his 1969 song "Give Peace a Chance," which is listed in in the Rock-and-Roll Hall of Fame's 500 Songs that shaped Rock and Roll, John Lennon declares the Vedic conclusion – "Chant Hare Krishna ."
Everybody's talking' 'bout John and Yoko, Timmy Leary, Rosemary, Tommy Smothers, Bobby Dylan, Tommy Cooper, Derek Taylor, Norman Mailer, Alan Ginsberg, Hare Krishna Hare Hare Krishna .
All we are saying is give peace a chance
All we are saying is give peace a chance
Now, the burning question is, "How to get the entire world to chant Hare Krishna ?"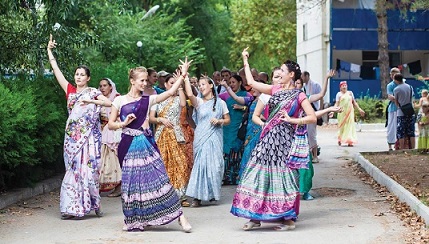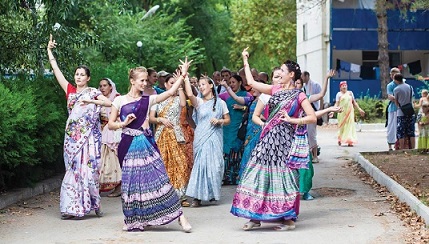 World Holy Name Week is an opportunity for all people, all over the world, from every nation and every stratum of society to get together and do something positive together. The chanting of God's names is a common practice in all religions. By chanting God's names, we all have a chance to realize our eternal identity as members of one family. We are all children of God. This is the only realization that will bring peace to humanity.
To bring about this realization, ISKCON encourages the chanting of the Hare Krishna maha-mantra: Hare Krishna Hare Krishna Krishna Krishna Hare Hare/ Hare Rama Hare Rama Rama Rama Hare Hare Krishna
ISKCON also acknowledges that all of Lord Krishna 's names are absolute. ISKCON is nonsectarian in its approach. All names of God, from all religions, are honored.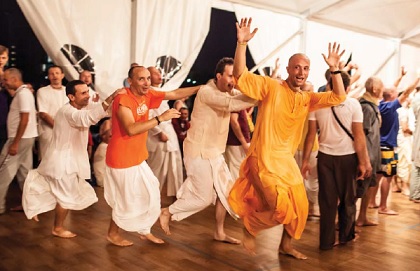 ISKCON has been celebrating World Holy Name since the founder-acarya of ISKCON, Srila Prabhupada, first set his foot in Boston, USA on September 17, 1965. He is the global ambassador of the holy name who spread the chanting of the holy names of Krishna to the USA. Then he traveled around the globe fourteen times distributing the treasure of the holy names.
I first became associated with the World Holy Name Project in 1992, when I was requested to come to India and assist with the preparations for Srila Prabhupada Centennial (1996). As a member of the Governing Body Commission's World Holy Name Week Global Coordination team, I perform services including designing promotional materials, communications, reporting, recruiting, review of our website, strategic planning, development of educational materials, and being on the ground during WHNW assisting one or more ISKCON centers with their celebrations.
I am currently working with Subhananda Dasa of ISKCON Strategic Planning Team and Pancaratna Dasa of the ISKCON Outreach Committee to develop a WHNW strategic plan that is in harmony with the overall strategic plan for ISKCON.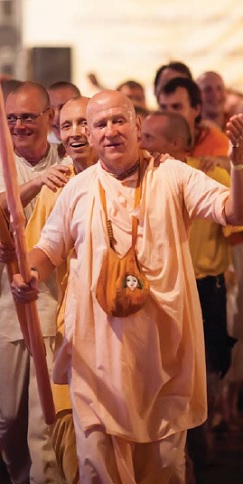 The first World Holy Name Day was held on June 9, 1996, as part of the Srila Prabhupada Centennial Celebrations. His Holiness Bhakti Tirtha Swami (1950–2005) was the global coordinator and gave his heart and soul to make sure that the event was celebrated with great pomp and grandeur.
World Holy Name Day was also celebrated during 2004, the 108th Anniversary of Srila Prabhupada's appearance, and met with much success.
The success of the World Holy Name Day during the Centennial Celebrations and 108th Celebration led to plans for perpetuation. The topmost managerial body of ISKCON, the General Body Commission (GBC) resolved in 2007:
"That World Holy Name Day is made an annual program for all ISKCON centers. The observance of World Holy Name Day is to be held in connection with the anniversary observances of Srila Prabhupada's arrival in the USA, September 17, 1965 . . . The Global Coordination Team for World Holy Name Day shall be Lokanatha Swami, Janananda Goswami, and Eklavya Dasa . . . ."
In 2008, the GBC resolved 'World Holy Name Day' into 'World Holy Name Week'.