GEORGE Harrison's "My Sweet Lord," with its Hare Krsna mantra refrain, saturates radio airwaves as the 1970 album "All Things must pass sky. rockets to number one worldwide. Rolls Rayce declares bankruptcy. Two hundred thousand Vietnam War protestors march determinedly on Washington.
In a world of his own, consciously a blivious of the chaos around him, a young man walks briskly through the fog on his way to the london Film School.
That's me in the picture: David Shapiro.
From 1969 to 1971, I had been attending classes at the London Film School, adjacent to Leister Square, where Hare Krsna devotees chanted nearly everyday.Diligently immersed in fulfilling my career dreams, I hadn 'taken any notice of what I thought of as yet another "freak shaw" of my flower power generation. This particular afternoon, however, a woman dressed in a Sanhanded me a magazine with a picture of Krsna on the cover. Although in a starving student State of mind, I inexplicably decided to give her some loose change. Perhaps I was intrigued by the cover painting of a flower garlanded blue boy playing a flute while His captivating eyes glanced mischievously at me. My eyes riveted to the cover, I continued to hurry across busy streets, .
"Back to Godhead ," the magazine's title proclaimed.
"What is that supposed to mean?" I wondered .
"Godhead is light. Nescience is darkness. Where there is Godhead there is no nescience," I read at the top of the page. A thought crossed my mind: "That sounds right."
A whooshing sound abruptly caught my attention. I looked up from the magzine just in time to narrowly avoid being hit by a double decker bus. A large advertisement with the catchy phrase "In your head, you know it's right" scrolled inches from my nose. I don't know exactly what they were trying to sell, but the message to me was vividly clear: the wards on the magazine cover were somehow very important to my life. I wanted to read more, but I had arrived at the school. I had a more immediate errand . Having opted to miss the official graduatian ceremony, I was there to collect my diploma.
lNTERlOR. LONDON FlLM SCHOOL DAY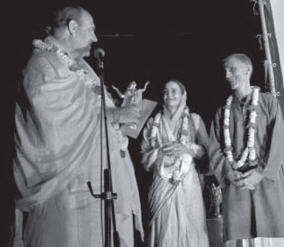 The school principal surprised me in the corridor with my certificate. Somehow he had anticipated my arrival. "Here's your diploma from the school of illusion," he said.
I'd done it! I'd graduated with a master's degree in film. I was twenty four, and my Hollywood bound future was awaiting me . I'd already rehearsed my Oscar acceptances speech.
but the principal's wordds reverberated i my head. The school of illusion. What did that mean?
A flower child of the 60's I had been always trying to avoid the real life of politics, war, economics, disease, and death. "Make love, not war" was aur mantra . And it was through film that I had learned how to create the illusion of life, one that could help me escape a brutal and unsavory reality. I had spent most Saturday morning of my childhood at the local movie theater digesting cartoons, Westerns, and, later, love stories. I would laugh, cheer, cry, even cover my eyes during the scary parts. I adore going to the movies, and now Iwas going to create those illusions myself.
I left the building with a diploma in one hand and, though not conscious of it, a back to godhead in the other still mulling over the principal'statement . "Why did he say that?" I was puzzled. Then I noticed the magazine in my hand. I thought perhaps it would give me some clue. I sat down in a small park off Oxfod St. and began to peruse it. All the distractions in the park the kids playing, the lovers kissing, the drunks grumbling at no one in particular disappeared as the words digested.I had never read anything with such a power of truth. I was stunned at the simplicity and profundity of such concepts as "the real problems of life are birth, death, old age, and disease, not economic devlopment and sense gratification." My material ambitions began to dissolve in the fire of that knowledge. I feltcompelled to know more about the science of Krsna consciousness. I wanted to go to that spiritual world where "all words are a song.. every step a dance." I had found the real Woodstock, where "all you need is love." Three days later, I was living in a Hare Krsna temple in Chicago.
DlSSOLVE TO; lNT. ADVERTISING AGENCY DAY
Determined to gain experience as a "professional filmmaker, I got a job at a nearby "promotion company whileliving at the temple. I was juggling getting up at 4:00 AM., attending the morning "program at the temple, and working all day during the week . Saturday I went door to ·door distributing books, and Sunday I was involved in preparing the 'love feast." Though the devotees told me to just give up my career ambitions and "surrender to Krsna ," I was defiant. Somehow, I was going to have it all. But one day my boss told me to work on an ad for a liquor company, and I refused . He gave me an ultimatum; produce this commercial or you're fired . That's how Krsna arranged for me to be a full-time devotee.
EXT. DOWNTOWN CHlCAGO DAY
Instead of composing jingles and storyboards, I was chanting eight hours a day on the ''busiest street comer in the world," State and Mad ison. Still, I had film ambitions, and letters from Srila Prabhupada fanned my desire to dovetail my interests: "Just make films about Krsna . Then your life will be successful,"
lNT. BROOKLYN T.EMPLE -MORNlNG
A few months later,I was at Srila Prabhupada's feet in New York City, and I was making an animated film of the Bhagavad gita with a cinema student interested in Krsna consciousness.
INT.NEW DWARKA TEMPLE MORNING
I followed Srila Prabhupada to Los Angeles, where I was included in an effort to film him giving lectures on every verse in Srimad Bhagvatam. We filmed two before Srila Prabhupada stopped the project. He didn't like lecturing to a camera without the "presence of a temple full of devotees. But Srila Prabhupada initiated me around that time, so I was happy.
EXT. FlLMSET DAY
Determined to be in the film industry, I got a local job with a newly formed television film "production company. Devotees considered me somewhat of a heretic at that time, since devotees didn't work "on the outside ." Nevertheless, for five yearsI paid my dues at that job and went from being a production assistant to producing multi·million dollar movies for television.
INT. NEW DWARKA TEMPLE NIGHT, NOVEMBER 1977
That year brought another life changing event : Srila Prabhupada left this mortal world. At that time, my materialistic ambition paled in comparison to the "profound sadness I felt. I resolved 10 serve him better, so I began to formulate a "plan for spreading Krsna consciousness through the new technology of videotapes. Thus, the idea of ISKCON Television (ITV) was born. The "plan was to "produce Krsna conscious television programs and distribute them to temples equipped with videotape players all over the world.
INT. ITV OFFICE DAY
I left my job and worked night and day on formulating the new plan. In 1979, after two years and a lot of lobbying of ISKCON managers, ITV was bom as an international ISKCON project. By Krsna's grace, Siddhartha nasa signed on as an editor and, eventually, co-manager. His dedication and talents were of incalculable value. ITV continues to operate as a nonprofit, charitable organi2ation with a library of over seventy-five titles (www.itvproductions.net).
INT. NEW DWARKA TEMPLE, DETIES DAY
But what about that desire for an Oscar?
DISSOLVE TO: EXTERIOR MAYAPURDHAMA NIGHT
"Mayapur, India,35 years later" (super imposed)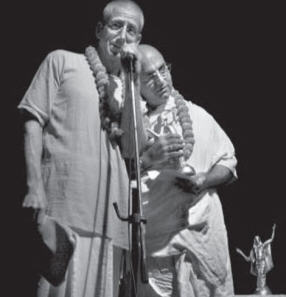 Twelve hundred onlookers sit under a gigantic marquee before a lighted stage. A high-end video projector illuminates a five-meter-wide screen . I'm introducing this premiere awards ceremony, handing out over five thousand dollars in prize money to winners selected from thirty-seven entries. Films were submitted from countries as diverse as South Africa, U.K, USA., Croatia, India, Czech Republic, Russia, .Australia, Canada, and Denmark. Clips from each production play on the huge screen. VIP presenters introduce each category, and then open the envelope as the montage ends. Winners emerge from the audience, their arrival acoompanied by music, to accompanied the shiny golden award and the cash. A glamorous hostess steers them to microphones at either side of the stage. The winners speak of their deep gratitude in being recognized and rewarded .I relish the scene.
Maybe it's not the Oscars. But it is the very first Vaishnava film/video Festival ever held . And I'm elated .
Most of the devotees in the audience ha\le never seen chanting parties in Croatia, Food for Life volunteers feeding the victims left homeless in Tsunami-wrecked Sri lanka, families being reconciled in South Africa, the strength of C.LS. devotees who had languished in prisons and mental hospitals, the remote Nrsimha temples hidden deep in the jungb of South India, the excitement and challenges of being on the Hare Krsna summer Baltic Sea tour, or the exuberance of the Hare Krsna youth as they travel with the Festival of India throughout North America. These productions inform, enthuse, and inspire. They unite the Vaisnava family worldwide.
When I started publiching the promise of the First Vaisnava film/ Video Festival, I expected ten or fifteen entries. When the thirty seventh arrived just before the deadline,I nearly panicked. I felt the weight of the responsibility of launching a new tradition of awards. I had to recruit judges from my Hollywood contacts to ensure impartiality, selected clips for each of the categories, and scrift the entire show so that it could run seamlessly from one segment to the next.. Then there were the tasks of organising the 'Projector, screen, stage, lighting cues, hosts, 'Presenters, garlands, and sript in an Indian rural locale three hours via a Precarious and bumpy road from Kolkata. I had to test the 'Plaster mold of lord Nityananda and bring it to India so that thestatuettes couId be cast and -painted by skilled artisans.
Nothing is ever as easy as it seems, and th is was no exception. But Krsna's sent an army of devotees to my aid .
His Holiness Bhakti Purusottama Swami is one of the leaders in Mayapur and organizes the annual ISKCON Mayapur festival, at which the awards ceremony would take place . He grasped the relevance of recognizing media and gave the green light from the first mention of the idea.
Uddhava Gita Dasa, a Brazilian devotee and budding film student, showed up at my house months before the festival to volunteer to help Ukranian congregation member, volunteered to come to Mayapur and be one of theonstage hostesses I had met her the previous year during a festival in Odessa. Giri· Govardhana Dasa, a vigorous Polish transplant already in Mayapur , took charge of getting the ''Nityas'' cast and finished . For the gala event, Ganga Dasa (Italy) coordinated all the contacts and supervised the so and and lighting. Advaita Candra Dasa (New Zealand) , Pancaratna dasa (U.S .A.). and Sadbhuja Dasa(Australia) all offered their offices, phones, pa rticipation, and good will. Most involved was eighteen year old Krsna Dasa (Russia), who labored numerous late nights reauthoring the show on his laptops. The awards ceremony was the result of the cooperation of devotees from all over the world .
I may not have gotten the Oscar for which I had dreatred, but now I was 'Producing a transcendental version for the 'Pleasure of the Vaisnavas. Instead of working for 'Profit, adoration, and fame in the material world, 'Producers, directors, and editors were being acknowledged far their labors of loving devotion to guru and Krsna.
The first Hare Krsna Film/Video Festival was on its way to making history.
Who needs an Oscar? In my mind, that mundane statue paled in comparison to the Nityananda award .
FADE OUT
Nrsimhananda Dasa, a disciple of Srila Prabhupada's produces, promotes and distributes Krsna conscious vidos through his company ITV……