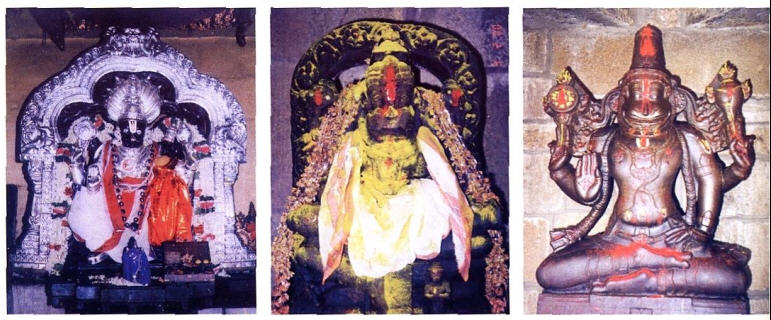 A young Krsna devotee sets off on a dangerous
journey to ancient temples of his lifelong deity.
In 1980 I was born to devotee parents in the large Hare Krsna community of New Vrindavan, West Virginia. From my infancy my parents brought me to the temple each day. Gradually, as a young child I grew attached to the large, fierce-looking deity of Krsna's form as Lord Nrsimhadeva (Narasimha) and His foremost devotee, the boy-saint Prahlada. When I was six, Prahlada's age, the priest allowed me to assist him in the temple worship of Lord Nrsimhadeva. Although the Lord looked frightening, I always felt protected when I stood before Him.
When I was sixteen my family visited India. I fell in love with the spiritual atmosphere there and decided to return as soon as possible. By the time I turned eighteen I had decided to make the journey on my own. I worked hard to save for the trip and agonized over my itinerary. India is so big where should I go?
One day I visited the Hare Krsna temple in Miami. As I glanced over a large stack of old issues of Back to Godhead, a stray breeze blew open the top one to a full-page photo of Lord Nrsimhadeva. The picture seemed to beckon me. Reading the accompanying article, I was amazed to learn about a young sannyasi, Indradyumna Swami, who had made an incredible journey to Ahovalam, a remote South Indian holy place said to be the very spot where Lord Nrsimhadeva dispatched the evil Hiranyakasipu. His article inspired me so much that I set my mind then and there on making the difficult pilgrimage to Ahovalam.
Warnings
I began my India adventure in Vrndavana, where I visited a remarkable three-eyed deity of Nrsimhadeva. From there I proceeded south to several well-known holy places, including Srirangam and Tirupati, my last stop before Ahovalam.
The devotees at the ISKCON Tirupati temple asked me where I was going next. When I said Ahovalam, they looked at me as if I were crazy and urged me not to go. Seeing they could not dissuade me, they strongly cautioned me to stay only for one day and get out of there. I thought they were just joking until I realized that I was the only one laughing. An experienced devotee warned me that people there try to rob and kill you and that the surrounding jungle holds ferocious, wild animals such as bears, tigers, and cobras. With these words of encouragement I felt terrified but even more excited! The journey would truly test my faith in Lord Nrsimhadeva.
After a grueling ten-hour bus ride, I arrived at the Allagada station, where I'd catch the Ahovalam bus. As I waited, a large group of people suddenly surrounded me, the only blonde kid in the whole station. An English-speaking man asked where I was going. When I replied, "Ahovalam," he looked at me very strangely. When he told the crowd what I had said, everyone stared at me even more.
"Why do you want to go to such a place?" he asked. "It is a very dangerous place."
"I am going to see Lord Nrsimhadeva," I replied.
"May He protect you," he uttered gravely, and walked away.
Aboard the bus and getting closer to Ahovalam, I could feel my limbs start to tremble, and my heart beat fast. I didn't know what lay ahead, but I was going to see my Lord at His home.
The Lord Sends a Guide
After an hour on the bus through the middle of nowhere, I reached the tiny village of Lower Ahovalam. There I saw Lord Nrsimhadeva at the Laksmi-Narasimha temple, the first of nine forms of the Lord to be seen in the Ahovalam area. Then I arranged for some rough accommodations the only kind available. A shower is a bucket of water you pour over yourself.
I was in the middle of my shower when someone knocked on the door and called out, "Hello. Hare Krsna!"
Having been warned about thieves, I opened the door cautiously. There stood two Indian men. One of them, tall and saintly looking, introduced himself as Madhu, from Vijaywada. Years before, he had lived in an ISKCON ashram and was now initiated in the Ramanuja line. He said he'd heard that I wanted to see all nine forms of Lord Narasimha.
"Yes," I answered, thinking, Word sure gets around fast here.
He said, "I'm going to go tomorrow morning. Why don't we go together? I have been several times and can take you to all nine forms."
I felt convinced this must be Nrsimha's arrangement, so I readily agreed. I asked Madhu how much he would charge.
"I am glad just to serve another devotee," he humbly replied.
Madhu said that to see all nine forms in one day, we would have to spend the night in the jungle.
The Trek Begins
In the morning I rose early and met Madhu. We visited the nearby Laksmi-Narasimha temple to pray for a safe journey. Remembering a photograph in the old Back to Godhead, I recognized the same pujari who had taken Indradyumna Swami on his tour here in 1979.
Our walk to Bhargava-Narasimha, the second of the nine local forms of Nrsimhadeva, took us through a thick jungle with paths in all directions. Madhu said that no matter how many times you go there you can never remember the way.
"You have to depend on the Lord," he said.
The next thing you know, we were lost. I felt nervous. We finally found the way and arrived at the beautiful temple, where we chanted for a while. In the past many great sages worshiped the deity here. Madhu said that the deity is named for Parasurama (also known as Bhargava), the warrior incarnation of God. Parasurama had performed penance near Ahovalam at a place now known as Ramatirtha.
Next we set off to see the third form, Catravada Narasimha. Madhu mentioned that if we were lucky we would be able to see all nine forms on this holy day. Catravada was a long walk from town, but I was extremely pleased to see Him. He was effulgent and had a big smile. We were allowed to touch our heads to His lotus feet.
Near Catravada is Yogananda Narasimha, the last of the nine forms of Lord Narasimha in Lower Ahovalam. He looked magnificent and powerful. Of the nine Narasimhas, Yogananda is said to be the most merciful.
We ran back to catch the bus to Upper Ahovalam, a trip through dangerous and treacherous terrain. After a while the bus stopped, and the driver directed us to get off. I saw nothing but jungle, but as the bus drove away, the temple of Karanja Narasimha came into view. He is named after a fruit-bearing tree growing next to the temple.
Having now visited the first five Narasimha forms, we had to walk the rest of the way to the next: Ugra Narasimha, a deity tucked in a cave between two mountains. The walk was beautiful. All around was an untouched jungle, overgrown and full of wild animals, which, fortunately, we did not encounter. Soon we reached the temple of Ugra Narasimha, constructed inside His cave. The deity looked ferocious. We prayed for a safe trip to our next stop, the Ugra Stambha, said to be the actual pillar from which Lord Narasimha appeared.
Atop the Historic Pillar
After a side trip to the ancient Varaha Narasimha cave/temple, we followed an adjacent stream bed to the Ugra Stambha and the seventh form, Jvala Narasimha. The terrain proved most difficult. Madhu told me that not many people make this journey because it requires crossing a huge and dangerous waterfall. On the way up I saw a couple of wooden boxes next to the path.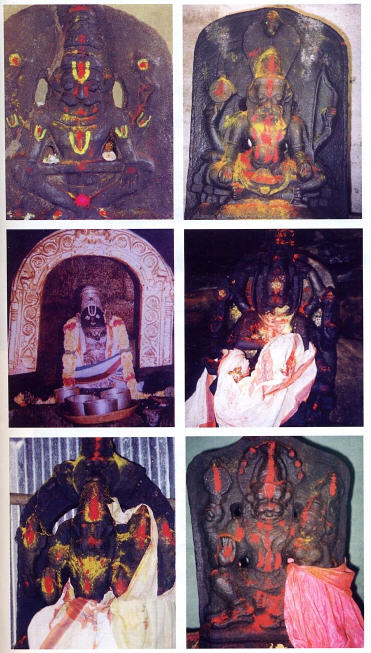 "Those are for the people who died making the climb," Madhu said.
I didn't need to hear that.
Nestled on the side of a cliff, the Jvala Narasimha temple is said to be the exact spot where the Lord killed the demon Hiranyakasipu. Next to the temple is a large stream. At the spot where Narasimha washed his hands after killing the demon, the water flows blood-red and even feels like blood.
After more climbing we reached the top of the large stone pillar. The view was spectacular. I couldn't believe I'd actually made it. We'd been walking all day long, with very little to eat and just water to drink, but I hadn't thought of anything except the thrill of being in this spiritual place.
My contentment was short-lived; now it was time to go to the eighth form, which meant another long walk through the mountains. At last we reached the temple of Mohaloha Narasimha, situated on the side of a mountain. According to Madhu, Laksmi did penance to marry the Lord here.
Next we went to the Prahlada school, which has Sanskrit writing on the walls dating from the days of Prahlada's studies here. Near this high, mountainous spot was another cave, with a beautiful Yoga Narasimha deity in it. But we still had one more destination: the Bhavana Narasimha deity, four miles away.
Although Madhu had warned me not to walk ahead on the path, I did so anyway. Suddenly a huge cobra slithered in front of me. It seemed to be ten feet long. I heeded Madhu's warning and let him lead. The jungle was so dangerous, even in the daytime. Now it was close to dark, and we still had miles to go.
As we ascended the mountain trail, nearby villagers screamed angrily at us. Madhu just kept walking. When we reached a mountain-top stopping point, he told me they were saying that it is forbidden to enter the jungle at night because of the wild animals. People who go in, they said, never come out again. They also said that no one should go to the Bhavana temple at night, because at that time the demigods come to worship Lord Narasimha.
Now I was really scared. Then I saw a dead snake in the middle of the path. A bad omen, Madhu said, but we just had to depend on the Lord for protection. Suddenly it was pitch black. I pulled out my tiny flashlight. I shook with fear and prayed to Lord Narasimha for protection.
Protected by Fire
In spite of the dark we somehow made it over the big mountain. As we did, we were amazed to see that the forest ahead was on fire, except for the small path we were following.
I thought, It must be Lord Narasimha lighting up the jungle and keeping wild animals away.
The fire went on all the way to the temple.
At last we reached the ninth and last deity. Lord Narasimha and His consort looked so beautiful. We thanked Him for allowing us to attain His audience.
We were exhausted, and it was too dark to go back, so we decided to sleep in the front area of the tiny temple. I tried to go to sleep, but I felt too excited and amazed to be sleeping in the Lord's temple.
Suddenly I felt something sniffing and touching the back of my neck and ear. I jumped up and saw nothing. Madhu said he would stay up to see what it was. He turned on the flashlight and began telling me wonderful stories about the Lord. Then, with a loud pop, the brand-new flashlight went out. We tried everything to fix it, but without success.
Just at that moment the wind started to blow ferociously. I wondered if we were offending the demigods by being here. After a while I fell asleep, only to be awakened by Madhu frantically pulling me into the temple's inner sanctum. I was so groggy I didn't ask why. Madhu hastily slammed the gate shut and secured it as best he could.
Furry Guests
Looking up I was stunned to realize I was sitting right at the base of Lord Narasimhadeva's lotus feet. I lay down and felt at peace. Then a bone-chilling roar broke the stillness.
I froze and whispered to Madhu, "What was that?"
He assured me there was nothing to worry about.
"Just go to sleep," he said.
The next morning we set off for a long walk to two more Narasimha temples, named Giridhari and Jyoti. Jyoti was the most amazing and ferocious deity of all I'd seen. His name indicates that the forest would always be burning because of His anger.
From Jyoti we were able to catch a bus back to Ahovalam. It took seven hours. In the evening when we arrived we went straight to Laksmi-Narasimha temple the first stop on our tour and thanked the Lord for His protection. Later, while we ate, Madhu explained why he had moved me to the inner sanctum of the Bhavana temple the previous night. While I was asleep, three huge wild black bears had come up, smelled us, and circled the temple.
The next morning we returned to see Bhargava Narasimha, the second of the nine forms. I felt blessed when we were allowed to clean the whole temple. As we left, a crowd of villagers surrounded us. Madhu spoke with them, then translated for me. They were shocked to see us alive after entering the jungle at night. They also said that, although they were born there and had lived their whole lives in the area, we were the first people they'd known who had managed to see all nine forms of Lord Narasimha in a single day.
Meeting the Swami
It was time to move on. I thanked Madhu profusely, and we both said we hoped to meet again. Because of his humble and devotional attitude, Madhu had been an inspiration for me. Far from trying to take advantage of me, an inexperienced young Westerner in a foreign land, Madhu had taken care of everything, even our bus fares. As my bus lumbered away, I thanked Lord Narasimha for giving me Madhu's company.
A few days later I arrived in Jagannatha Puri. After checking in to a hotel, I was astonished to learn that Indradyumna Swami happened to be staying at the very same place. I had never met him, except through the article in the old BTG. I went to his room and paid my respects. Tears filled his eyes as he learned of the journey I had made in his footsteps.
Dhruva Dasa lives with his parents, Dharmatma Dasa and Dvijapriya Devi Dasi, and brothers in Alachua, Florida.