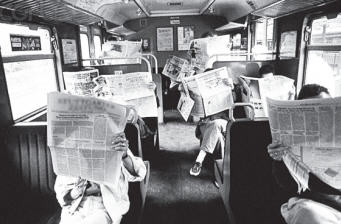 This year, a week before Gaura Purnima, I was scheduled to travel from Nasik to Mumbai along with my God-brother Sanatana Rasa Dasa. As we were boarding the train we met another devotee, who was also traveling to Mumbai. To my amazement this devotee, Pravin, had reserved a seat right next to us. Lord Krsna had arranged for devotee association even on the train. We had seat numbers 60, 61, and 63. Normally I avoid chanting in the train, therefore I had chanted my eight rounds at the Nasik temple. Now for the remaining eight rounds, Lord Krsna had blessed me with association. As three of us chanted together, I felt nearly the same intensity in chanting as I had experienced in the temple. This is the special blessing for this age of kali. Lord Brahma says to Narada in Kalisantarana Upanisad, verse 9: " … Anyone can chant any time at any place." But this becomes easily possible only in association, because sitting alone we tend to look here and there, even sleep in this process of waking up the soul. In association, devotees wake us up and also inspire us by their intense chanting. I could experience this bliss today.
The train stopped at Igatpuri and three of us opened our breakfast tiffin boxes. We had different Ekadasi items and we shared equally. And then while honouring Krsna prasadam we had ecstatic Krsna katha. I just felt that if we can enjoy so much in honouring prasadam in the association of devotees on a train, how much bliss must the devotees at Vrndavana must be experiencing? We were so ecstatic that all those sitting around felt like joining us. Amongst them was the person sitting right in front of us on seat no. 71. The person on seat no. 71 introduced himself. "I am Narayan More," he said.
We introduced ourselves a long with an introduction to Krsna consciousness. Because that is what Lord Caitanya has ordered us: "yare dekha, tare kaha 'krsna'-upadesa" (Cc. Madhya 7.128). "Whoever you meet, simply talk with him about the instructions given by Krsna or tell him of narrations about Krsna."
Otherwise we socialize on the train, talk about sports, politics, politics in sports, and various sports in politics and then we part away ignoring our souls and supersoul.
Following orders of Mahaprabhu we explained the Narayana tattva to Narayan More and he accepted Krsna consciousness philosophy with an open heart. He promised to visit the Nasik temple during the Gaura Purnima festival. I told Pravin to follow up with Mr. More. On the last day of Gaura Purnima festival I got a phone call from Pravin saying that Mr. More was in the temple. I asked Pravin to present Mr. More a set of beads and request him to chant. "Give him an occasional call ," I said to Pravin, "because people in this material world very easily forget Lord Krsna. I am planning to write an article in BTG on Mr. More. The article will be named "Seat no. 71" as that was where he received this gift of Caitanya Mahaprabhu."
By now Mr. More had also realized that his travel on seat no. 71 was specially arranged by Lord Krsna to give him the holy name.
Today, before I sat down to write this article I called Mr More. He said he is chanting and wants to increase his rounds. I felt satisfied and wrote this article to offer it at the lotus feet of those devotees who preach the message of Lord Krsna wherever they go, to whoever they meet.
Yugavatara Dasa is a lecturer in anatomy in a medical college in Mumbai. He is a regular contributorto Back To Godhead.