Devotees work together in a relief effort to recover
a spiritual oasis from ecological disaster.
WHEN MY SON was ten years old, I took him to India to visit Vrndavana, the home of Krsna. Having been brought up as a devotee of Krsna, he had been taught to see Vrndavana as a sacred forest, full of peacocks, cows, and deer. I had warned him that things were different now than five thousand years ago, but still he expected to see paradise. What he saw when we got there was an environmental disaster area. He was so disappointed that afterwards he said he never wanted to go there again.
His reaction is not unique. Many pilgrims to Vrndavana are profoundly shocked when they see how neglected and polluted it has apparently become. How did Vrndavana get into such a state, and what is being done about it? In the heart of Vrndavana rests Nidhivana the sacred Forest of Sleep its trees bent double with age. Some of them are many thousands of years old. Standing among them one can sense the great age of the place. Five thousand years ago, Krsna used to sleep here at night with His beloved Radha. Since then this holy ground has been kept a secret place, guarded by monkeys. Beyond its high walls crowd the intricately carved temples and houses of the holy town in a tangle of narrow lanes. But in here after dark no human being can set foot it belongs to Krsna and to His monkeys.
Vrndavana lies at the heart of India on the Yamuna River, inside the "Golden Triangle" bordered by Delhi to the north, Agra to the east, and Jaipur to the west. It is the center of Krsna worship.
Vrndavana Then and Now
It is said that Krsna never leaves Vrndavana, and every tree and rock is permeated with His presence. Vaisnava saints have written volumes of devotional works describing it as an eternal divine realm where every living thing is conscious of Krsna. Pictures of Krsna in Vrndavana show Him garlanded with forest flowers amidst the trees, in the company of the cows, deer, monkeys, parrots, and peacocks. Now, however, most of the trees are gone, and along with them the animals. It takes spiritual vision to perceive Krsna's presence in the midst of the dried up and empty landscape.
In the sixteenth century, fabulous temples were built on the banks of the Yamuna, and Vrndavana became a great center of pilgrimage. The wealthy patrons who built these temples were the kings of Jaipur and Bharatpur, who have long since gone, leaving their magnificent buildings neglected and crumbling.
But Vrndavana is still alive with devotion for Krsna. Millions of pilgrims come every year from all over India, fulfilling their life's ambition to see with their own eyes the forests where Krsna walked.
When they come to Vrndavana, pilgrims go on parikrama, walking the seven-mile path which surrounds the town. By this act they worship the sacred place. Surprisingly, however, their route takes them through a dying landscape in which trees, water, and air are caught in a stranglehold of pollution and neglect. Where once stood beautiful groves rich with flowering trees and wildlife, now stand the ruins of the ornate temples and spires of old Vrndavana, surrounded by a wasteland of rubble and decay.
An essential part of the pilgrims' visit to Vrndavana is their bath in the Yamuna River. By bathing in her waters they wash away their sins. But the Yamuna has become a dumping ground for refuse and sewage. It is so heavily polluted by wastes from the factories and sewers of Delhi, seventy miles upstream, that the government of India has declared it unsuitable for drinking or bathing.
Pilgrims also see widespread evidence of ongoing deforestation. All over Vrndavana, mature trees have been felled, and unspoiled woodland has been cleared for development. The pressure of population growth and Vrndavana's popularity as a holy town make it a target for developers. Many of the new houses are second homes for well-to-do Delhi families. One developer's sign reads:
Welcome at this holy land of
Lord Krishna
SRI BAN [holy forest]
Plots for sale.
Freehold Residential complex
in very peaceful
and tranquility atmosphere [sic]
But as soon as the houses are built, the tranquil forest has gone forever.
The loss of trees has brought the inevitable erosion of topsoil, turning garden to desert. Dense forest cools the air and induces rainfall, but now without trees the grueling summer heat gets even hotter, and rain falls less. Pilgrims find little shelter from the fierce heat of the summer sun. Wells built to supply them water stand high and dry above the parched sand.
According to local reports, the water table is falling as much as five feet a year, and the quality of the water is deteriorating. Reservoirs that in former times collected surface rainwater to replenish the underground water now stand empty. The sacred pond called Brahma Kunda, which marks the spot where Brahma offered prayers to Lord Krsna, is now neglected and ruined. Govinda Kunda, another of the original tanks of Vrndavana, is now a field.
With the demise of these tanks the traditional water system has fallen into obsolescence, replaced by modern water towers and piped water, which only serve to increase the demand on the already scarce water reserves.
Every year hundreds of great trees such as those in the sacred grove of Sutalavana die from old age and lack of care. These trees are said to have witnessed the dancing of Radha and Krsna and are worshiped as great souls. But although devotees embrace them and pray to them for spiritual protection, little is done to protect the trees or to plant new ones when they die.
Gathering Support
I first visited Vrndavana in 1975. At that time I was unaware of the depth of its environmental problems. I saw the uncared-for surroundings and assumed they had always been that way. Srila Prabhupada had once commented that Vrndavana appears desolate in order to deter impersonalists from coming there. But he had also said that it was like this because of offenses and that one day it would again become green. I felt sorry to see the state of the place and wished to myself that one day I might have an opportunity to do something. That opportunity presented itself many years later, on the inspiration of a friend and colleague.
In 1989 my friend Martin and I were traveling by train to a meeting in northern England and discussing ideas for a school book on pilgrimage. As an illustration of Hindu pilgrimage, I suggested we look at Vrndavana. I told Martin how Vrndavana was once covered by the forests of Krsna but these forests had now vanished. Somehow, in all my years of visiting Vrndavana, I had never thought of the area as the victim of the same sort of deforestation that was taking place in such better known areas as the Amazon rain forest and the Himalayan foothills. Now, as I talked with Martin, with the green wooded landscape of central England speeding past our window, I realized that Vrndavana was such a victim.
We found ourselves talking of how we might be able to set up a reforestation project in Vrndavana. We knew that the World Wide Fund for Nature (WWF) would be interested in such a project to serve as an example of Hindu environmental values and inspire Hindus to take more interest in caring for their environment. Perhaps the Fund could be persuaded to support the initial setting up of the work.
Six months later I visited Vrndavana to do research for a book on Hinduism and ecology. I began to inquire into Vrndavana's environmental condition to see what, if anything, was being done about it.
I came across Sri Sewak Saran, a lifelong resident of Vrndavana, who has spent many years researching the environmental problems of the area and campaigning to revive Vrndavana's ecological traditions. Astonishingly, he seemed the only one to have taken an active interest in the problem. We had long discussions on the philosophical basis of ecology in the Hindu tradition. These became the basis for a chapter in my book Hinduism and Ecology. We then went on to discuss a scheme to plant trees along the parikrama path which encircles Vrndavana.
This path is followed by about two million pilgrims a year. Parts of it still have tree cover, but most of it is exposed and in need of reforestation. In many places it has changed from forest path to urban road, with hardly a tree in sight. If this path could be restored to its natural beauty it would draw attention to the disaster threatening Vrndavana and inspire others to take up similar restorative work.
I prepared a report for the WWF in Geneva. The WWF is committed to working internationally with religious communities to help revive ecological practices. Its members believe that a worldwide renaissance in environmentalism cannot happen unless people develop a more caring and spiritual understanding of their relationship to the natural world, as taught in the world's great religious traditions.
After further research and preparation, with two more visits to Vrndavana, I was able to present a full proposal, asking funds for a three-year project to revive Vrndavana forest. The WWF accepted the proposal and awarded the project a grant of about $40,000 a year for three years, starting in September 1991.
Our first task was to involve the local community of Vrndavana. Experience has shown that without the support and commitment of the local people, environmental projects fail to achieve much. An effective project must be aimed at changing the practices that led to the original problem, not simply doing superficial remedial work. So we visited Vrndavana Town Hall to enlist the help of the municipality. There we put together a series of public meetings to talk about our ideas with local political and religious leaders and seek their advice.
We explained that the millions of pilgrims who come to Vrndavana every year expect to see the beautiful landscapes they have seen in pictures of Krsna. They think of Krsna as the Lord of the forest, always surrounded by flowers, clear waters, and abundant wildlife. But when they come they see all around them signs of neglect and pollution. What sort of message does this give them? Either they will conclude that caring for Krsna's trees and land is not important or that the people of Vrndavana are neglecting their duty. Our central thesis was: one who cares for Krsna cares for His land.
I told our listeners how I had brought my own son to visit Vrndavana and how sad it had made him. I told them that my ambition was to bring him back in ten years, show him how things had improved, and give him hope for the future. Moved by what they heard, leaders of the community pledged themselves to support our work.
Step 1: The Nursery
One of the most difficult aspects of organizing a project of this sort is finding the right people. We were fortunate to be able to recruit Acyuta Dasa, a field worker for over five years in Vrndavana with ISKCON. With his local knowledge and his experience as an engineer and project manager he was the ideal man to organize the practical work.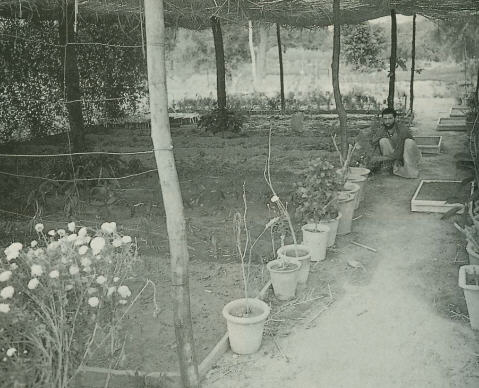 Our first task was to establish a tree nursery. Working with devotees and local labor, Acyuta supervised the laying out of the nursery area. ISKCON agreed to allow us to use an acre and a half of its land adjoining the parikrama path. This made an ideal base for our work. Here we would establish our nursery.
During the hot summer of 1991, through the rains and into the autumn, the work went ahead. In planning the nursery we had the help of one of Delhi's top landscape architects, K. C. Sharma. When he heard about the project, he volunteered his services free.
We planned to invite guests to a special tree-planting ceremony on the parikrama path outside the nursery. We would place forty trees on the path to inaugurate the project.
To plant a tree in India is not as simple as it might seem. Enormous care has to be taken to protect it from sun, cows, goats, vandals, and thieves and make sure it is regularly watered. This can only succeed if the local people take part. Despite all the efforts of the Indian Forestry Service, their experience is that less than five percent of trees survive.
A well-known sadhu was one of many local residents who pledged us their help to protect the trees. His asrama is right beside the path, and he enthusiastically promised not only his own support but that of his one thousand disciples.
By October the nursery was beginning to take shape, with paths separating the seed beds, and an irrigation system connected by underground pipes to a tube well and a twenty-thousand-gallon water tank. For delicate seedlings we built a special grass-roofed shelter in which to keep up a micro-climate by using different plants and varying regimes of watering.
While this work was going on we met with as many teachers and local leaders as we could, to discuss ways of publicizing the project and involving the school children of Vrndavana.
A WWF team from Delhi came to see the work in progress and discuss the launch of the project, set for the full-moon festival in mid-November at the end of the Hindu month of Kartika. Together we all walked along the parikrama path, joining in with a group of pilgrims who happened to be there at the same time. Only one of the WWF team had actually been to Vrndavana before, and all the team members were moved by the experience of walking with the pilgrims. We went to Kaliya Ghata, where Krsna had jumped off the kadamba tree to fight with Kaliya, the poisonous serpent who was polluting the river.
On one level, Kaliya represented pollution, and by driving him out of Vrndavana Krsna showed that pollution should not be tolerated. The same kadamba tree, or its direct descendant, still stands in memory of Krsna the environmentalist. Now once again Vrndavana is polluted, and we are called upon to follow Krsna's example. Together we all stood on the sacred spot and committed ourselves to fighting against the environmental destruction of Vrndavana.
The Tree Planting Begins
Two weeks later, the project was launched. The ceremony was led by Padmanabha Goswami, head of the Radha Ramana temple in Vrndavana, with the vice-president of WWF India, S. P. Godrej, as the guest of honor. Speeches were made to an audience of several hundred local community leaders. After a charming play by local schoolchildren, Mr. Godrej offered an arati ceremony to Vrnda, the sacred plant after which Vrndavana is named.
We then moved down to the parikrama path to plant our trees. The District Magistrate, a powerful figure in local government, planted a kadamba tree. His Holiness Gopala Krsna Goswami, regional director of ISKCON, planted another. And a keen supporter of the project, the Chief Conservator of Forests for the state of Uttar Pradesh, joined us to plant another. The rest of the trees were planted by children from five Vrndavana schools. These trees belong to the future for these children, so we wanted them to plant as many as they could, symbolizing our desire to involve the community in improving their own environment.
There is now much work to be done. The empty tree guard signifying that a tree has been planted but has since died is to be seen everywhere in India. It is a symbol of good intentions but lack of long-term commitment. We must be sure that this is not what happens with the Vrndavana project. The Chipko "tree-hugging" movement, inspired by Sunderlal Bahugana, has demonstrated to the world the power of the community to save trees. Like him, we hope to inspire millions of Hindus and others worldwide to think more deeply about caring for nature.
As the project gains support, there are many other tasks to take up. The parikrama path round Govardhana Hill, twenty miles from Vrndavana, is another obvious target for restoration.
Already a group of ISKCON devotees, inspired by our first efforts, have committed themselves to raising the money to save the last piece of unspoiled woodland in Ramana Reti, where Krsna and Balarama used to play. Instead of falling before the developer's bulldozer, this spot will be preserved as a memorial garden to ISKCON's founder-acarya, Srila Prabhupada.
Vrndavana is worshiped as the sacred source of life on this planet. If even here at the root of existence pollution and environmental destruction rule, what hope is there for the rest of the planet? On the other hand, if here nature is protected, that positive spirit will spread far and wide.
I look forward to the day when I can return with my son to a Vrndavana where trees grow in abundance, cared for by devotees and in turn caring for the millions who come to worship Krsna amongst them.