The Glory Of IndiaSri Sri Radha-Parthasarathi Temple
And ISKCON Hinduja Glory of India Vedic Cultural Center
A project of ISKCON
The International Society for Krishna Consciousness
(Founder-Acarya: His Divine Grace A.C. Bhaktivedanta Swami Prabhupada)
in cooperation with The Hinduja Foundation
LOCATION: New Delhi, India
PURPOSE: To serve as a center for India's greatest glory her Vedic knowledge and culture
PRINCIPAL ARCHITECT: A. P. Khanvinde, recipient of the Indian government's Padma Shri award for distinguished service
CONTRACTOR: Tarapore and Company, Madras (contractors for Delhi's 5-star Taj Mansingh Hotel, and the Indira Gandhi indoor stadium)
MATERIALS: Steel: 880 tons. Cement: 5,500 tons.
Marble: 25,000 square feet. Stone: 75,000 square feet.
Stone chips: 260,000 cubic feet. Wood: 2,000 cubic feet.
CONSTRUCTION WORKERS: 250
COST: Rupees 12 crores (about US $3,750,000)
TARGET DATE FOR COMPLETION: December 1995

YOU WALK UP through the back of the present Hare Krsna temple complex, you climb a hill, and you find yourself in a big red sea of gravel and bricks and piles of steel rods.
This is the construction site for the Glory of India Vedic Cultural Center.
At the base of a large pit perhaps a hundred yards by fifty, and eight yards deep lies the foundation for a museum. And elsewhere, at the highest part of the site, three towers are emerging for what will soon be a temple.
On one side the site overlooks Sant Nagar Main Road, with its houses and storefronts. On two other sides, trees extend up past the fence, from nearly a hundred acres of park. Off east through the park, walking distance away, stands the lotus-like Bahai temple, a New Delhi landmark, and off to the south the tall stacked office blocks of Nehru Place, New Delhi's "second downtown."
The Concept
The many aspects of the new center will bring alive the spiritual culture of India.
1. The Temple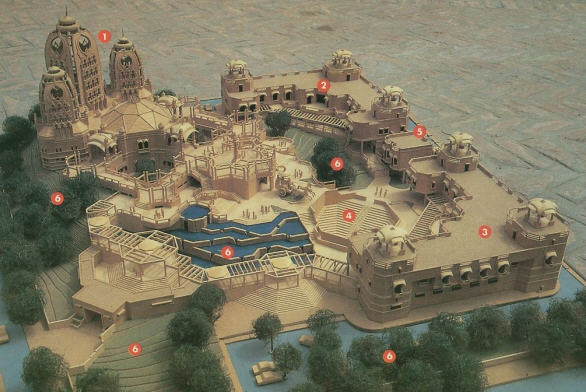 Dedicated to the service of Radha and Krsna, the temple is the center of attraction for the entire complex. Its unique latticed towers a fusion of traditional design and modern possibilities will extend ninety-eight feet above the highest point of the hilltop. With carved stone, wood, and marble, the temple will bring to life the advanced artistry of ancient India in devotion to Lord Krsna.
2. The Museum of Vedic Culture
The museum will show various aspects of the Vedic philosophical and cultural heritage, both through simple exhibits and dioramas and through sophisticated multimedia programs.
3. The Center for Vedic Studies
For serious students of Vedic culture, the center will provide classes, seminars, and conferences. The center's Library for Vedic Research will house an extensive collection of Vedic literature, both in original Indian languages and in foreign translations. The center will also offer special programs for school children.
4. The Vedic Center For the Performing Arts
The center will offer performances in music and dance by India's foremost artists. Performances will take place in a traditional open-air amphitheater, facing the temple of Radha and Krsna.
5. The Asrama
The true essence of a place of Vedic culture resides with the enlightened people one finds there. The center will be home for devotees fully dedicated to studying, living, and teaching the Vedic culture.
6. Krsna Jayanti Park
Groves, waterfalls, ponds, and gardens will be an integral part of the project. And the Krsna Jayanti Park, dedicated to the pastimes of the Lord, will provide a setting where spiritual life can flourish in tranquil surroundings.
The Organizer
THE ULTIMATE ORGANIZER for the Vedic Cultural Center has always been Lord Krsna Himself. Behind the scenes, devotees say, Lord Krsna, the Personality of Godhead, has been arranging everything.
Yet Lord Krsna works through His devotees. And the devotee who, from the beginning, has taken up the task of building the Vedic Cultural Center has been Gopala Krsna Goswami.
Gopala Krsna Goswami first met Srila Prabhupada in Canada, later served him in America, and then took up responsibilities for spreading Krsna consciousness in India. He first started working on the Cultural Center in 1982.
Remarks A. P. Khanvinde, the project architect, "He has worked very hard, brought all the elements together, finding the team, raising the funds. Maharaja Gopala Krsna has tremendous perseverance."
Gopala Krsna Goswami tells how the project got started:
"When Prabhupada was on this planet, he had expressed to me a desire to build a big project in Delhi. Prabhupada and I had gone to see different pieces of land in Delhi, but unfortunately the land could not be realized while Prabhupada was on the planet. But after Srila Prabhupada's departure, since we knew that this was Prabhupada's desire, we were pursuing attempts to get land from the government.
"To get land from the government in India, especially in Delhi, is very, very difficult. There's a lot of red tape involved. But we made several attempts, and finally in 1982 we met the Education Minister, Mrs. Sheela Kohl, and with her help and the help of the person then the chairman of the Delhi Development Authority, Mr. Jagmohan, we obtained the land."
From the beginning, the vision of what to do with the land was a broad one. "What we had proposed to the government was not just a simple temple but an educational and cultural project. The project would include a Vedic museum that could present the Vedic history of India using modern technology, for the benefit of both Indians and foreigners. By Krsna's grace, whomever we spoke to was very much inclined to the idea. And the name that we coined 'Glory of India Vedic Cultural Center' made people understand that this was not just going to be another temple.
"We knew that if we just constructed another temple in Delhi it would not be so significant. We have a great heritage, a great message to give, and therefore we thought that we should give this philosophy in a very modern package.
"Our vision is to create an institution that will inspire people to dedicate their lives to the teachings of Lord Sri Krsna. And in keeping with this theme, the Glory of India museum and exhibition will present highlights from our ancient and medieval texts, such as Mahabharata, Ramayana, Srimad-Bhagavatam, and Caitanya-caritamrta, using dioramas and modern technology."
Turning from the sophisticated to the simple, Gopala Krsna Goswami tells how the idea for the park got started: "In Delhi there is a big park known as Buddha Jayanti Park, and Prabhupada used to go there for morning walks. So once while on a walk he said, 'Why don't we have a Krsna Jayanti Park in Delhi?' "
Gopala Krsna Goswami, therefore, has been working to make the park happen. "We've approached the Delhi Development Authority to grant us fifteen to twenty acres of additional land for a Krsna Jayanti Park. Our plan is to construct a mini Krsna Jayanti Park within our complex, and when we get additional land the park can expand."
Gopala Krsna Goswami always thinks expansively: "Prabhupada desired that temples be constructed in all the major cities of India and other parts of the world," he says. And he tells of the purpose. "These temples are spiritual hospitals. Just as a sick patient goes to a hospital to get cured of his disease, one comes to the temple of the Lord to have darsana of the Deities, to listen to the kirtana and preaching, so that one is inspired to dedicate his life to the teachings of the Lord." The teachings of the Lord form the essence of the Vedic culture. And that culture is the greatest glory of India. Gopala Krsna Goswami therefore says, "We hope that after this project is completed it will not only attract Delhi-ites to come and have darsana of the Deities but will also attract scholars, public leaders, Indian tourists, Western tourists, and school and college students to come and get exposed to the Vedic heritage."
Funding and Support
FUNDING FOR THE Vedic Cultural Center has come almost entirely from India itself, and especially from Delhi, rather than from sympathizers or ISKCON centers abroad.
Gopala Krsna Maharaja tells of the contribution by the Hindujas. "Since this was going to be a very expensive project, I asked several leading families in India to take part. One family I have known for the past twelve years is the Hinduja family. They very much appreciated our concept, and they agreed to participate.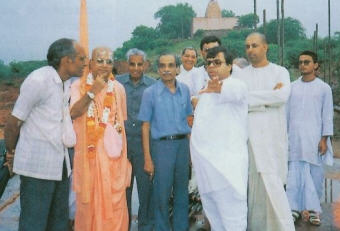 "Apart from financial contributions, the Hinduja family has given us great moral support for this project, and they have been actively involved in planning the construction strategy. Sri Ashok Hinduja, the youngest of the Hinduja brothers, though a businessman, is a gifted architect and an expert in construction. And Mr. Gurnani, who looks after construction for the Hindujas in India, has been very much involved."
Many other generous donors have come forward, cooperating to build this project for the glory of India and the glory of the Supreme Lord.

AMONG THE devotees who have taken up the work of collecting funds for the project are Jayananda Dasa and Vedavyasa Dasa. Vedavyasa Dasa, 64, a former professor of chemistry, has vowed to raise a crore of rupees for the temple. That's about a third of a million dollars, US. So far he has come a little more than a fourth of the way.
He says, "Though nowadays I am running ill I have faced a second heart attack I am hopeful to collect that much money."
He collects funds by enlisting supporters, called "Pandava members" after the five pious devotees who anciently ruled from what is now Delhi. One becomes a Pandava member by contributing at least one lakh, five lakhs, or ten lakhs for the temple. (A lakh is 100,000 rupees.)
"In India," he says, "people know the importance of using money spiritually. They are ready to give."
Jayananda Dasa, 38, belongs to a well-to-do business family. Apart from other enterprises, he recently took the lead insetting up a steel-making plant (startup cost: 100 million dollars).
Jayananda raises funds by introducing the project to friends and business acquaintances and enlisting their support.
"Now," he says, "My desire is, 'Let this temple be constructed.' I can see that in the future my parents and my brother and my family will always be happy and proud to see, 'Yes, Delhi has the Glory of India project.' "
The Team
Dedicated to constructing the center is a highly qualified team of devotees and professionals. Leading architects and engineers have come forward to give their service, without expecting payment.
A. P. Khanvinde, principal architect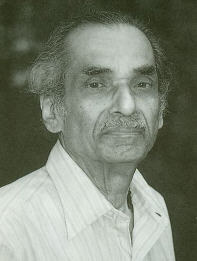 Educated at Harvard, honored by the Indian government, and eagerly sought for the design of projects like institutes, hospitals, and universities, Mr. A. P. Khanvinde brings to the Vedic Cultural Center a lifetime of architectural experience. Yet this is the first time he has designed a temple. "This project came to me as a surprise," he says.
And the surprise brought a need for decisions. "When the idea of designing a temple came," he says, "I was of a dual mind whether to reproduce the kind of temple existing six, seven or eight hundred years back or to have a temple appropriate to the present time and technology.
"After all, what was existing then, between 500 A.D. and 1100 A.D., was an outgrowth of the knowledge and techniques available then. When temples were first built, even the knowledge of mortar was unknown. Temples were done with vaults and arches and domes, all a product of stone piled upon stone. There developed a great technology, all related to stone.
"But now we have cement and concrete and steel, and therefore to express our time we will have to have a temple that shows our association with the past, expressed in the technology of the present.
"I was not keen to imitate the past," he says. "But we should be inspired by the past."
Inspiring also is the multifaceted nature of the project. "What we are building is not a temple alone. It is an institution where learning and practicing and devotion all take place. That's what we hope this will be, in course of time. That's the theme."
S. M. Jauhri, associate architect
The accomplished architect S. M. Jauhri has been involved with the Glory of India project from the very beginning. For the past ten years, he has devoted himself to its success. At the start, before the project had clear sources of funding, Mr. Jauhri used to spend from his own pocket for models and drawings and plans. And now it is Mr. Jauhri who sees to the proper implementation of the architectural concept on site.
S. V. Damle, structural engineer
An independent consultant in Delhi since 1965, Mr. Damle has worked on hotels, agricultural institutions, and industrial estates. He served as a consultant for the United Nations building in Kathmandu, and recently the 600-bed Apollo Hospital near Delhi. He and Mr. Khanvinde have worked together on several projects over the last thirty years. "You can say that our wavelengths are tuned to each other," he says.
The structural engineer has to fulfill the aesthetic dream of the architect, he says. And with the Glory of India project, Mr. Damle gives special attention to making sure that the structures are built strong. "A normal building's life is roughly sixty to seventy years," he says. "It is assumed that after seventy years it will be torn down and redone. But temples have to stay for ages." Mr. Damle therefore insists upon richer mixes for concrete, and special treatment for the steel.
Mr. Damle was recruited to the Glory of India project by Mr. Khanvinde, "He said to me, 'Can you contribute?' So I said, 'I will be glad to do that.' "
His inspiration? "I believe in God. That is the thing."
Mr. Damle speaks of the personal benefits of working on a spiritual project. "We haven't done that much study, to be frank with you. But at least in association with people of a spiritual nature we will learn something. And we get pleasure out of it.
"Such projects as temples give solace to the mind," he says. "In your profession you always work for your family and money. Of course, you work for your own mental satisfaction also. But here the ultimate goal is different. We are working for our own mental satisfaction and for a spiritual goal."
Mr. Damle sees special significance in the Glory of India project. "This will be an important project not only for Delhi but for all of India. This Delhi area Hastinapura is the karma-bhumi [place of activities] of Lord Krsna. So if such a temple comes in this area, it is a pleasure for everybody.
"I think it is my honor to get associated with this project. God has given me a chance to do it."
Ravindra Bhan, landscape architect
Mr. Bhan got involved in the Glory of India project through Gopala Krsna Goswami, whom he knew through a mutual friend in Canada. "Maharaja mentioned to me that they were going to build a temple in Delhi and I should get involved. So I said, 'Certainly. Any time you tell me I shall be there.' "
Because the site of the temple is hilly and rocky, some had considered it undesirable. But Mr. Bhan thinks differently. "The site is very exciting, and though there are technical difficulties, one would like to keep the rocks and preserve the character of the site."
Rather than using ground and water and trees as "fillers," Mr. Bhan takes a holistic approach. The buildings, he says, should become "an integral part of the landscape."
Mr. Bhan plans to use water extensively. In the hot climate of Delhi, especially in the summer months, water will be especially welcome.
"My approach as a designer will be to use water as an element of life. How can we work with this element of life, which is really a primordial element: from your birth to your death, water is there, in every aspect of your life. And even by sound the water in nature becomes a part of your inner experience. Water can murmur, it can gush, it can roar, it can trickle, it can drop. You name it, and water can do it. And how do you take these sounds very subtle sounds and mix them with the environment?
"Suppose you have somewhere a meditative area. The water should have a trickling sort of effect. If it is an area where a lot of people congregate, the sound should be slightly more, so that the water becomes dominant and the sound of the people becomes subservient. So as a designer I am asking, How can I use water as a major element of the design?
"And also we have to introduce a lot of trees. The building should emerge out of the trees. Lord Krsna is always associated with nature the kadamba forest. He's the one God in the Hindu scripture whom you find with natural things the water, the river, trees, the cows … So to honor Lord Krsna the landscape must come alive."
Amar Singh Rana, site inspector
Amar Singh Rana is a civil engineer with thirty years of experience. He originally comes from Himachal Pradesh. Looking for a suitable school for his son, he came to ISKCON and later received spiritual initiation from Lokanath Swami. His initiated name is Atmarama Dasa. Atmarama oversees the work of the contractor, checking bills, workmanship, and quality of materials, and makes sure that what's constructed meets the drawings.
C. J. Dave, project director
Mr. Dave was formerly a member of the board of directors of Dastur and Company, one of the world's largest consulting firms in the steel industry. Now he devotes his full time to the devotional service of Lord Krsna. You'll find out more about his story on page 51.
Ramesh Khosla, interior designer (photo unavailable)
Recently joining the Glory of India project is Mr. Ramesh Khosla, the senior partner of a leading architectural company in Montreal. Mr. Khosla is the recipient of several international awards in architecture, including the Aga Khan Award. Though an architect, he specializes in interior decoration. Apart from other major buildings, he has designed the interiors for several leading hotels in Asia and around the world.
Lokanath Swami, spiritual leader
Among the spiritual leaders for the Vedic Cultural Center is Lokanath Swami. Originally from Maharashtra, Lokanath Swami joined ISKCON in New Delhi in 1971. He is now coordinating ISKCON's worldwide programs to celebrate the Srila Prabhupada Centennial, in 1996. One of the offerings to honor Srila Prabhupada in that year will be the new Vedic Cultural Center.
Lokanath Maharaja reminds us of the time Srila Prabhupada spent in Delhi before going to the West. "He did his printing here printing of the Bhagavatam. And Delhi is where he first published his Back to Godhead. Prabhupada would go to the printer, practically on an empty stomach, and sometimes he'd carry loads of paper on his head. In Delhi Srila Prabhupada preached in different temples. He met different prime ministers. And he had a kind of preaching center at Chippiwada, in Old Delhi. Srila Prabhupada had a connection with Delhi, and so the Glory of India project will also testify to the glory of Srila Prabhupada."
Trikalajna Dasa, temple president
Trikalajna Dasa, a devotee with a background as a civil engineer, moved from London to Delhi to serve as president of the Cultural Center. One virtue of the Center that especially interests him: It will be educational for diplomats from abroad.
"Having been in the West and having seen how people in Europe and America sometimes mistreat our movement, I feel that if their representatives in India can understand us properly, maybe we won't have to face the kind of unnecessary difficulties we've had to go through.
"We want to give diplomats a true and proper understanding of the Vedic culture, and ISKCON is the one organization that can do that with a very clear understanding."
Another focus of his interest: to invite schools and colleges and university students.
"If trained to understand that the ways of the Vedic culture are not simply rituals and rites but have great meaning, young people will not only appreciate but will follow. And if they follow, then naturally the country will improve."
Though the Center is still just an emerging structure of steel and bricks, Trikalajna is looking ahead. "In every corner of Delhi there should be some branch or some center where people can come and reach us easily and take the benefits that we have to offer. Then they can easily make their life spiritually conscious and sublime."