Nothing can stop a person from rendering devotional service to Krishna, including his apparently foreign religious upbringing.
Mohamed Suleiman was born in the year 1978 in Nairobi, Kenya, in a family of mixed ancestry. Both his parents were Muslims, born and raised in East Africa. His mother, a practicing Muslim, is from Kenyan and Arab ancestry. His father, born in Zanzibar, Tanzania, was of Kutchi (Gujarat) origin and although not religious, adhered to cultural practices of Muslims and observed festivals.
When he was five, his parents separated and subsequently divorced and so he has little memory of his mother. While growing up he was not religious per se. He recalls how materialistic life left them more disturbed and unsatisfied than the more traditional and religious relatives. On and off, he and his sisters had religious classes from sheikhs visiting their house. They observed Eid and the holy Ramadan month and in social and political issues they sided with Islamic causes by default. They observed Salat (the practice of formal worship in Islam) only on religious days. He realized that despite being materially well off, something was amiss. After completing his A-levels, he began performing Salat.
He taught himself the relevant verses, prayers and incantations and started praying four and sometimes five times a day, using a book named Childrens Book of As-salah, which positively affected his consciousness and provided peacefulness unfelt before. With a few months of practice, his faith enhanced. He wanted to know more about his position, the process, and the Supreme Lord whom he glorified daily. Questions like "Who am I praying to?" and "Why am I praying to Him?" agitated him so much that he couldn't properly perform Salat and after a year he stopped it. He believed that the Islamic teachings were God's word, but yearned for spiritual fulfillment. He tried to restart Salat once or twice but to no avail.
Around this time he travelled to London to begin five years of college at London University. There he was exposed to diverse cultures and religions and engaged in discussions on spirituality, culture and God. He read books on vegetarianism and veganism and became a strict vegetarian and soon a vegan. He says, "But I degraded morally by bad association and forgot pursuance of spiritual fulfillment. As I began postgraduate studies, the pressure of the course and the uncertainty thereafter, made me again seek out those intrinsic questions." He attended a few Islamic discourses at his college during this time.

One evening, while returning from work as a part time insurance salesperson, he saw food being distributed in Trafalgar square, London. He took kachoris with chutney and some sweet items and someone pressed him to take a book — Easy journey to other planets by Srila Prabhupada. He read that book and found it very absorbing and the content was heavy for a small book, compared to many large books on spirituality that he had read before. He wanted to find out more about the author and the organization behind it.
A few weeks later he saw posters about a talk on karma. He had spent about four childhood years in India and had some idea about karma. But when he went later to take down the venue details, the posters were gone. He managed to find the index of the organizers and was directed to the programs in his college. He attended those after lecture hour weekly meetings for three months on different aspects of bhakti-yoga. The philosophy was presented systematically, and they would end with kirtana and delicious prasada. The devotees were the most dedicated and enthusiastic people he had met. They answered the most intricate questions about life and God — His form, His qualities, His pastimes etc., with certainty and clarity. The fact that they all gave the same answers to the same questions, convinced him that this is not someone's opinion but authoritative knowledge.
He started reading Prabhupadas books and was encouraged to chant the Hare Krishna mantra. After starting and stopping twice, he was finally chanting six rounds daily. Yet he felt, "I am a Muslim and cannot take this up fully. I will just read the books; attend the sessions". But over time he accepted Krishna consciousness more and more. After reading a few small books of Prabhupada, he read the Bhagavadgita as it is and was astounded at its depth of discourse. He was convinced that Krishna consciousness was beyond material conceptions and eagerly partook to kirtana, prasada, devotees and Prabhupada's books. Mohamed explains, "I was born again and learnt what the nature and form of God is, what life is, what real welfare work is, who is a good person etc. From Prabhupada's books and by chanting Hare Krishna, one acquires a revolutionary world vision." By now he had started taking only prasada and following the regulations. He regularly visited the Soho Temple in central London, about 20 minutes walk from his college, for lunch and to attend kirtanas. He attended the Wednesday evening program for students. As he no longer ate outside, he could spend in the temple gift shop for incense, cook books, and prasada.
One day he bought the book, Brahmacarya in Krishna consciousness, a book on celibate student life authored by Srila Bhakti Vikasa Swami, an initiating spiritual master in ISKCON. He was inspired to be a brahmacari, but being a Muslim he feared that it would create a big flutter among friends and family. He described his Hare Krishna practice to his younger sister who also studied in London. She concurred that some spiritual practice is good, but wondered why he opted for a new path. He pondered about how to resolve his Muslim background with that of a Krishna devotee. A resident brahmacari in the Bhaktivedanta Manor — another ISKCON centre, encouraged him to join the brahmacari ashram to seriously practice Krishna Consciousness. Mohamed felt that his situation was different. He adds, "A year after returning to East Africa, by the Prabhupada's mercy, I was finally convinced."
Once he sent some of Prabhupada's books to his father who was in Tanzania now, hoping to convince him to take up Krishna consciousness. But the books were sent back and over phone he was advised not to read them. On finishing his degree, he returned home and joined the family business of selling and servicing computers and peripherals. He revealed gradually about his spiritual practices. His father was unhappy but held that at least he should not be restrictive in what he ate or read. Mohamed says, "I feared that by relaxing any standards I might lose the little attraction for Krishna consciousness that I had. I became more steadfast. I bought my own pots and used to come home daily to cook during lunch time. I had a small altar in my room where I made offerings to Krishna. I awoke on most days for Mangala arati and japa meditation. My father was quite upset and we would argue a lot. He felt that I could not even run a business properly if I followed these rules. He also wanted me to study Islam in greater depth before thinking about any alternate path. Yet for me, this process was now very intrinsic, a satisfying engagement that I couldn't to let go."
His extended family and friends began to realize that he was practicing something perceived as unislamic. The reactions were diverse — some shunned him, others were curious and some found it rather funny that he chanted "Hindu names" and worshipped small pictures. Once he was in the same car with some cousins and they queried, "Why did you leave Islam?" He replied, "I worship the same God. My process is unopposed to Islam but provides more details about God, and our duty towards Him. The goal of religion is to awaken love of God and we cannot love someone we don't know well. Bhagavad-gita and Srimad-Bhagvatam describe the science of God in detail." They told him that if he was still Muslim, he should pray with them in the mosque. He went with them for the afternoon prayer. After that they stopped persuading him to stop his "weird" practice.
Meanwhile, Mohamed and his family travelled to India for his father's health checkup. He met devotees in Mumbai whom he knew from the UK and sought his father's permission to spend a few months in India. His father reluctantly agreed. During his stay, he performed Vrindavan parikrama, ecstatic kirtanas and enlightening lectures. On returning to Tanzania, he continued in the family business but felt separation from devotees, kirtanas, Deities and realized that he had to move out. He learnt that a Hare Krishna temple in Kenya had a brahmacari ashrama. When his father learnt that he wanted to join the ashram, he retorted, "I disapprove of this madness." Mohamed was determined. His father paid for the bus ticket and dropped him at the bus station. At about 6am, 1st May 2005, he left for Nairobi. It was past midnight when he arrived at the temple gate. The security guard initially didnt let him in but soon relented and showed him a place to stay for the night.
Mohamed recalls, "The devotees at Nairobi were very merciful. I relished the Srimad-Bhagvatam classes and kirtanas. I could finally practice Krishna consciousness full time and openly. I was very thankful to Krishna for the changed circumstances. I was able to read more, preach, distribute books and also assist in the deity kitchen. Within six months, a trip was planned to Dar-es-salaam, Tanzania. Two brahmacaris moved into a small donated flat and began programs. I visited my father who was friendly though still upset. I was uncomfortable walking in town in Vaisanava attire as I was meeting old friends and family. I decided to leave Tanzania. I also felt that it was time to seek initiation. When I consulted the temple president, he recommended an India trip. I toured India for a month and came in touch with among others the author of the Brahmacarya book who was very inspiring. When I returned, I felt a great need to be spiritually guided by him. I moved in to a temple in south India and mainly engaged in book distribution and college preaching."
After four years in India, his spiritual master instructed him to return to Africa to preach. It was decided that he would go to Malawi, one of the poorest countries in the world. Since 2010, he has been pioneering Lord Caitanyas sankirtana movement there distributing books, giving lectures at various institutes and encouraging people to take to Krishna consciousness as a cure for all material problems.
He recounts one of his preaching exploits in Mangochi in the Lake Malawi shore. "This is a predominantly Muslim town, but liberal. We distributed books in the shops and among staff of two beach hotels. By Mahaprabhu's mercy we managed to distribute a total of 19 books which include one Science of Self Realization to a Muslim doctor and a Bhagavad-gita to a hardware shop owner. We also sold an Easy Journey to other planets to Mustafa, a young Gujarathi Muslim. A Muslim gentleman, top executive of the Malawi Stock Exchange, purchased a copy of the Srimad-Bhagvatam First Canto."
Presently he is in regular contact with his father and sisters and visits them in Vaisnava attire. They are favorable and also give donations for his preaching activities.
Quoting Srila Prabhupada, Mohamed proffers, "The goal of all religions is to awaken God consciousness. The same Supreme personality is known by various names in various religions." He concludes, "The Bhagavad-gita is a universal book of spiritual teachings for anyone of any religion, caste, race or background to attain perfection of life."
Nimai Nitai Dasa, who moved to Blantyre, Malawi, from India in 2012 to assist Mohamed, has this to say about him: "Mohamed has received spiritual initiation and is now known by the name Murari Dasa. I have been staying with and assisting Murari prabhu for about two years. He is a soul surrendered to the spiritual masters order. Malawi is a difficult place to stay and preach, but he has been doing so for last four years, mostly alone initially. He has strong faith in Srila Prabhupadas instructions and doesn't tolerate deviations. He has impeccable sadhana of chanting and reading. He has a great zest for distributing Prabhupadas books and a strong resolve to preach even in the most trying circumstances. Often he shares deep realizations which help me understand the science of Krishna Consciousness better. He is very soft spoken, hardworking and humble. One of his cherished desires is to start self-sufficient varnashrama communities and transform Malawi into a fully Krishna conscious country. I am fortunate to associate with such a wonderful soul and hope to imbibe some of his qualities."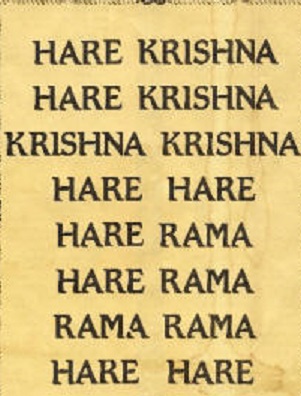 Damodar Nityananda Dasa (Dr. Dipankar Deb) is a disciple of Srila Bhakti Vikasa Swami. He holds a Ph.D. degree in electrical engineering from the University of Virginia. He is the author of an upcoming book, "Muslim Devotees and Admirers of Lord Krishna."