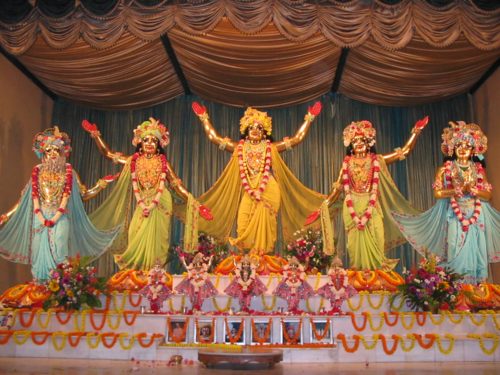 Praises of the members of the Panca-tattva by Sri Caitanya Mahaprabhu's
main biographers capture the significance of the Mayapur installation.
An ordinary person knows few words that can describe an event as vibrant, humbling, magnificent, enlivening, and awe-inspiring as the arrival and installation of Sri Panca-tattva in Mayapur. Nothing can compare to the beauty and artistic expressions already penned by the great saints who left their legacy in the form of scripture, especially Srila Krsnadasa Kaviraja Gosvami (Sri Caitanya-caritamrta) and Srila Vrndavana Dasa Thakura (Sri Caitanya-bhagavata). Let these exalted authors deliver with their words the majestic and spectacular commentary on this memorable occasion.
Sri Panca-tattva
"Let me offer my obeisances unto Lord Sri Krsna, who has manifested Himself in five as a devotee, expansion of a devotee, incarnation of a devotee, pure devotee, and devotional energy."
Caitanya-caritamrta, Adi-lila 7.6
"When the five members of the Panca-tattva saw the entire world drowned in love of Godhead and the seed of material enjoyment in the living entities completely destroyed, they all became exceedingly happy."
Caitanya-caritamrta, Adi-lila 7.27
"Sri Krsna Caitanya Mahaprabhu and His associates of the Panca-tattva distributed the holy name of the Lord to invoke love of Godhead throughout the universe, and thus the entire universe was thankful."
Caitanya-caritamrta, Adi-lila 7.163
Sri Caitanya Mahaprabhu
"I am the Supreme Personality of Godhead. Being summoned by the incarnation of Maha-Visnu, Advaita Acarya, I will descend from Goloka-dhama and appear on the earth in Navadwip, Mayapur-dhama, on the banks of the Ganges. I will appear in the form of a brahmana with a large golden-complexioned body, endowed with the thirty-two signs of a maha-purusa, and bearing the title Misra. Then, decorated with all of the auspicious qualities of a maha-bhagavata, endowed with renunciation, devoid of worldly desires, and learned in the science of pure devotional service, I will accept sannyasa as a devotee relishing the mellows of ecstatic love for Krsna."
Bhakti-ratnakara
(Sri Narahari Cakravarti)
"All glories to Sri Gauracandra, the life and soul of the universe! Please give Your lotus feet in charity to my heart."
Caitanya-bhagavata,
Madhya-khanda, Ch. 6
"The beauty of millions upon millions of cupids seemed pale and ordinary next to the beauty of the Lord. His golden complexion was effulgent, and His blissful face was beaming like millions of glowing full moons. The Lord looked down upon Advaita Acarya with great affection. Golden pillars were no match against the graceful and powerful arms of the Lord, and the ornaments that decorated His arms paled any gems."
Caitanya-bhagavata,
Madhya-khanda, Ch. 6
"Upon seeing the bewilderingly beautiful form of the Lord, Nityananda wanted to taste the beauty with His tongue, drink the beauty with His eyes, embrace the beauty with His arms, and absorb the beauty with His nose. To everyone's astonishment, Lord Nityananda stood speechless, completely enchanted by the wondrous splendor of the Lord."
Caitanya-bhagavata,
Madhya-khanda, Ch. 4
"How enchanting They look, Lord Nityananda and Lord Gauranga, as they roam about Navadvipa with the devotees, chanting the holy names! What is the luster and value of pearls next to Lord Caitanya's teeth? One is sure to lose his mind at the sight of the Lord's beautiful cascading black hair, which is tied in a topknot. Next to the pinkish, graceful lotus eyes of the Lord, the beauty of all other lotuses looks faded and seems to disappear. His long hands extend down to His knees, and the thin line of Hisbrahmana thread hangs loosely across His broad and expansive chest. A thin and perfect tilaka decorates His broad forehead. Without any jewelry or ornaments, every limb of His beautiful body looks exquisite and captivating. What is the brilliance of millions of precious gems compared to His dazzling nails? What is glittering gold next to the Lord's aura? The full moon has lost interest in her own beauty, and she yearns to see the glowing face of the Lord."
Caitanya-bhagavata,
Madhya-khanda, Ch. 3
Sri Nityananda Prabhu
"Lord Caitanya said, 'Now, I understand that You, Lord Nityananda, are the full-manifestation of the Lord's energy. You are non-different from Him. The living entities can obtain loving devotional service at the lotus feet of Krsna simply by worshiping You. You purify the entire cosmic manifestation, and Your transcendental nature is inconceivable, incomprehensible, and esoteric. You are the personification of the highest ecstatic love of Krsna. Even a moment's association with You can dissolve millions and millions of sins. I can now understand that Lord Krsna intends to purify and redeem Me as He is giving Me Your association. It is my great fortune that I am able to see Your lotus feet. I know that if I worship Your lotus feet, then I will surely receive love of Krsna.'"
Caitanya-bhagavata,
Madhya-khanda, Ch. 4
"All the devotees were jubilant upon meeting Lord Nityananda, and their minds were steeped in thoughts of Him.
Caitanya-bhagavata,
Madhya-khanda, Ch. 4
"Lord Nityananda is the object of Lord Caitanya's complete love, and my heart's desire is that Lord Nityananda will reside in my heart as my most beloved Lord and master."
Caitanya-bhagavata,
Madhya-khanda, Ch. 4
"Whoever hears Lord Nityananda's pastimes of coming to Navadvipa will be blessed with Krsna-prema."
Caitanya-bhagavata, Ch. 3
"I worship Lord Nityananda, the limitless root of the tree of devotional service. As He walks with the grace of a majestic elephant, His pure, splendid beauty shines like the full autumn moon."
Sri Nityanandastaka
Sri Advaita Acarya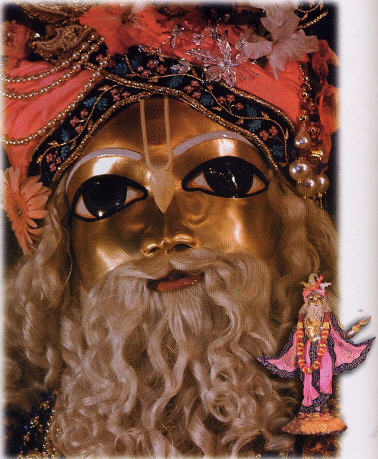 "Advaita Acarya Prabhu swooned in ecstasy, and lifting His hands, He began to cry, 'I have brought, I have brought My Lord. The Lord has left His supreme abode in the Vaikuntha planets and appeared here in answer to My prayers.' Saying this, He fell to the ground weeping."
Caitanya-bhagavata,
Madhya-khanda, Ch. 6
"Who is capable of understanding the mind of Sri Advaita Acarya? By His spiritual potency He was able to invoke the appearance of the Supreme Lord in this world."
Sri Caitanya-bhagavata,
Madhya-khanda, Ch. 2
"Lord Visvambhara [Caitanya], the all-merciful Supreme Godhead, looked at Advaita Acarya Prabhu and said, 'I have descended to this earth because of Your vow and Your constant devotional service and worship. I was resting on the ocean of milk, and Your roaring woke Me up. You are so merciful that You could not bear the sufferings of humanity, and so You have brought Me here to alleviate their sufferings. All these demigods, sages, devotees, and associates who surround Me have appeared in answer to Your prayers. You have arranged for all living entities to see these great devotees, of whom even Lord Brahma is constantly thinking.'"
Caitanya-bhagavata,
Madhya-khanda, Ch. 6
"Now perform My worship,' Lord Caitanya said. Having received this instruction, Advaita Acarya Prabhu began to worship the Lord's lotus feet in great ecstasy. First, He washed His feet with scented waters, and then He covered Them with highly scented oil. He dipped tulasi manjaris into sandalwood paste and placed them upon the Lord's lotus feet. Then, as tears of love unrestrictedly from His eyes, He began to offer worship with scents, incense, frankincense, and lamps."
Caitanya-bhagavata,
Madhya-khanda, Ch. 6
"Advaita Acarya Prabhu saw everything glowing all around Lord Caitanya. The Lord, His devotees, and the beautiful ornaments that decorated the Lord's transcendental form shone brilliantly. An extremely beautiful goddess, Ganga Devi, was offering the Lord obeisances, seated upon a chariot. All around, the demigods were offering eulogies and prayers to the Lord. Turning around, Advaita Acarya saw that hundreds and hundreds of demigods were on the ground offering their obeisances and repeating Lord Krsna's name. Seeing these wonderful sights, Advaita Acarya Prabhu lifted Himself up from His prostrated position, overcome with awe and reverence."
Caitanya-bhagavata,
Madhya-khanda, Ch. 6
Sri Gadhadhara Pandita
"No one can say how merciful Lord Caitanya is to Gadadhara Pandita, but people know the Lord as Gadaira Gauranga, 'the Lord Gauranga of Gadadhara Pandita.'"
Caitanya-caritamrta, Antya 7.164
"All glories to Sri Gadadhara Pandita, the reservoir of love!"
Bhakti-ratnakara
Srivasa Pandita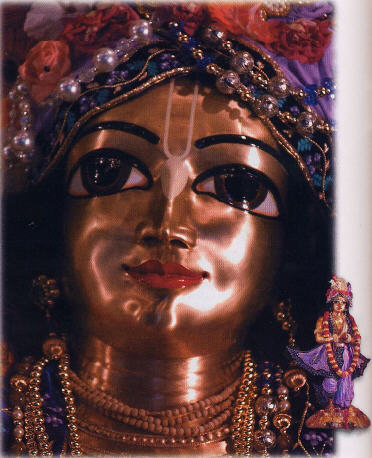 "All glories to Srivasa Pandita, the friend of the poor!"
Bhakti-ratnakara
"Srivasa was engaged in worshiping Lord Nrsimhadeva behind closed doors. Lord Caitanya came and repeatedly kicked the door. He screamed out, 'Whom are You worshiping? Whom are You meditating upon? The person whom You are worshiping is here!' He spoke to Srivasa, calling out, 'O Srivasa, all this time you have not known who I am. I have left My spiritual abode of Vaikuntha and come down to this material world at your beckoning because of your loud chanting of the holy names and Advaita Acarya Prabhu's loud calling.'"
Sri Caitanya-bhagavata,
Madhya-khanda, Ch. 2
"Srivasa is most dear to Lord Caitanya; therefore, Lord Caitanya blessed him and everyone present by placing His lotus feet upon their heads. Smiling, the Lord said, 'May your attachment and attraction for Me increase.' How can I possibly describe the glorious and magnanimous nature of Srivasa Pandita? A little dust from his lotus feet can purify the entire creation."
Sri Caitanya-bhagavata,
Madhya-khanda, Ch. 2
"Srivasa Pandita said to Lord Caitanya, 'O Lord of my heart, please listen to me. Now that I have met you, I disregard all of my fears. All my sorrows and sufferings have vanished. My life has begun again; my day has come. My whole life and all of my endeavors have now become successful. The sun of good fortune has risen in my heart. My forefathers have been liberated, and my house has been sanctified. My eyes have never been blessed with such a wonderful sight as I am seeing today. I see Him whose lotus feet are most worshipable by the goddess of fortune, Sri Rama Devi.'"
Sri Caitanya-bhagavata,
Madhya-khanda, Ch. 2