A sole tree in New York City inspires a young Indian medical student to travel to the USA.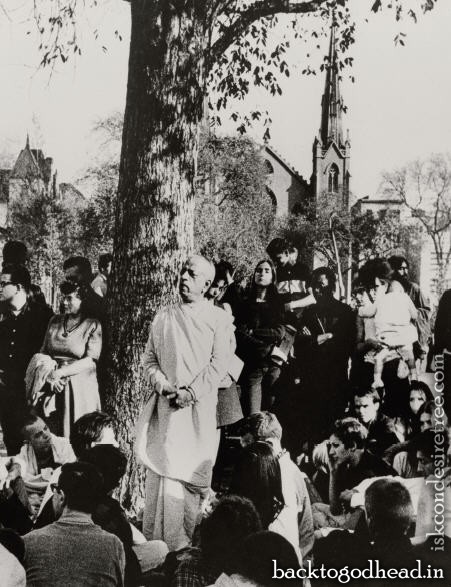 When I was studying in medical school, like many Indians I developed the desire to visit the USA, just to see another feature of the same world. ISKCON devotees used to visit the young men's hostel where I was residing at the time. One day they showed us a booklet containing information about various ISKCON temples in the USA. The booklet mentioned two sites in new york City that fascinated me: Prabhupada's first temple, in the old matchless Gifts shop at 26 Second avenue, and nearby Tompkins Square Park, where Srila Prabhupada sat beneath a tree and performed the chanting of the holy name with hippies dancing around him. I heard that this tree is still there and is named the Hare Krishna Tree [please see the side bar on page 14]. I decided I had to see these places where Srila Prabhupada started the International Society for Krishna Consciousness.
Preparing for The Trip
As I prepared for my maiden US trip, I started realizing the spiritual greatness of Srila Prabhupada. The very thought of going to a foreign land was causing me so much anxiety, in spite of the fact that I had enough money with me and relatives in the US to take care of me. Srila Prabhupada had neither money nor contacts. But due to his faith in his guru and Krishna, he was not anxious. He had no one in India to see him off, but he had faith that Krishna was with him. I had a gang of relatives to drop me at the airport, but still I was feeling lonely due to forgetfulness of the Supersoul.
Before the trip I called my cousin Gitanjali in new jersey, where she is a part of ISKCON's congregation. When I told her I wanted to visit new york, she thought I was eager to see the Statue of Liberty and the empire State Building. But I was more interested in Tompkins Square Park than Times Square. She said she had heard about the park in ISKCON books but had never been there. She surfed the net and got in touch with the new york devotees for the exact location.
At the Park
After I reached new york, Gitanjali and I first took darnana of Sri Sri Radha-Govinda at ISKCON's temple in Brooklyn and then proceeded to manhattan. The ISKCON center at 26 Second avenue was closed when we arrived, so we peeped through the window to get a glimpse of the early days of ISKCON. This was the first Hare Krishna temple, and discourses are still held there.
From there we proceeded to Tompkins Square Park and asked a man for the location of the tree. When pointing out the tree, he said that many Hare Krishnas come and worship it.
The tree belongs to a rare species, and so the government has preserved it. In memory of the Hare Krishna explosion that took place under it, the tree is identified as the Hare Krishna Tree.
Embracing the Tree
As soon as I saw the tree I offered obeisance from a distance and then ran to embrace it probably with the same intensity with which devotees embrace the neem tree at yoga Pi†ha (Lord Caitanya's birthplace) or the Siddha Bakula tree at jagannath Puri under which namacarya Haridasa Êhakura chanted. yes, that tree in Tompkins Square Park is equally important. as Lord Caitanya was born under the neem tree, ISKCON was born under this Hare Krishna Tree. as Haridasa Êhakura chanted beneath the Siddha Bakula tree, Srila Prabhupada chanted the holy name under this tree.
As I embraced the tree, oblivious of the people in the park, I intensely prayed, "O Hare Krishna Tree, you have witnessed the miracle of transformation of hippies into happies. you have seen Srila Prabhupada chanting the holy name, which most of us have not seen. O tree, if Srila Prabhupada is again going to come and chant here in a future Kali-yuga, I don't mind being born as a hippie so that I will get the golden opportunity to witness the Hare Krishna explosion."
Some people in the park failed to comprehend why my sister and I were embracing the tree again and again. The park is a holy site for us. The Srimad-Bhagavatam states that the pure devotee is a personified holy place. Wherever he goes turns into a holy place. So these are our modern holy places the temples built by Srila Prabhupada and all the places were he lived and preached. as I was about to board my night back to India, I called my sister to thank her. I told her that although I never saw or heard Srila Prabhupada in person, I have seen and heard his disciples. now I can proudly proclaim that I have even seen the tree that saw and heard Srila Prabhupada.
Yugavatara Dasa (Yuvaraj Jayprakash Bhosale) is an associate professor of anatomy at Seth G. S. Medical College and KEM hospital in Mumbai. He is a disciple of His Holiness Radhanatha Swami and serves as a mentor at ISKCON Chowpatty. His email address is dryuvaraj@gmail.com.