Serving the Deity In mid-town Mumbai, a family experiences reciprocation from Him.
The ease with which one might say, "Oh yes! I too am a believer of God" may probably be tested only by the difficulty that arises when one tries to demonstrate this statement by one's words, thoughts or actions. Devotional service is something that has to be inculcated and practised and not necessarily just be portrayed. It is only unmotivated devotional service rendered with love, that has the unique ability to attract even the Supreme Lord of all that be, to us.
Sometime back, when I had heard for the first time about Satish Gandhi, a resident of Lalbaug, Mumbai, I wasn't fully convinced. I thought that the de· scriptions were exaggerated. Somebody with a family, staying in a single room dwelling, and managing to offer 56 bhoga items to Their Lordships Sri J agannatha, Baladeva, and Subhadra every Saturday was something that was hard to believe. Upon inquiring with someone else, this devotee added, "Oh! half of their home is a temple! The same room serves as the kitchen, bedroom, store, and also the temple. But their devotion to Lord Jagannatha is first class!" That was it. It was getting unbearable. I had to see the place myself as soon as possible. I quickly fixed up a meeting the coming Saturday.
On the fateful day, I and my fellow team-mates from Back To Godhead started off for Satish's home.
Even before reaching there, I had begun to discard my doubts, for when we were searching for his home, the passersby quickly pointed to his home even before we asked for directions. Satish and his home was already a lot famous, it seemed.
Paying heed to the directions, we walked past a few dirty lanes and a dark entrance to a "chawl" only to find an eager Satish waiting for us at a corner. "Welcome! ", he spontaneously greeted us and guided us in. What we saw inside is difficult to put into words. It was like entering the beautiful spiritual world after roaming all over the dark interiors of this material world, thoroughly harassed by Maya.
In the 10 X 12 feet room, by the side of a wall there as a big platform on which rested one and a half feet tall Deities of Lord Jagannatha, Lord Baladeva and Sri Subhadra Devi. They were beautifully decorated by flower garlands and attractive dresses. The background was a panoramic view of Lord Jagannatha's temple in Puri. On either side of the Deities were two small brass deities of Sri Sri Gaur Nitai and in between Them, were a smaller set of Jagannatha, Baladeva, and Subhadra Deities. There were also paintings of Srila Prabhupada and guru parampara. On the right was a cooking range and the kitchen vessels were arranged neatly on a metallic rack attached to the wall above. To the left there was a long bench piled with different vessels containing bhoga. Two ladies, who probably were neighbours were frying some items on a single stove placed on the floor and two others were working on the right shelf. A small girl, five or six years old, was washing carrots with her tiny hands and handing it over to her mother.
THEIR ADVENT IN MUMBAI
Duringthe annual Ratha-yatra festival at Jagannatha Puri, Satish had the darsana of these Deities for the first time in a shop. "The face of Lord J agannatha's Deity was exactly like that of the origina deity at jagannath Puri as I saw Him I was immediately attracted and fell in love with him." Satish tells us. "So, I asked for the price. It was Rs 3000 . I didn't have that much money with me. So, some friends helped. The next day, when I went to buy the Deities, destiny struck me in a strange way. "Rs 3000 for one Deity!", the shopkeeper declared. That meant Rs 9000 for the complete set! I was helpless. I prayed to Lord J agannatha, "Please stay here. Next year I will definitely come and take You along." I also promised that if Their Lordships agreed to come to my home, I would regularly offer Them 56 bhoga items." "After six months, I was visting Sri Mayapur Dham and decided t o visit Jagannatha Puri from there. I had tried to collect the required sum, but was falling short. My friend Vaikuntha Dasa helped timely."
"When I reached Puri, I realised that I h ad completely forgotten the address of the shop that I had seen the last time.I tried, but in vain. In addition, in the course of hunting the shop, I also lost my way back to the hotel where I was staying. Suddenly, my eyes fell on somebody familiar! Those were the same Deities I had prayed to the year before! I was in front of the same shop! I was simply amazed." Satish's eyes wer egetting bigger. We were all ears by now.
Satish adds, "Maybe the Lord was waiting just to shower His causeless mercy on a fallen soul like myself!" Satish quickly bought the Deities and brought Them home.
Even though only Satish had been actively connected with ISKCON then, his family members welcomed Their Lordships with an open heart. They regarded Them as a welcome addition to their family. Although service to the Lord was practically out of their bounds, the Gandhi family n vertheless harboured an intense desire to serve. The Lord declares in the Bhagavadgita( 9.22) – "But those who always worship Me with exclusive devotion, meditating on My transcendental form-to them I carry what they lack, and I preserve what they have."
THE START OF THE CHAPPAN BHOGA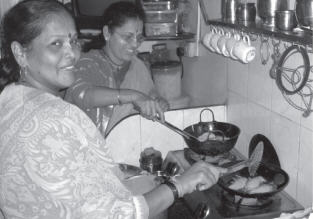 In 2004, just one year after They came to Mumbai, the Deities had the pleasure of going on a Ratha- yatra. Everyday during that week, Lord Jagannatha used to get Chappan Bhoga! (56 bhoga preparations). After the Rathayatra, Satish decided to offer 56 bhoga items to the Lord even at his home. "Initially we decided to offer once every month," Satish tells us. For two to three months, the offerings consisted of fruits, sweets, and other cooked items from the market. Then a senior devotee, Akrura Dasa told the Gandhis that it would be better if the bhoga for the Lord would be cooked by themselves. It could be simple, but it should be cooked by them, he had suggested. The family consented. Initially, it was decided to offer the Chappan Bhoga monthly; later other devotees joined and they started the Chappan Bhoga offering on a weekly basis.
When we asked Satish, he told us that it cost approximately a thousand rupees to cook a Chappan Bhoga offering once. "Then, how did you manage offering it on a weekly basis? You were earning quite less then.", a team member asked with a look of astonishment on his face. Satish replied quite nonchalantly, "Everything is His mercy!", pointing to Lord Jagannatha who was smiling at us from the altar. "Initially my income used to be Rs. 2,500 but now it has increased to Rs. 6,500. My father is also earning Rs.l,500."
Satish continued, "There is a vegetable vendor from whom Vaikuntha Dasa used to buy vegetables for the offering. Once, Vaikuntha narrated to him the story of Chappan Bhoga offering to Lord J agannatha. Hearing this, the vendor came and took darsana of Jagannathji. After this, he began giving veget ables for free. And, he is not a very rich man; he runs just a small vegetable stall."
Satish was so joyous while naratting all this. We could notice true satisfaction on his face. He was happy and contended with the service that he was rendering to the Lord.
Satish went on, "I feel very blissful since I have started to serve my Lord. I change the dress of the Lord every third day; on every Saturday, we do a special flower decoration. We design the dress and then give it to the neighbour who is tailor. He stitches the dresses without charging any fees. He stitches very nicely and meticulously. Thus Jagannathji engages everyone in His service!"
One thing that amazed us was that so many preparations get ready in such a short span of time. Satish clarified, "My mother washes, readies and cuts the vegetables etc the previous day. Dry items like laddus, biscuits etc are prepared on Friday itself. On Saturday, the cooking starts early at 6.00 am."
Just then, Satish's mother informs us, "The bhoga is ready, please come for offering.". As we gaze at the offerings, we can 't believe it. In front of the Lord there are large vessels, bowls, plates and a tower of preparations, one atop another. It is indeed a marvel. There must be at least 75-80 different items! We can make out 12-15 different vegetable preparations including wet and dry varieties, 6-7 varieties of chapatis, rotis, parathas, dosas etc., 4-5 types of dal, 3-4 varieties of rice including pulao etc., around 15 types of sweets including laddus, burfis and halavas, 8-9 varieties of pakoras, different salads, pickles of 7 -8 varieties and chutneys, bhel etc. And in the midst of all of these preparations is the famous 'khaja' preparation that is so dear to the Lord. As these items were being spread out in front of the Lord , there was enough space only for the pujari to stand and make the offering, so we moved out.
AMAZING PASTIMES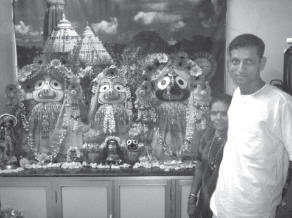 As the offering is being made, we get a chance to converse with Satish's mother and her friends who help her regularly in the Chappan Bhoga preparation. Seeing the amazing efforts that they have put in since early morning, Vrajavasi Dasa asks, "Has it happenned some time that you were unable to offer the Chappan Bhoga to the Lord?" It is an uneasy moment for all. Satish's mo ther decides to share something, "Yes, once. But never again!" We are intrigued.
Seeing the look on our faces, Satish's mother starts narrating, "Once on a Friday, due to some festival, we got late at the temple and therefore couldn't make me Chappan Bhoga offering the next day. Then we decided to prepare on Monday. Somehow, we couldn't even make it on Monday. We went for Wednesday, but missed it again. We thought that Saturday was close – just after two more days, so we will make the offering on Saturday and we slept. When I was asleep, suddenly, I began to hear strange sounds; my heart began palpitating in fear. A loud sound woke me up in the middle of the night. When I woke up, suddenly the door of the cupboard sprang open and hit my cheeks. I attempted to go to sleep somehow. When I again went to sleep, Jagannathji came to my dreams and demanded of me, "Where is My Chappan bhoga?"
"When I woke up in the morning, my face was swollen. As soon as possible, I began to prepare the bhoga. By the evening when the bhoga was ready and offered, my swelling was gone!"
A neighbour adds, "And we haven't stopped after that. Today, by the mercy of Lord Jagannatha, we have prepared 80 items. Also, for His appearance day in the coming January, we are planning for offering Him 1008 items'"
Satish decides to tell us his experiences – "Once during Ratha-yatra, a pandal program was scheduled on 30'" April. However, on 29'" April our permission got cancelled because a political party decided to hold a rally on that ground. We approached various highranking officers and finally a senior devotee managed to get the permission. But by that time the party had already put up a huge stage with expensive decoration. When we showed them the permission letter they demanded Rs 15000 as rent to use the stage. We did n ot have so much money. We begged them, pleaded them and somehow they agreed for only Rs 700." When the Lord wants to enjoy the Ratha-yatra, He is not to be checked.
Satish also adds rather hesitatingly, "Whatever Jagannathji likes He gets it done and if He doesn't like something, however hard we may try, we cannot cook that preparation. One day mother was cooking Malpua , but everytime she would pour the batter in hot ghee, it would split and sink. But when we tried something else it came out so easil y." Satish's mother nods.
Satish's mother tells more, "One day I got delayed in making capatis for the noon offering. Suddenly someone slapped me tightly on the back. When I turned after taking the capatis off the girdle, Jagannathji was little tilted towards me and staring in a very angry mood. There was no one else in the room." We stare at each other in utter surprise.
There is one more story. Once during the rainy season, the cooking gas at their home was over. Satish's mother did not tell anybody, but instead went to the neighbour's home and prepared bhoga for the Lord. For two days, this continued. Next day, she offered rice, dal, and fried papad in the afternoon. After the offering when she went near Jagannathji, she noticed on His lotus mouth, there were crumbs of rice and pilpad. Satish quickly added that he felt oil spots when he touched the Deity's mouth.
There are more such pastimes. Once when Satish 's moth er was s ick, "Jagannatha was with me," she says. On another day while offering bhoga she felt the warm breath of Jagannatha on her arms.
Sri Caitanya-caritamrta also tells of a similar story. A poor brahmana, wanting to worship the Lord with opulence, but due to want of money and facilities, would prepare many preparations in his mind. He would even offer these to the Lord mentally. One day, he had prepared sweet rice for the Lord. After it was ready and he had kept it for some time to cool, he wanted to ascertain whether it had cooled or not. So, he put his finger in it to check. The sweet rice hadn't cooled and it burnt his finger. He was startled and his meditation broke, and when he looked at his finger, it had really been burnt.
If we take these pastimes to be imaginary or mere sentimentalism, the fault lies with us. Lord Krsna says in the Bhagavad-gita ( 4.11) "ye yatha mam prapadyante tams tathaiva bhajamy aham" – As all surrender unto Me, I reward them accordingly. If we submit ourselves to the Lord with all our hearts, He too reciprocates with all His heart.
THE GREAT FEAST
Time passes quickly and soon, it was time to remove the offering. We returned.
Satish pointed to the only window of his house, "Many people while going to work, take darsana of the Lord from this window." His fimger moves a little to the side and he points to a house nearby, "The person living there used to be a drunkard. Now he has stopped drinking and daily offers arati to Lord J agannatha from his home."
Although we were saturated by seeing the sincerity and love of these humble devotees, we are nevertheless very much hungry. In the room, there is place for only four or five people to sit and honour prasadam. We immediately sit down and prepare ourselves to honor the feast.
To our surprise, after the hard labour of the entire day, Satish's mother herself is not interested in honouring prasadam or taking some rest; rather she is preparing herself already for serving what she prepared all day to us. We could clearly see in her the qualities, that Srila Prabhupada uses to describe a Va ishnava. As opposed to a materialist, a spiritualist is more interested and happy to serve others than to receive service.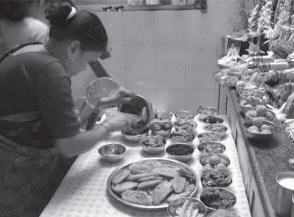 As we started off, it was difficult to resist her eagerness. We managed to take a little bit of around 40 preparations and we were already full. The advantage was that somebody who liked sweet could also be a part of the festival while somebo dy who didn't like sweet could also feel at home because there was plenty of each variety!
As we were thinking of getting up from our seats, we were presented three boxes of dry prasadam. His mother smiled and informed, "This is for the devotees back in the temple."
We were totally moved by gratitude. We could see – if somebody wanted to be charitable, the Lord could provide enough for everyone.
Mr Vijay, a neighbour was around and he interrupted, "Prabhuji, I am fully convinced that Laxmiji personally resides in this house. Don't go by the external s. I have seen with my eyes that whoever comes to this house never leaves with an empty stomach. Today 25 to 30 people will come and everyone will eat to their content! And then they will fill up their bags and also carry prasadam for their homes . The remaining prasadam will be distributed at the evening congregation program. These people have no worries. The vegetable vendor comes here, takes Jagannathaji's darsana and leaves the vegetables, informing that he will take the money later. The milkman leaves packets of milk at their house and doesn't charge anything. This place is actuallyJagannatha Puri Dham!"
Being amazed by witnessing this whole-hearted dedication to the Lord, we thought this could only be possible if these devotees were experiencing reciprocation in their lives. Otherwise, staying inspired to continue would be tough.
From another point of view, Lord Jagannatha is enjoying opulently at Jagannatha Puri; but here He stays in a small room in a city like Mumbai, where few people around, want Him in their lives. But, He stays here controlled by the love of His dear devotees who are intent on serving Him and those who are dear to Him.
We request our readers – if there are vestiges of doubt about the presence of the Lord in His Deity form still in your heart, if you still think that the Deity is no thing more than matter, then please visit this tiny one room "temple" located in Lalbaug on any Saturday and witness this wonderful pastime with your own eyes.
Seeing the selfless sacrifice of a simple housewife and her family for their dear Lord, and experiencing the love that they feel for Lord Jagannatha, sure enough, all your doubts will be put to rest – for good.