A brief look at the worldwide activities of the International Society for Krishna Consciousness
Vedic Psychology Explained at Los Angeles Convention
Last April 9 in Los Angeles, an overflow crowd of two hundred psychologists attended a symposium on Krsna consciousness at the Western Psychology Association convention. The featured speaker at the symposium was Bahulasva dasa, a college program coordinator for ISKCON's Berkeley center, who set the theme as a comparison of Eastern and Western approaches to psychology.
Noting that in childhood we all start at an animalistic level of behavior, Bahulasva proposed that the goal of individual growth should be "to reach a point of consciousness we call it Krsna consciousness where one becomes the master of his biological urges." Being careful to distinguish this kind of sense control from repression, he advocated it as a necessary part of "our ability to refine ourselves, to rise up to the level of spiritual existence."
Describing ISKCON members as "people who are serious about helping suffering humanity," he concluded by asking his audience to read Bhagavad-gita As It Is, by His Divine Grace A.C. Bhaktivedanta Swami Prabhupada. Bahulasva's speech received warm applause.
Preceding Bahulasva at the podium were Dr. Alan Gerson, a clinical psychologist from the Los Angeles area, and Dr. J. Stillson Judah, a professor at the Graduate Theological Union in Berkeley.
Dr. Gerson presented the results of his extensive psychological tests of devotees. Titled "Hare Krsna: Insane Dropouts or Vanguard of a Saner Society?" his paper opted for the latter idea.
Dr. Judah, whose book Hare Krishna and the Counterculture was published two years ago by Wiley & Sons, praised the work of His Divine Grace A.C. Bhaktivedanta Swami Prabhupada in giving young Americans "a meaningful way to love God."
The program opened and closed with refreshments and musical offerings of the Hare Krsna chant. As devotees passed around silver trays of food offered to Krsna, one appreciative Ph.D. commented, "I've been to a lot of symposiums at conventions, but this is the first time they served hors d'oeuvres."
Hare Krsna Restaurant Opens in Atlanta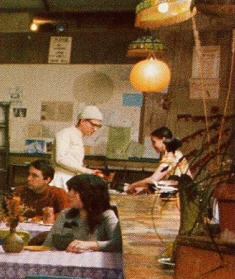 Delicious food, unusually personable waiters, and a soothing atmosphere of devotional art and music have made the newly-opened Hare Krsna Natural Vegetarian Foods Restaurant, at 1451 Oxford Road, Atlanta, a popular dining spot with local Emory University students. Located just one block from the school's main entrance, the restaurant specializes in serving the college community with exquisite Indian cuisine at low prices. Only $1.50 buys a customer as much as he likes of the basic fare, and $3.00 buys that plus fancy pastries, entrees, salads, and sweets. Since all the food is offered to Krsna, it bestows great spiritual benefit on those who eat it.
One very popular feature is the strict hygienic standard maintained at all times. Restaurant manager Maradaraja dasa stated unequivocally, "Everything must be spotlessly clean. Cleanliness is an essential of Krsna consciousness. We want this to be the cleanest place anyone's walked into."
Much of the produce for the kitchen comes from ISKCON's 250-acre farm in Tennessee. This keeps prices down and quality up. The new Atlanta restaurant joins established or soon-to-be-opened ISKCON restaurants in Honolulu, New York, Boston, and Laguna Beach, California.