What is the best Krsna conscious lesson you have learned from someone?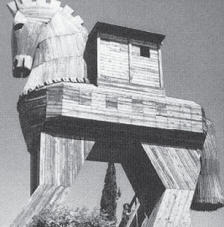 THE EPIC OF HOMERIC TROY has fed me with a lot of insight. The Achaeans invaded the mighty walls of Troy after a prolonged battle. The Greeks declared withdrawal from the war and gifted a wooden hollow horse to thank Athena, the goddess of heroic endeavor. The horse was inducted inside the kingdom. Hidden inside were numerous soldiers who came out at night, and defeated the Trojans leading to the famous fall of Troy. In our own battle in Krsna consciousness, maya tries all means to defeat us. The deadliest danger is when the enemy comes in the form of a friend, like the Troj an horse. We resist gross temptations knowing them to be deadly enemies, but allow subtle propensities such as vanity, thinking them to be sweet friends. And soon, all the anarthas come out and overcome our mind, like the Greek soldiers. Hence we have to be on constant vigil to de tect our own Trojan horses.
(Ranjan Ghosh, Bhagalpur)
THE BEST LESSON I learnt was in ISKCON Vrndavana. I was at the prasadam stall, im patiently shouting at the elderly devotee to quickly give me prasadam. She became angry and yelled and then refused to give prasadam altogether. I left that place and felt bad.
Prasadam means mercy of Krsna. I realised that I will receive the mercy of Krsna only if I practice patience and tolerance in my life. When I returned to that tempi e on Bahulastami last year, I saw the same mataji and smiled at her. She reciprocated with a smile and, gave me prasadam first. When I gave her the money for prasadam, she gave me too much change by mistake. I returned that extra money to her and she told me that I was an honest devotee and the others stand ing nearby agreed with her. I still remember her lessons of honesty, patience, perseverance, and good behavior.
(Pranjal Joshi, Jaipur)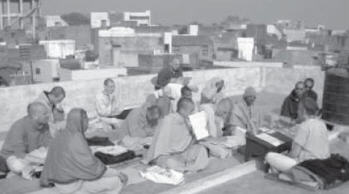 DURING MY SCHOOL DAYS I would always get scared upon hearing that learning never ends. My (mis) conception of learning was limited to academic studies, which was really troublesome for me. What to learn? Why to learn till death? What is the use of such studies? These questions aIways puzzzled my mind.
Then I heard from Hare Krsna devotees that we are spirit souls and the nature d the soul is to serve the Lord in the spiritual world. And here in the material world we learn how to serve the Lord under the expert &guidance of the spiritual master. Learning to serve? What is this? Generally, we learn to be a master.
But gradually I realised that to remain as a master we need to learn and upgrade continuosly, and this eventually brings anxiety, hatred and competitian . But learning to be a servant of Lord brings bliss, 'Purity, and satisfaction at the heart. When the entrapped soul goes back home, back to Godhead, it is the perfection of learning . This one important bon changed my vi· sion to look. at the world and life altogether. The world is a 'Place of le:arning and human form of life is a stepping stone to reunite with the Lord.
(Satyananda Dasa.Aurangabad)
I LEARNT THE GREATEST Krsna's conscious lesson of my life from Srila Prabhupada . When I watched movies on his life and read Srila Prabhupada Lilamrtal, I realized how much struggle and hardship he underwent to spread Krsna con· sciousness. I learnt that we, should readily accept difficulties that the Lord sends our way. His punishments are a reward for us. For example, Krsna took away Srila Prabhupada's successful business, which helped Srila Prabhupada to dedicate himself fully to the propagation of Krsna consciousness. We should Pray to the lord, "Oh Lord! If I am a sinner then kindly punish me and purify me so that I can worship and serve you with a pure heart. I don't want to be a sinner: I want to be your unalloyed devotee."
Then whatever 'Purification comes in our way we should accept it as blessings of the lord
(Kamlesh Mulchandani, Ulhasnagar)