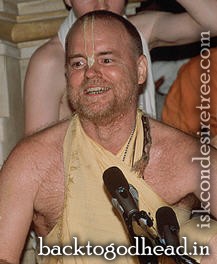 Aindra Dasa (Edward Franklin Striker) was born in Arlington, Virginia, in 1953. He was a disciple of His Divine Grace A. C. Bhaktivedanta Swami Prabhupada and became known not only in India but throughout the world for his dedication to kirtana. He passed away at ISKCON's Krishna-Balarama Mandir in Vrindavan on July 17, 2010.
He met devotees of Krishna in 1973, and was initiated by Srila Prabhupada a few months later in the Washington, D.C., ISKCON temple. He lived as a brahmacari, mainly in India, until his sudden departure.
Although he was known for his expertise in deity worship and his enthusiasm for his spiritual practices, his renown came from establishing and carrying out the now famous 24-Hour-Kirtan Mandali at the Krishna-Balarama Mandir, a program conceived by Srila Prabhupada himself. Along the way, Aindra's name became synonymous with deep, soulful chanting, as he released numerous CDs that were distributed around the world. Gradually, he became something of an icon because of his melodious singing. Connoisseurs, especially, marveled at his unique and captivating style. Aspiring kirtaniyas and admirers traveled to India from every continent to chant with him and experience kirtana in his presence. He will be greatly missed.