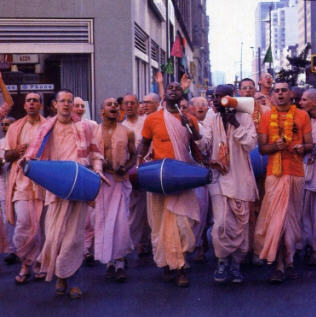 Hare Krsna Hare Krsna Krsna Krsna Hare Hare
Hare Rama Hare Rama Rama Rama Hare Hare
In Sanskrit, man means "mind" and tra means "freeing." So a mantrais a combination of transcendental, spiritual sounds that frees our minds from the anxieties of life in the material world.
Ancient India's Vedic literatures single out one mantra as the maha (supreme) mantra. The Kali-santarana Upanisad explains, "These sixteen words Hare Krsna, Hare Krsna, Krsna Krsna, Hare Hare/ Hare Rama, Hare Rama, Rama Rama, Hare Hare are especially meant for counteracting the ill effects of the present age of quarrel and anxiety."
The Narada-pancaratra adds, "All mantras and all processes for self-realization are compressed into the Hare Krsna maha-mantra." Five centuries ago, while spreading the maha-mantra throughout the Indian subcontinent, Sri Caitanya Mahaprabhu prayed, "O Supreme Personality of Godhead, in Your holy name You have invested all Your transcendental energies."
The name Krsna means "the all-attractive one," the name Rama means "the all-pleasing one," and the name Hare is an address to the Lord's devotional energy. So the maha-mantra means, "O all-attractive, all-pleasing Lord, O energy of the Lord, please engage me in Your devotional service." Chant the Hare Krsna maha-mantra, and your life will be sublime.