The worldwide activities of the International Society for Krishna Consciousness (ISKCON)
World News
North America
Houston mayor Bob Lanier proclaimed Lord Ramacandra's appearance day Hare Krishna Cultural Center Day. A thousand people attended a festival held that day, April 9, at the Center, ISKCON's six-acre project known as Hare Krishna Dhama.
Krsna conscious television is on the air in Houston. The first shows introduced viewers to vegetarianism, the lives of devotees, and the chanting of the holy names.
Devotees from the San Diego and Laguna Beach temples set up six booths at San Diego's twenty-fifth Earth Day celebrations. Other Hare Krsna centers in various parts of the world also spread the message that the earth belongs to Lord Krsna.
A thirty-minute video on Srimad-Bhagavatam aired in April on public-access television in Ft. Collins, Colorado. Potential viewers: 100,000.
Twenty-four hours of nonstop Hare Krsna chanting filled a hall provided by Toronto's Bengali club last April. More than eight hundred people took part in the program, organized by ISKCON life member Raja Sarangi.
India
Deities of Radha-Gopinatha have been installed in a new temple on ISKCON's land in Bhubaneswar, Orissa. The temple joins the already existing temple for Krsna-Balarama and Lord Jagannatha.
Devotees in Surat, Gujarat, are building a new 36-room guest house and restaurant adjacent to their temple. Target for completion: November.
Europe
The future of Hare Krishna Food for Life in Armenia is uncertain because of persecution of the devotees there. Before the attack last April on the Hare Krsna temple in Yerevan (covered in the previous issue of BTG), devotees had been passing out prasadam to a thousand people a day.
Channel 111 of Croatian radio broadcast a five-part series on Vaisnava music. The first one-hour show featured recordings by Srila Prabhupada. The other shows presented works of ISKCON musicians and discussions with ISKCON leader Sacinandana Swami on the history of Vaisnava music.
ISKCON's location in Oslo, Norway, has shifted to an aristocratic house purchased in the center of the city. Devotees in Oslo also plan to expand their restaurant, which lies directly across from one of the biggest subway stations in Oslo.
Australia
The secretary general of the United Nations received a flower garland and a copy of Bhagavad-gita As It Is last April in Sydney. The secretary general, His Excellency Dr. Boutros Boutros Ghali, received the gifts at a conference on Global and Cultural Diversity.
Southeast Asia
The prime minister of Singapore attended a performance of the Ranganiketan Dance Troupe, organized by ISKCON leader Bhaktisvarupa Damodara Swami. The troupe, from the remote northeast Indian state of Manipur, performs songs and dances in glorification of Lord Krsna.
South America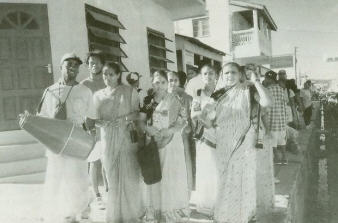 Delegates to the Second National Congress for the Environment, held in Quito, Ecuador, heard Krsna devotees speak of spiritual compassion toward all species. Devotees proposed a God-centered society as the solution to environmental problems.
The Caribbean
The island of St. Lucia was blessed in May with Krsna consciousness for the first time. Devotees chanted Hare Krsna on the streets of Vieux-Forte and Soufriere. They also met with the minister of education and culture and discussed opening a center in St. Lucia in 1996.
Commonwealth of Independent States
Devotees have acquired land for new temples in Kishinev, Moldova, and three Ukranian cities Lugansk, Lvov, and Nikolayev. In Nikolayev, materials are being donated, and work has already begun. It is all being done by local devotees.
Padayatra News
Padayatra America
September 17 marks the thirtieth anniversary of Srila Prabhupada's arrival in America. So from Commonwealth Pier in Boston, where Srila Prabhupada first landed, Padayatra America will begin a walking tour of the U.S. The devotees will first walk to New York City and from there travel by car to hold walking festivals in other American cities. The festivals will be part of the Srila Prabhupada Centennial, in 1996.
A Padayatra success story: When the members of Padayatra America traveled through Nicaragua last year, they met two men who had been reading Prabhupada's books for eight years but had never before met devotees. By speaking with the devotees, the men became inspired to start a temple. When the Padayatra returned to Nicaragua this year, devotees spoke on Bhagavad-gita at the temple the men have opened.
Padayatra Europe
Last May fifteen devotees from England ferried to Portugal, where they walked from Porto, on the coast, to Lisbon. During the three-week walk devotees passed out 1,450 Back to Godhead magazines, 25,000 leaflets, and 9,000 packets of popcornprasadam.
For more information about Padayatra, contact:
Padayatra America
1030 Grand Avenue
Pacific Beach, San Diego, CA 92109
Phone: (619) 483-2500
Padayatra England and Europe
Bhaktivedanta Manor, Letchmore Heath,
Watford, Herts. WD2 8EP, England.
Phone: +44 (92) 385-7244