The worldwide activities of the International Society for Krishna Consciousness (ISKCON)
World News
North America
Devotees traveled to New York City in June for two days of festivals a reunion at 26 Second Avenue, ISKCON's first temple, and a Rathayatra parade down Fifth Avenue with a festival in Washington Square Park.
ISKCON Denver will host a reunion July 22-23 for all devotees who have served at that temple or were present when Srila Prabhupada visited. The reunion marks the twentieth anniversary of Srila Prabhupada's visit to Denver.
Children from the Hare Krsna farm in Mississippi entered the New Orleans Mardi Gras parade with a float bearing a huge form of Lord Jagannatha. More than a million people attended the parade.
A Canadian Hare Krsna couple won first prize in a garden contest sponsored by a respected back-to-the-land magazine. Harrowsmith Country Life recognized Jaya Gaura Dasa and Atmarama Devi Dasi for the best large garden in Canada. In the garden, at the Saranagati farm in British Columbia, they grow thirty-six kinds of fruits, herbs, and vegetables.
India
Devotees from the Bombay Hare Krsna temple are bringing Krsna conscious programs to the hundreds of charitable centers in the Bombay area. The programs include prasadam for 200 to 300 people and a talk on Krsna consciousness.
The governor of Tamil Nadu praised Srila Prabhupada in an address on Republic Day. The governor, Dr. M. Channa Reddy, also praised the leaders of ISKCON around the world for the way they are managing the Society. He said, "I am proud to be, I am happy to be, a Life Member of this great organization."
Nama Hatta Dasa, a devotee from Italy, passed away in Vrndavana in April. Once a leading distributor of Srila Prabhupada's books, he had become ill and had come to Vrndavana for his last days.
Europe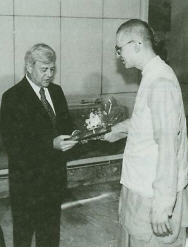 Slovenian President Milan Kuchan received a copy of Srila Prabhupada-lilamrta in the Slovenian language from Ljubljana temple president Avadhuta Dasa during the celebrations for Republic Day. Interest in Krsna consciousness is growing in Slovenia, part of former Yugoslavia. The Ljubljana temple has added fifty members in two years.
Commonwealth of Independent States
More than 100,000 victims of the Chechnya conflict have been fed by volunteers from Hare Krishna Food for Life over the past four years. Devotees run two programs near Chechnya, in Vladikavkaz and Nazran. They receive assistance from the Russian government.
Construction is more than two-thirds done on the new Hare Krsna temple in Kiev, Ukraine. Over the past two years, all the building materials have been donated, and the work has been done by full-time devotees.
New Zealand
A city councilor of Christchurch served the fifty-thousandth plate of prasadam, in March, at the city's Hare Krishna Food for Life center. The center recently received a $10,000 grant from the Community Trust.
Southeast Asia
Four Krsna conscious books in Vietnamese have been published by the Bhaktivedanta Book Trust: Sri Isopanisad; Easy Journey to Other Planets; Perfect Questions, Perfect Answers; and The Perfection of Yoga.
Srila Prabhupada's Centennial
To celebrate the Centennial, devotees in New Delhi have held more than 30 festivals in various local residential areas. Goal: 100 festivals by the end of 1996.
Three young people from India have begun an 88,000-kilometer bicycle trip around the world, their bicycles bearing plaques announcing the Srila Prabhupada Centennial. They plan to travel through eighty-five countries in two years.
Padayatra News
Padayatra America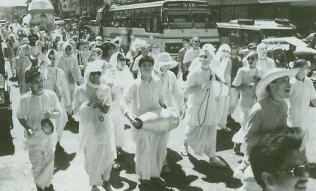 The North American Padayatra took a break at the end of last year after a four-year 5,800-mile walk in which the last stop was Panama. The padayatris spent the winter in San Diego and should be back on the road again somewhere in the U.S. by the time this issue of Back to Godhead goes to press.
Padayatra Philippines
More than a hundred devotees from Taiwan, Hong Kong, and the Philippines gathered in Lloilo, Philippines, in February for a week-long Padayatra. Padayatra organizers plan to have more walks this year and next, bringing Krsna consciousness to many places where people have never seen devotees.