The worldwide activities of the International Society for Krishna Consciousness (ISKCON)
World News
North America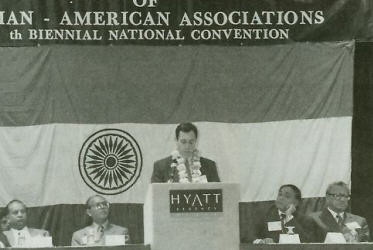 An ISKCON conference on education focused on how best to teach devotee children, both in ISKCON schools and through home schooling. The conference brought together teachers, students, parents, and administrators. It took place in October in Alachua, Florida.
The National Federation of Indian-American Associations (NFIA) has recognized ISKCON devotee Alfred Ford (Ambarisa Dasa) as a special "Friend of India." Ambarisa, the great-grandson of Henry Ford, was honored at the NFIA national convention last September in Chicago. In his keynote address, Ambarisa spoke on the value of combining American prosperity and India's Vedic heritage.
India
Delegates to the World Archeological Congress heard radically different ideas about human evolution from BTG associate editor Drutakarma Dasa. The Congress took place in early December in New Delhi. Drutakarma's paper, "Puranic Times and the Archeological Record," drew on the eight years of research that he and others put into their book Forbidden Archeology. In late November Drutakarma did an intensive U.S.A. speaking tour in conjunction with that book and its condensed version,The Hidden History of the Human Race.
The memorial to Srila Prabhupada in Sridham Mayapur, West Bengal, opened to the public at the end of February. The form of Srila Prabhupada was installed in the central chamber, and daily puja (offerings of respect) began.
The memorial is a puspa samadhi, a shrine with flowers that adorned Srila Prabhupada's body at the time of his passing away.
A school outside Surat, Gujarat, combines regular academic courses with Krsna conscious training. The government-accredited English-medium school, run by ISKCON members, now has 130 students, 40 boarding at the school and attending a full early-morning program of spiritual practices. The school teaches five levels, from nursery through third standard, and will add one standard a year until it reaches twelfth. For more information, see page 61.
United Kingdom
Devotees and guests celebrated the twenty-fifth anniversary, in October, of the London Hare Krsna temple. Located near Oxford Street, the temple is the oldest Vedic temple in London. Dr. L. M. Singhvi, the Indian High Commissioner, presided over the function. A thousand guests attended.
Ratnaranjini Devi Dasi, a disciple of Srila Prabhupada's, passed away in Scotland at the end of December. She was the wife of Glasgow temple president Balabhadra Dasa and the mother of two children. She faithfully served Lord Krsna in South Africa and the U.K. for many years. Even while enduring a brain tumor the last few years, she inspired many devotees by her firm determination to remember Lord Krsna.
Europe
Devotees have opened a center in downtown Rome. Named the Hare Krsna Forum, the center distributes Krsna-prasadam (food offered to Lord Krsna) and offers courses on Bhagavad-gita As It Is, Ayur Veda, hatha-yoga, and astrology.
A prominent political figure in Bosnia and Herzegovina has visited the ISKCON temple in Sarajevo. In November Mr. Stjepan Kljuic, leader of the Republican party, feasted on Krsna-prasadam at the temple and received a copy of Bhagavad-gita As It Is. Despite the danger and turmoil in former Yugoslavia, devotees in Sarajevo regularly pass out prasadam, sell Srila Prabhupada's books, and hold public programs.
South Africa
The Durban Rathayatra festival received nearly fifteen minutes of nationwide television coverage on "Good Morning, South Africa." The perfect December weather helped draw large crowds to the four-day festival. Guests of honor included Durban Mayor Mike Lipschitz and U. S. Consul General Pamela E. Bridgewater.
Thailand
Thailand's royal family received a set of Srila Prabhupada's Srimad-Bhagavatam in October. At the Grand Palace, home of the legendary Emerald Buddha, Her Royal Highness Princess Maha-chakri Sirindhorn formally accepted the books on behalf of His Majesty Bhumibol Rama IX.
Mauritius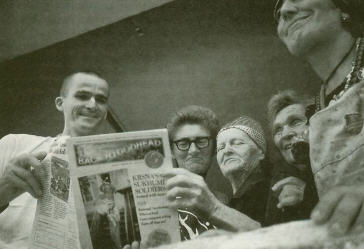 The Hare Krsna Students Newsletter goes out to two hundred schools and colleges in Mauritius.
Brazil
Ten thousand people attended ISKCON's Ratha-yatra in Porto Alegre, Brazil. The seven-hour festival was held in September in Redemption Park, in the heart of the city.
Srila Prabhupada's Centennial 1996
A thousand people joined two hundred ISKCON devotees on a Srila Prabhupada Centennial walk from Mayapur to Calcutta in December. The beats of one hundred mrdangas (drums) accompanied the chanting of the holy names.
To commemorate the Centennial, ISKCON Mayapur has released a book/tape set of Srila Prabhupada's Gitar-gan, his rendering of Bhagavad-gita into Bengali verse. Six tape cassettes give the verses, chanted by professional singers in Indian classical tunes. Along with the cassettes comes a hardbound edition of the text: the original Bengali for distribution in Bengal, or for elsewhere a transliteration in Roman characters and an English translation.
To celebrate the release, a program was held on February 5 at Kala Mandir, the largest and best auditorium in Calcutta. A Manipuri dance troupe performed. Shrikumar Banarjee, the music director for the Gitar-gan tapes, gave a sarod recital. Then, introduced by Bhakti Caru Swami, the artists who recorded the Gitar-gan performed it live.
ISKCON Vrndavana has started a program to give 108 Hindi sets of Srila Prabhupada's books to asramas, colleges, and public libraries in the greater Vrndavana area.
Each book in the 25-book set will contain a foil sticker stating, "Books donated by ISKCON (The International Society for Krishna Consciousness), Founder-Acarya His Divine Grace A.C. Bhaktivedanta Swami Prabhupada. Visit Krishna-Balaram Mandir in Vrndavana. Please chant Hare Krsna, Hare Krsna, Krsna Krsna, Hare Hare/ Hare Rama, Hare Rama, Rama Rama, Hare Hare to attain life's perfection." For information on contributing to this project, please see page 61.
Several teams of devotees from ISKCON Mayapur are holding programs at schools all over Bengal to acquaint students with the life and teachings of Srila Prabhupada. The programs include talks, quizzes, awards, and distribution of prasadam.
Padayatra News
Padayatra India
Padayatra India celebrated its tenth anniversary in September, when the party entered the holy town of Pandharpur, Maharashtra. The party was received by Mr. Suhakar Paricharak, a member of the legislative assembly, and Mr. Lakshminarayan Bhattad, the mayor, who garlanded the Padayatra Deities and all the Padayatra devotees. Padayatra India is now on its fourth tour of the country and has covered 45,000 kilometers. The devotees plan to stay on the road at least through 1996. ISKCON Television (ITV) has released a ninety-minute video on Padayatras around the world. To order, see page 60.
For more information about Padayatra, contact:
Padayatra Worldwide
62, Sant Nagar, New Delhi 110 065, India
Phone: +91 (011) 646-9633; fax: +91 (011) 647-0742
Padayatra England and Europe
Bhaktivedanta Manor, Letchmore Heath,
Watford, Herts. WD2 8EP, England.
Phone: +44 (92) 385-7244