The worldwide activities of the International Society for Krishna Consciousness (ISKCON)
World News
North America
A millionaire's boat stall has become a shrine to Lord Krsna. The boat stall, once owned by Lawrence ("body by") Fisher, was part of Fisher's waterfront mansion in Detroit. The mansion now serves as ISKCON's Detroit temple and cultural center. The presiding Deity at the boat-stall-turned-shrine is Lord Krsna's form as Sri-nathaji. Attendance for the opening of the shrine: three thousand people.
A Rathayatra cart that sets up in less than an hour has been designed and built by Canadian devotee Abhaya Carana Dasa. The transportable cart weighs 4,000 pounds, stands 37 feet high, and has wheels 6 feet across. Abhaya Carana hopes the cart will inspire more and more temples to bring the Rathayatra festival to their city. Interested devotees can reach him through ISKCON's temple in Montreal.
The ISKCON temple in Laguna Beach, California, was unharmed during the October fires there that burned hundreds of homes and thousands of acres of land.
Europe
Thousands of vacationers in Italy came forward to pull the ropes of Lord Jagannatha's cart at the Rathayatra parade this past summer. The parade was held in Viareggio, in the heart of the Italian Riviera. At the festival site, devotees sold three hundred books and passed out two thousand plates of prasadam.
Poland's National Museum put on a cultural exhibit in October, "The Touch of Govinda." The two-day exhibit, organized by local ISKCON devotees, included chanting, Bharat Natyam dances, a Vedic fire sacrifice, and lectures on yoga and reincarnation. About four hundred people attended.
Devotees in Paris observed Janmastami, Lord Krsna's appearance day, by celebrating the twentieth year since Srila Prabhupada installed the Paris Deities of Krsna, Sri Sri Radha-Parisisvara. A week before Janmastami, the devotees held the first Paris Rathayatra since 1982.
India
ISKCON Calcutta is constructing a five-story building at 3 Albert Road, behind the present ISKCON temple. The building will provide offices, guest-rooms, living facilities, kitchens, and rooms for servingprasadam.The building is scheduled to be finished by June.
The chief minister of the south Indian state of Karnataka talked with ISKCON devotees about their plans for a farm and retreat in the Karnataka hills. The chief minister , Sri Veerappa Moily, met the devotees during their Rathayatra festival in Kollur. They also presented him with a copy of the Bhaktivedanta Books Trust's Narada-Bhakti-Sutra.
South America
The president of Colombia recently received Srila Prabhupada's Science of Self-Realization from Dhrta Vrata Dasa, one of Srila Prabhupada's disciples.
Mauritius
More than eight thousand people attended the Janmastami festival at the Hare Krsna farm outside Bon Accueil. An equally large crowd showed up at the ISKCON center in town. Devotees at the farm offered Lord Krsna 250 preparations in honor of His appearance.
Malaysia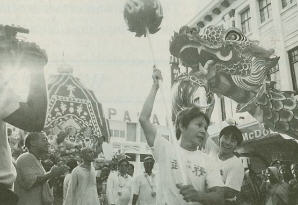 A Chinese dragon unexpectedly appeared at ISKCON's Jagannatha Chariot Festival in July in the northern city of Ipoh. After bowing in front of Lord Jagannatha, the dragon danced excitedly for thirty minutes for the pleasure of the Lord and the crowd. In August, the festival moved on to Teluk Intan and Seramban. (The dragon troupe stayed behind.)
Padayatra News
Padayatra India
The Indian Padayatra has passed through tens of thousands of towns and villages on its 35,000 km journey. It is headed by Jaya Vijaya Dasa, who has been on the road nonstop since 1985. Last June, in the state of Orissa, the party began its third trip around India. The Indian padayatris plan to log 50,000 kms by 1996.
Padayatra Europe
A team of devotees from Bhaktivedanta Manor, outside London, brought Padayatra to London, rural England, and several other countries last year. Last year they walked, chanted, and held programs in Sweden, Germany, Luxemburg, Estonia, Latvia, Lithuania, and Russia.
Another Padayatra is working its way from England to Moscow. After traveling through France, Spain, and Italy, in August the devotees began walking through Greece.
Padayatra America
Begun in 1989, the American Padayatra has traveled 2,700 kms. Last year the devotees completed their walk through Central America. They are now beginning a South American tour.
Padayatra Canada
Last summer devotees held a ten-day Padayatra in the greater Toronto area. They called it "The 108 km Peace Walk." From twenty-five to seventy people took part daily.
For more information about Padayatra, contact:
Padayatra Worldwide
62, Sant Nagar, New Delhi 110 065, India.
Phone: +91 (11) 642-1736. Fax: +91 (11) 647-0742
Padayatra America
1111 Grand Ave., San Diego, CA 92109.
Phone: +1 (619) 273-7262.
Padayatra Europe
Bhaktivedanta Manor, Lecthmore Heath, Watford, Herts. WD2 8EP, England.
Phone: +44 (92) 385-7244