The worldwide activities of the International Society for Krishna Consciousness (ISKCON)
World News
North America
Hare Krishna Food For Life in Denver has started a newsletter entitled Our Newsletter. It reports on Hare Krishna Food For Life around the world, carries classified ads and announcements, and features tasty recipes. For a copy, write to Our Newsletter, P.O. Box 200535, Denver, Colorado 80222.
Denver devotee Rohini Suta Dasa is fully certified by the Colorado Division of Disaster Emergency Services and is a member of the Salvation Army Emergency Disaster Team and COVAD, Colorado Voluntary Organization Active in Disaster. He has equipped a walk-in van with commercial-band radio and an electronic telephone-paging system, making him ready to provide Hare Krishna Food For Life to victims of floods, fires, tornados, toxic spills, industrial explosions, and extreme snow conditions. He also plans to supply Food For Life to relief workers at emergency sites.
The Houston Chronicle ran a major story on the Houston temple in February. Photographs of the temple interior, the Deities, and devotees performing kirtana and preparing prasadam filled three quarters of the front page of the religion section. The article accurately presented the philosophy of Krsna consciousness.
Professor Burke Rochford will be traveling to temples throughout ISKCON this year interviewing devotees for a book he's writing on the role of children's education in the future of the Krsna consciousness movement. In 1985 he published a book entitled Hare Krishna in America.
"While I consider this research significant," Professor Rochford said, "ultimately nothing is more important than the welfare of ISKCON's young people. This will remain in the forefront of my mind throughout my research efforts."
Soviet Union
Devotees in Moscow will be starting their own gurukula soon. Sri Rama Dasa of the Board of Education will work with devotees there to design agurukula system suited to their needs. Bhava Dasa, headmaster of the New Zealand gurukula, will spend a few months in the Soviet Union this summer training teachers.
Kirtiraja Dasa wrote in his annual report to the GBC that the Soviet Union now has about five hundred grand-disciples of Srila Prabhupada and ten thousand serious practitioners of Krsna consiousness. Kirtiraja is the governing body commissioner for the Soviet Union and Eastern Europe.
Moscow devotees are renovating the building they're leasing for use as a temple. It has seven hundred square meters of floor space and is the home of uninstalled Deities of Sri Sri Gaura-Nitai, donated by Radhapada Dasa of Calcutta. Up to seventy-five devotees will live in the building when the renovation is complete.
India
Ten thousand guests attended the opening of ISKCON's Krsna-Balarama Mandir in Bhubaneswar, Orissa, on January 28. Srila Prabhupada had laid the cornerstone for the temple in 1977. His Excellency Rabi Ray, honorable speaker of the Indian parliament, was chief guest at the opening ceremonies for the four-day festival.
The temple is located in a fast-developing area of Bhubaneswar. Srila Prabhupada had said that it would become one of ISKCON's major centers.
The New Delhi ISKCON center has received permission from city authorities to build a large temple complex on a site near the famous Bahai center. A prominent architect has drawn plans, and the Hinduja Foundation, a charitable trust of one of India's wealthiest families, has pledged major financial support.
Africa
Hare Krishna Food For Life has expanded its services to primary health care in Kisimu, Kenya. Besides feeding three hundred children and elderly persons every day, Vidura Dasa, an Irish devotee who runs the program, teaches hygiene and provides basic treatment for such ailments as measles and parasites. The local Indian community provides full financial support for the program.
Philippines
Devotees danced and chanted at the annual Dinagyang festival in Iloilo in January. "Dinagyang" in the Ilonggo dialect means to dance ecstatically and make loud noises. As the predominantly Catholic population of Iloilo took to the streets to dance in honor of Santo Nino, their patron saint, and ethnic tribes paraded in native costumes, ISKCON devotees chanted and served prasadam in two booths set up in the city plaza.
Mayapur-Vrndavana News
Here's news from the two places most sacred to Hare Krsna devotees: Mayapur (90 miles north of Calcutta) and Vrndavana (90 miles south of New Delhi).
Mayapur
Constant Chanting
Round-the-clock chanting of the Hare Krsna mantra now sanctifies the atmosphere at ISKCON's Mayapur project. Devotees chanting in shifts keep the vibration going twenty-four hours a day.
Foundations for New Buildings
If all goes as planned, the foundations for six new buildings should be in place before June, when the monsoon rains begin: a new residence for unmarried students, several new housing complexes for families, a building for book publishing, and a new guesthouse.
Congregational Festival
More than a thousand devotees from all over Bengal, Assam, and Orissa gathered March 28 and 29 for the annual Nama Ha a Festival, a meeting of village-based ISKCON congregations.
Four Gopis Still to Come
The four more gopi associates of Krsna to be installed in the Mayapur temple are still being carved. They are scheduled to join Sri Sri Radha-Madhava and the four gopis already on the altar sometime after August.
Spiritual Food Distribution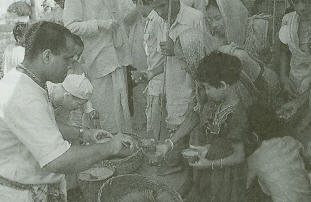 Prasadam is flowing at Mayapur. Pilgrims to ISKCON Mayapur have several ways to get prasadam, food first offered to Lord Krsna.
For five rupees (about thirty cents), pilgrims can sit for a full prasadam lunch. Every week up to seven thousand people, mostly from Indian villages, take advantage of the opportunity.
For somewhat more fifteen rupees pilgrims coming to Mayapur in bus tours from Calcutta feast on a lunch of fifteen to twenty items. Pilgrims served: about three thousand a week.
And about a hundred people a day offer twenty-five rupees for Lord Krsna's extra-opulent meal, raja bhoga.
Apart from all this, on Saturdays, Sundays, and holidays every pilgrim who passes through the ISKCON Mayapur gate receives a free cupful of the tasty rice-and-bean preparation known as kicchari.
Vrndavana
Samadhi
Work on Srila Prabhupada's samadhi, the memorial where his body is buried, is still going slow. The holdup, still, is the carved marble to ornament the structure.
The marble companies are losing the craftsmen who design the carvings, says Kadamba Kanana Dasa, ISKCON's president in Vrndavana. "They're getting old and dying, and the new generation's not into it. So our previous contractors can't supply what we need anymore.
"We're negotiating with new suppliers," he says, "but it's difficult." Meanwhile, for some of the work, devotees are looking into alternatives to carved marble.
New Irrigation System
A new irrigation system will supply water for crops on ISKCON's agricultural land in Vrndavana, thanks to a donation of eighty thousand rupees by Mr. Prakash Soni of Kisumu, Kenya. Mr. Soni will personally take part in arranging for the tanks, electric pumps, and other components to be installed.
Later this year, devotees intend to experiment with pumps driven by bullock power.
Veteran Book Distributor Passes Away
Buddhimanta Dasa, a pioneer in distributing Srila Prabhupada's books, passed away in Vrndavana on February 13. He was thirty-eight years old.
In the 1970's in San Francisco, Buddhimanta had been one of Srila Prabhupada's first disciples to try approaching people to ask a donation and give out a Krsna conscious book. His efforts succeeded, and soon he was distributing large numbers of books every day.
After several years dedicated to this service, Buddhimanta strayed from Krsna consciousness. He seemed to forget about Krsna and become ensnared in maya, Krsna's material energy.
But along with the illusion of enjoyment, maya also gave Buddhimanta a brain tumor. So as Buddhimanta saw his life coming to a close, he returned to Vrndavana to spend the last year of his life. He passed away in Krsna consciousness, surrounded by devotees chanting the holy name of Krsna.
Padayatra News
Padayatra India
In April the Padayatra left Trivandrum, on the southwest coast of India, and traveled north to Guruvayor, in Kerala, where the worship of the famous Deity of Lord Sri Krsna is said to have been regularized by the saint Sankaracarya.
In June the party will be in the state of Karnataka, in the area of Udupi, headquarters of the thirteenth-century scholar and devotee Madhvacarya, from whom the present-day Hare Krsna movement descends.
From Udupi the Padayatra will travel through the tiny state of Goa, best known as a tourist resort, into the state of Maharashtra. There they will visit Pandharpur, site of the temple of the four-armed Visnu Deity Viththala, worshiped by Tukarama, a Maharashtrian disciple of Lord Caitanya Mahaprabhu.
Padayatra America
The American Padayatra has reached its goal Miami, Florida on a 1,500-mile walk that started in Boston. At least forty newspapers ran stories on the Padayatra along the way. What's next? Perhaps a journey through the American southwest.
Padayatra Europe
On May 1, Padayatra Europe resumes. The theme: "On the Road for Change." Putting on more than a dozen Hare Krsna festivals along the way, the Padayatra party will walk through Leeds, Manchester, Liverpool, Birmingham, and Leicester and finally reach London by July 14.
After England: Holland, Belgium, and France. In October the party will halt for the winter in New Mayapur, the Hare Krsna farm in southern France.
Elsewhere
Padayatras are planned for Malaysia (December), Australia (January 1), and Fiji (at the end of January).
For more information about Padayatra, write to:
International Padayatra
M-119 Greater Kailash 1, New Delhi 100 048, India
Phone: 641-3249 or 641-2058
Padayatra America
4969 Mills St., Apt. 10, La Mesa, CA 91941
Phone: (619) 461-2594
Padayatra Europe
Tribhuvanatha Dasa, Bhaktivedanta Manor, Letchmore Heath, Watford, Hertfordshire WD2 8EP, England
Phone: (09) 2385-7244