A look at the worldwide activities of the
International Society for Krishna Consciousness (ISKCON)
Amazon Preaching Expedition
Amazon State, Brazil Mrs. Tarcila Mendes, wife of the governor of the Amazon state, recently offered the devotees here use of a 100-ton, 85-foot touring boat for traveling up the Amazon to distributeprasadam, Srila Prabhupada's books, and Krsna's holy names. Twenty-one devotees left from the port of Manaus for a two-month, 1,000-mile cruise aboard the Piraiba.
Indradyumna Swami, who organized the cruise, met Mrs. Mendes while traveling and preaching in Brazil. "I'd heard that she visits our preaching center in Manaus regularly," he said. "So I thought to ask her for something special. When I told her of our desire to take Lord Caitanya's sankirtana deep into the Amazon jungle, she immediately liked the idea. I requested she find a boat so we could travel by river, and she responded two days later. She had discussed the matter with her husband and decided to let us use their own boat.
"The next day when she took me to the docks, I couldn't believe my eyes. It was a three-deck touring boat that sleeps twenty people. She had outfitted it with a month's supply of foodstuffs, a ton of grains forprasadam distribution, and a crew of six men; a captain, first lieutenant, engine man, plus three deckhands."
Each day the boat plies through the jungle region, anchoring offshore when a village is in sight. The devotees then board a small boat with a fifteen-horsepower engine and go ashore.
"In this area people don't often see visitors, so you can imagine how surprised they are when they see twenty blissful devotees approaching their village chanting Hare Krsna," Indradyumna Swami said.
Despite all the facilities, including gasoline furnished by the government, the trip is not without risk. Indradyumna Swami said, "The governess told me the Amazon jungle is one of the last frontiers and quite dangerous. We soon learned that a wild jungle is always a wild jungle, and a big river is a precarious place. The first day out the captain told us that if anyone fell overboard, he'd be devoured by piranhas within three minutes."
Indradyumna Swami also mentioned tropical storms, "unlimited" mosquitoes (some carrying yellow fever and malaria), snakes, and alligators. He said, "It's not like an adventure cruise at Disney World. The heat and the humidity in the jungle have already taken their toll, and we had to send one devotee back."
But to Indradyumna Swami and the other devotees, the satisfaction is worth all the austerities and risks they encounter. "We're hoping Srila Prabhupada is pleased," he said, "and we've already experienced that chanting, dancing, and taking prasadam is as popular in the Amazon jungle as it is everywhere else in the world."
New Temple Opens In Hong Kong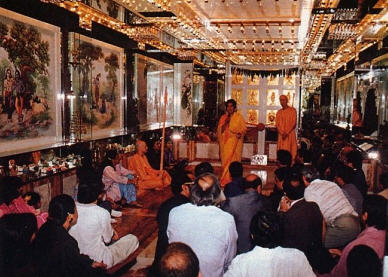 Kowloon, Hong Kong Devotees recently moved from the three out-of-the-way rented flats that have served as the temple here for the last ten years, and they have opened a new temple in the Tsim Sha Tsui business center with help from the local Indian community.
The project was made possible by the Indian Art Circle, a local group that helped raise funds through benefit concerts by famous Indian singers. The first concert, by Asha Bhosle, provided a down payment on a large flat in Tsim Sha Tsui, Hong Kong's trade and tourist center. A second concert, by Anup Jalota, helped finance the renovation plans, drawn by ISKCON's Minister of Architecture, Surabhirabhipalayantam Swami.
The grand opening, held on Govardhana-puja day (Oct. 23), included the installation of a murti (deity) of Srila Prabhupada and a ribbon-cutting ceremony by Mrs. Rani Hiranand, president of the Indian Arts Circle and chairperson for the fund-raising campaign. Tamala Krishna Goswami, ISKCON's Governing Body Commissioner for Hong Kong, and Giridhari Swami welcomed guests and dedicated the new temple.
Krsna consciousness was first introduced in Hong Kong when Srila Prabhupada visited here in the early 1970's. In 1981 the Bhagavad-gita As It Is was published in Chinese. Since then more than twenty titles have been printed, including Krsna, the Supreme Personality of Godhead and Srimad-Bhagavatam, Cantos One and Two. Twenty Chinese devotees go out daily in Vaisnava clothing to distribute Prabhupada's books door-to-door. To date one-and-a-half million books have been distributed.
News Briefs
Guyana President Desmond Hoyt met recently with Agrani Swami (ISKCON's Governing Body Commissioner for the Caribbean), Bala-Krsna dasa, and Radha-kunda dasi, an ISKCON gurukula (elementary school) student. The president received Back to Godhead magazines and some of Srila Prabhupada's books. He discussed philosophy with the devotees and told them he reads Bhagavad-gita.
* * *
The Bhaktivedanta Archives is working on a project to put all of Srila Prabhupada's books and transcriptions of his lectures on compact disk. Though the manuscripts total about seventy thousand pages, they will all fit on one CD-Rom disk. The disk will no doubt be a valuable research tool. The equipment required to read the disk now costs about $1,500. Though the project could be finished in less than a year, the Bhaktivedanta Archives must raise $50,000 to complete it. Contributions are appreciated.