World News
North America
Seventy-eight U. S. television stations will show Great Vegetarian Dishes, a video series based on Kurma Dasa's book of the same name. ITV (ISKCON Television) produced the series, which will be listed in TV Guide.

Chanting devotees will appear in the Hollywood movie Falling Down, staring three Oscar-winning actors. Director Joel Schumacher, who had philosophical discussions with devotees in the sixties, saw the devotees chanting on Venice Beach in Los Angeles on Lord Caitanya's appearance day and thought they would make a nice addition to the movie.

Twenty thousand people received prasadam, food first offered to Krsna, on Earth Day at Washington University in St. Louis. One of the festival's themes was vegetarian-ism. Govinda's, the devotees' restaurant near the campus, was the only restaurant invited to cater the event.

Another book of Prabhupada's writings has appeared: Renunciation Through Wisdom, an English translation of essays he wrote in Bengali in the 1940's and '50's. Due out in the fall: King Kulasekhara's Mukunda-mala-stotra.

ISKCON leaders in North America have formed a group to plan celebrations for 1996, marking one hundred years since Srila Prabhupada's appearance. Want to assist? Contact Ramiya Dasa at ISKCON Dallas.

The U. S. Supreme Court handed down its decision in the ISKCON v. Lee case. The Court ruled that devotees can pass out books in airports but can't ask for donations. Although the case concerned the New York metropolitan airport, the Court's decision is likely to affect airports throughout the country.

A festival to honor Srila Prabhupada drew more than six hundred devotees and friends to New Dvaraka, the Hare Krsna center in Los Angeles, on May 30. The festival, meant for "reuniting Srila Prabhupada's family," included the reopening of Prabhupada's newly restored garden, where he'd regularly spoken with devotees and guests during his extended visits to Los Angeles.
Europe
The New Gopal Restaurant has opened in Stockholm, on Sodermalm, a section of the city that attracts people searching for alternative lifestyles. The restaurant is the devotees' second one here. In another part of town, Govinda's restaurant serves about 250 meals a day.

Devotees in Copenhagen have opened a new Govinda's restaurant. The opening was attended by two TV stations, two weekly magazines, and a member of Parliament.
India
A large temple complex will go up on seven acres of prime land in Bangalore, the capital of Karnataka. The devotees plan to finish the project on the newly acquired land by 1996, in time to celebrate the centennial of Srila Prabhupada's appearance.

Work has begun on one of ISKCON's most ambitious projects New Delhi's Sri Sri Radha-Parthasarathi Temple and the Glory of India Vedic Cultural Center. The hilltop site for the project overlooks bustling Nehru Place and adjoins the lotus-shaped Bahai center, a major tourist attraction.
Besides a grand temple, the complex will include a museum, a performing arts center, a Vedic studies center, a theme park, and a network of ponds, gardens, waterfalls, and wooded groves.

ISKCON life member Santosh Dey has given land to build a new center in Siliguri, in northern West Bengal. Matsya Avatara Dasa, from Italy, is designing the project, which will include a temple, park, guesthouse, school, and retirement home.

Each ISKCON temple can give exams for Bhakti Sastri degrees, which attest to devotional scholarship. Procedures recently set in place by ISKCON's Board of Examinations let temples design their own exams, following guidelines set by the Board. All devotees who follow ISKCON's four regulative principles and daily chant sixteen rounds of Hare Krsna qualify to take the exam.

ISKCON's Vrndavana temple has hooked up a fax machine. The number is +91 5664 82355.

ISKCON devotees in Jaipur, Rajasthan, are giving out eight hundred plates of prasadam every Thursday in front of the famous Govindaji temple.
Commonwealth of Independent States
Thousands of people in Moscow, Kiev, Riga, and St. Petersburg chanted and danced in ecstacy with the latest tour of ISKCON's Gauranga Bhajan Band.

Students at the main technical college in Russia are receiving prasadam. Fifteen hundred servings per day.

Two to three thousand people a day are mailing in paid orders for the Russian edition of Bhagavad-gita As It Is.

Half a million hardbound copies of The Nectar of Devotion just rolled off the press in Russian.

Easy Journey to Other Planets has been printed in Kirghiz, the language spoken in the state of Kirghizsthan, which borders China. The next language: Mongolian.
Australia and New Zealand
More than two hundred devotees flew in from Europe, America, Japan, India, and New Zealand to attend "Srila Prabhupada's Family Reunion," held in Melbourne in early June. The weekend featured enthusiastic chanting of Hare Krsna, a grand fire sacrifice, picnics, readings about Srila Prabhupada, films of his Australian tours, a gulabjamun-eating festival, memory sharing, and re-enactments of Srila Prabhupada's historic morning walks in Melbourne.
As devotees discussed the bond that unites them their relationship with Srila Prabhupada they patched up old wrongs, offered respects to deceased Godbrothers and Godsisters, and cried tears of joy in renewing old friendships.
Another reunion is planned for Easter, 1994.

Hare Krishna Food for Life has opened a new center in downtown Christchurch. The center offers free meals, cooking classes, professional counseling, and health advice from a devotee nurse who works with the department of health. Also part of the project: a reading room, a nursery school, and classes in yoga, meditation, and Bhagavad-gita.
Asia
New Agers are getting Krsna in Hong Kong. Rama Sarana Dasa and Sravaniya Devi Dasi have started the New Age Forum, a workshop of spirituality, personal growth, and holistic health. At the workshop, Rama Sarana, a successful art wholesaler, and Sravaniya, a yoga teacher well-known in Hong Kong and Taiwan, teach Bhagavad-gita and the chanting of Hare Krsna.
Mauritius
The largest Rathayatra ever in Mauritius took place at Grand Bay, the country's most popular resort. Mauritius is an island nation in the Indian Ocean. Prime Minister Annarood Jagernnauth allowed the festival to be shown for five minutes on national state-owned television.
Padayatra News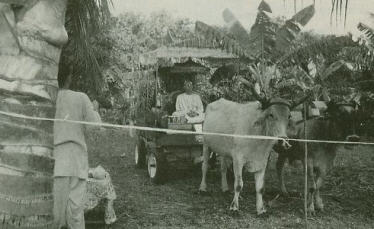 Padayatra India
Having walked from Jaipur, Rajasthan, to the Himalayan foothills, now the Padayatra party is entering the Himalayas. From Rishikesh, they'll ascend along the Ganges to Kedarnath and Badrinath. They'll also visit the sources of the Ganges (Gangotri) and the Yamuna (Yamunotri).
Padayatra America
The walk through Central America continues. Some time in September the devotees will finish their tour through El Salvador, Honduras, Nicaragua, Costa Rica, and Panama.
Padayatra Worldwide
Countries with summer or fall Padayatras this year: England, Spain, Italy, Switzerland, Germany, Mauritius, and Malaysia.
Confirmed for next year: New Zealand (January) and Hungary (summer).
"How to Start Your Own Padayatra," a detailed manual, is now available from the Padayatra Worldwide office in New Delhi. Cost: US $16, plus $4.00 for overseas postage.

For more information about Padayatra, write to:

Padayatra Worldwide
62, Sant Nagar (near Nehru Place), New Delhi 110 065 India
Phone and fax: +91 (11) 642-1763

Padayatra America
4969 Mills St., Apt. 10, La Mesa, CA 91941
Phone and fax: (619) 463-0168.

Padayatra Europe
Bhaktivedanta Manor, Lecthmore Heath, Watford, Hertfordshire WD2 8EP, England
Phone: +44 (92) 385-7244