A look at the worldwide activities of the
International Society for Krishna Consciousness (ISKCON)
Italians Gain Spiritual Perspective on Animal Rights
Florence, Italy – Animal-rights activists recently met at ISKCON's Villa Vrndavana rural community here to discuss the spiritual dimensions of the animal-rights movement. Participants included members of the Italian Vegetarian League, the Italian League for Animal Rights, and the Italian Antivivisection League, among others.
Somaka Swami and Gaura Krsna dasa, organizers of the conference, stressed that all living beings (not just humans) have an eternal soul and thus a right to life. The one-day conference featured an elaborate feast of krsna-prasadam (vegetarian food offered to Krsna) and a play illustrating the tragic ignorance of meat-eating.
On other fronts, ISKCON recently participated in an antivivisection demonstration in Basel, Switzerland, and was dubbed by a prominent newspaper in Atlanta, Georgia, as "the best organized vegetarian lobby" in the United States.
"Adopt a Cow" Expands from Pennsylvania Farm
Port Royal, Pennsylvania – ISKCON's Gita-nagari farm here, a self-sufficient community dedicated to God consciousness and cow protection, has received international publicity for its unique Adopt-a-Cow program.
An Associated Press story appeared in many newspapers in the United States, as well as in India and South Korea. "Hindus who find it impossible to keep a cow themselves are being offered a chance to aid their religion's most sacred animal through a farm's Adopt-a-Cow program that guarantees the animal's lifelong care," the AP story said.
The Adopt-a-Cow program was founded by a group of Hindu doctors and business men and has initially focused on the Hindu community in the United States. Letters to Hindu families across the country have been mailed, and advertisements have been placed in several Hindu publications.
The project is not restricted to the Hindu community, however. Gaura Hari dasa, Adopt-a-Cow coordinator at Gita-nagari, plans to expand advertising to publications serving vegetarians and animal-rights activists, stressing the practical contributions the cow makes to society. "The idea is to promote the principle of cow protection and to get people to think of a cow as a living person," Gaura Hari says. "We want people to think of cows as part of the family, not as dinner."
Guyana's President Receives ISKCON Books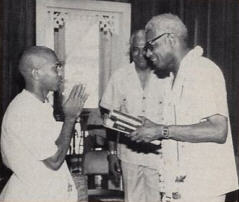 New Amsterdam, Guyana – Desmond Hoyte, the new president of Guyana, recently met Rupa Gosvami dasa and received a garland and several ISKCON publications. The visit was arranged by Suraj Narian, a regional chairman in the government and a supporter of ISKCON projects such as the Hare Krishna Food for Life program, which has been feeding the hungry and homeless in Guyana.
Detroit Schools Host Devotee Cook
Detroit – Public school officials invited cooks from Govinda's Restaurant at the Bhaktivedanta Cultural Center here to assist in a six-month educational program on nutrition.
Mrs. Michael Thompson, the superintendent of health education, asked Mukhya-devi dasi to demonstrate vegetarian cooking to four classes kindergarten through third grade. After each class the students enjoyed the special lunch.
Mrs. Thompson also requested Mukhya dasi to conduct a workshop for educators from thirty-nine public schools in Detroit.
"Food for Life" In the Philippines
Cebu, Philippines – The Hare Krishna Food for Life program here now serves between five hundred and a thousand meals daily to needy families and children in public places, schools, and orphanages, reported Gunamala-devi dasi, the program director. The program offers porridge, rice, and mung bean soup.
ISKCON Restaurant Named "Best of Dallas"
Kalachandji's, the Hare Krsna movement's restaurant in Dallas, placed first and second in two categories of a "Best of Dallas" contest recently. The Dallas Observer awarded the restaurant first place in the category of "unique dining experiences" and second place in "natural foods/ vegetarian restaurants." The Observer said, "The service is cordial, and the waiters (usually attired in all their saffron-robed, pony-tailed splendor) smile more than at just about any restaurant in town." Candy Buckley, selected as Dallas's best actress, chose Kalachandji's as the setting for her award photo. She posed with Ramasraddha dasa and Chota Haridasa dasa.
New Films Document Lord Caitanya's Life
Mayapur, West Bengal – Lord Caitanya Mahaprabhu: The Golden Avatar, a movie on the life of Lord Caitanya, premiered here in March during the celebration of the five-hundredth anniversary of Lord Caitanya's appearance. ISKCON members from around the world, as well as crowds of Indian pilgrims, viewed the film, which is based on Sri Caitanya-caritamrta, a sixteenth-century biography of Lord Caitanya. A seventeen-volume English translation of the Caitanya-caritamrta by His Divine Grace A.C. Bhaktivedanta Swami Prabhupada, the founder and spiritual master of the Hare Krsna movement, was published in 1975 by the Bhaktivedanta Book Trust.
Yadubara dasa, who along with his wife, Visakha-devi dasi, directs ISKCON Cinema, shot many scenes for the film in the nearby village of Maharan, where three thousand enthusiastic villagers are members of ISKCON. Yadubara, who reached the village by boat, was greeted with flower garlands, the chanting of the Hare Krsna mantra, and a sumptuous Bengali feast of krsna-prasadam (vegetarian food offered to Lord Krsna). For the next two days the villagers, dressed in Indian robes and playing traditional musical instruments, participated in the filming. Life in Maharan has changed little in the five centuries since Lord Caitanya Himself led the people of this area of Bengal in the congregational chanting of the holy names of God.
Devotees from the Hare Krsna center in Bangladesh spent several days in a recording studio taping additional music for the production. Yadubara, who has been at work on this film for the past two years in the United States, has made many other films for the Krsna consciousness movement, including documentaries such as Your Ever Well-Wisher, a biography of Srila Prabhupada, and The World of Hare Krishna, a portrait of the Hare Krsna people.
Another documentary on Lord Caitanya, commissioned by the Indian government's Information and Broadcasting Ministry, is being produced by Ravi Mehera, a longtime friend of ISKCON and an accomplished filmmaker. Mehera is also closely following Srila Prabhupada's translation of Sri Caitanya-caritamrta. "We want to present Lord Caitanya properly," he said. "He should not be seen as an ordinary man or even a great saint. Lord Caitanya should be seen as Lord Krsna, or God Himself."
Mehera's film was inaugurated at the Krishna-Balaram temple in Vrndavana, India, one of the major temples of the International Society for Krishna Consciousness. Mehera invited more than fifty devotee priests, all lifelong followers of Lord Caitanya residing in holy Vrndavana, to attend the event. Guests heard readings from passages in the Caitanya-caritamrta about transcendental dramas.
The theme of the new film is Lord Caitanya's own prediction that the chanting of Hare Krsna would spread to every corner of the world. After tracing Lord Caitanya's life story, the film shows Srila Prabhupada chanting with his Western disciples, indicating the fulfillment of Lord Caitanya's prediction.