A look at the worldwide activities of the
International Society for Krishna Consciousness (ISKCON)
ISKCON Food for Life Program Active in Major Cities
Miami The ISKCON Food for Life program is in full swing here and in other cities across the United States and abroad. Making use of surplus food from the U.S. Department of Agriculture as well as other donated food, devotees cook simple dishes, offer them to Lord Krsna, and then take the delicious prasadam out to parks and other public places for free distribution.
In Miami, seven days a week now for one year, Ananda-sindhu dasa has been singlehandedly cooking prasadam, transporting it to Bayfront Park, and distributing it to about eighty people each day. (On Sundays twice that number partake.)
In Philadelphia, Visnor-aradhanam dasa and Candrika-devi dasi head up the program. Says Candrika, "We've had an overwhelmingly favorable response from both the government and the people. The government has provided huge quantities of free surplus foodstuffs, and the people we serve are so enthusiastic about prasadam that we're distributing every day of the week.
"When I began to search for an indoor location for the winter, many leading Philadelphians became familiar with the Food for Life program. Quite a few organizations and churches offered us the use of their facilities, including the Philadelphia Citywide Development Corporation."
In Paris, Hari-vilasa dasa runs a program that features not only free prasadam but also the chanting of Hare Krsna, diorama displays, and Krsna conscious literature in six languages. Attracted by the sound of the chanting, crowds of people in the Centre Pompidou a cultural center drawing eight million visitors a year gather within minutes to see the displays and receive free copies of Srila Prabhupada's books in French, English, Arabic, Spanish, Hungarian, and Armenian. Hari-vilasa, president of France's Spiritual Sky Scented Products, helped finance the printing of these books and personally distributes them. Meanwhile his wife, Parijata-devi dasi, distributes prasadam to hundreds of hungry Parisians and tourists.
"I want to show that the Hare Krsna movement is giving to the world," Hari-vilasa said. "Actually in the Vedic culture, every householder distributes prasadam according to his means."
New BBT Publications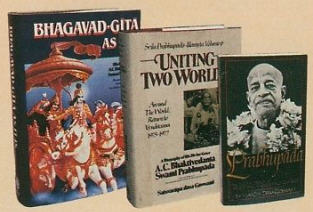 Los Angeles The Bhaktivedanta Book Trust (BBT) recently published a second edition of Srila Prabhupada's Bhagavad-gita As It Is (250,000 copies). Since 1972, when the Macmillan Company published the first unabridged edition, the book has been printed in over forty languages. Srila Prabhupada was pleased with the first edition, even though the inexperience of the new American disciples who assisted him in preparing the manuscript was evident. In the second edition the word-for-word Sanskrit-English equivalents are clearer and more precise. And in places the translations, though already correct, have been revised to come closer to the original Sanskrit and to Srila Prabhupada's original dictation.
Also new from the BBT is Uniting Two Worlds, the sixth and final volume of Srila Prabhupada's biography, Srila Prabhupada-lilamrta, by Satsvarupa dasa Goswami. In reviewing Uniting Two Worlds, Professor Shaligram Shukla of Georgetown University said, "It tells of his [Srila Prabhupada's] distribution of spiritual knowledge through his writings, of his struggle to establish the Krsna consciousness movement in his native country, India, and of his averting a potential schism among his followers. Through all these events he emerges an imaginative, resourceful teacher equipped with the deepest understanding of his tradition; and thus we see how this indomitable personality imparted stability and confidence to all who contacted him. . . . Read his story and you will be convinced that his teachings and his example shed a calm, gentle light on the face of troubled humanity."
Another new book is the condensation of the Srila Prabhupada-lilamrta, entitled Prabhupada (300,000) copies. The BBT will soon print translations of Prabhupada in Italian, Spanish, German, and Chinese.
ISKCON Initiates Tours to Unite East and West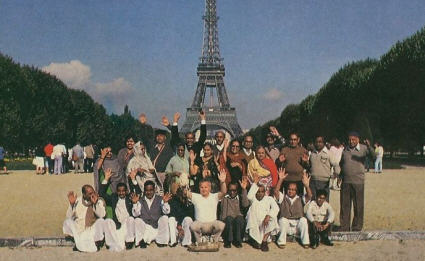 Vrndavana, India Twenty-five ISKCON life members from all over India toured Europe last fall as part of an intercultural program sponsored by the Vrndavana Cooperative Trust, a branch of ISKCON especially dedicated to East-West cultural exchange. Gunarnava dasa, a senior devotee in ISKCON with many years experience in India, explained his reasons for the tour: Srila Prabhupada was eager to see that life members who do so much to support our society be kept in tune with our activities around the world. After working in India for so many years, I felt that our life members there weren't getting enough opportunity to understand the scope of Srila Prabhupada's society. So I thought, 'Let me organize international tours. And let's begin with Europe.'"
With the assistance of travel agents in New Delhi and ISKCON devotees throughout Europe, Gunarnava carefully planned a three-week tour through Italy, Switzerland, Great Britain, the Netherlands, and France, including overnight accommodations at four- and five-star hotels and multi-course midday meals at ISKCON centers in each country. The cuisine was an important part of the tour, since, as devout followers of India's ancient Vedic culture, most of ISKCON's life members are lifelong vegetarians.
In a travel brochure printed for the tour by Japan Air Lines, Gunarnava explained, "In the midst of your visit to the Italian art treasures, the French chateaus and cathedrals, the English palaces and gardens, you will also find a new wave of spiritual awareness. Take darsana of exquisite Radha-Krsna Deities, relish delicious, vegetarian prasadam cooked in both Indian and Western styles, and enjoy the association of Vaisnava devotees."
The tour members met Gunarnava in Delhi and flew to Rome. Arriving at four in the morning, they were greeted at the airport by ISKCON devotees, who garlanded them with flowers. Later that day, after touring Rome, the life members rode in an air-conditioned bus to the ISKCON center on the outskirts of the city for a sumptuous feast of krsna-prasadam (food offered to Krsna).
The tour continued in this way visiting ISKCON centers as well as many traditional European landmarks. In fact, some of the ISKCON centers are themselves European landmarks. Villa Vrndavana, near Florence, is a renaissance palace once owned by political theorist Niccolo Machiavelli, and has now been transformed into a spiritual center for painting, sculpture, and the Vedic arts. And the Chateau d'Ermenonville, near Paris, was once the castle of French kings and the home of philosopher Jean Jacques Rousseau. It is now being restored by ISKCON devotees to serve as a museum of Vedic history.
"The members were very inspired," said Gunarnava. "They couldn't believe that ISKCON was so well-situated in Europe. They were wonder-struck at how the devotees were preaching very vigorously and spreading Vedic culture.
"Prabhupada very much wanted this cultural exchange program: those in India visiting our centers in America and Europe, and those in the West visiting our centers in India. Prabhupada wanted East and West to combine under the one flag of ISKCON.
"Srila Prabhupada traveled around the world many times," Gunarnava continued, "and his preaching created a new order of holy places. London, New York, Paris, Rome, and other great cities of the world have been blessed by his lotus feet and made into places of pilgrimage."
Upon returning to India, Gunarnava received enthusiatic letters of appreciation from all the members of this first tour. This year, beginning in April, he plans to lead similar tours, and he foresees taking ISKCON life members throughout both Europe and America.