A look at the worldwide activities of the
International Society for Krishna Consciousness (ISKCON)
Sita-Rama Installed Near London: 10,000 Attend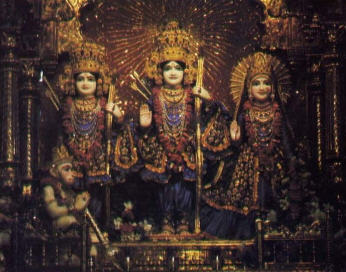 Hertfordshire, U.K.-Recently at the Bhaktivedanta Manor, the country asrama of the Krsna consciousness movement near London, devotees installed the Deity forms of Lord Ramacandra (Krsna's incarnation as a perfect king) and His consort, Srimati Sita-devi. The installation ceremonies were conducted by His Holiness Krsnadasa Swami and Srila Jayatirtha Maharaja, who oversees the movement's activities in Great Britain. More than ten thousand guests attended.
Said Krsnadasa Swami, a devotee from India who has lived in England since 1966: "This ceremony has fulfilled a wish I have cherished for many years. Indian people are especially eager to have the Deity of Lord Rama installed because from their childhood they've known Him as 'Maryadapurusottama Rama' the ideal example for human society. He acted as an ideal father, son, husband, king, brother, and master. That is why His kingdom, Ramarajya, is famous even today."
Four ISKCON life members Mr. Maganbhai Bhimjiyani, Mr. Rameshbhai Patel, Mr. L. Pagarani, and Mr. Kevalani donated all the expenses for acquiring the Deities from India, and thousands of other well-wishers donated the cost of the Deities' ornaments, garments, crowns, and other accouterments.
Highlights of the program included a bathing ceremony for the Deities, called abhiseka; a film about Lord Ramacandra's pastimes as told in the classic scripture Ramayana; a drama staged by ISKCON devotees; and a sumptuous feast of prasadam,sanctified vegetarian food.
Aussies Won Over by "Children of Krishna"
Melbourne About a third of all the people in Australia recently viewed a 12-minute documentary about the education of children in the Hare Krsna movement. "The Children of Krishna," which appeared on the Australian version of the 60 Minutes TV program, focused on the movement's elementary school in Murwillumbah, New South Wales. About five million people watched the show, which brought the station an unusually large amount of mail from viewers. According to station officials, 98.4% of the mail was positive, giving favorable comments about the show and the Hare Krsna school.
Book on Published in Thai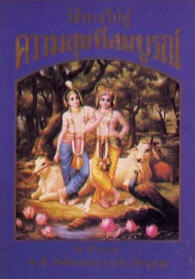 Bangkok, Thailand –The Bhaktivedanta Book Trust has announced the publication of a book translated from English Into the Thai language and describing ten of Lord Krsna's incarnations. Written by His Divine Grace A.C. Bhaktivedanta Swami, the book also includes two short essays: Krsna, the Reservoir of Pleasure and On Chanting Hare Krsna. The book was translated from English by Sammohini-devi dasi, a native of Thailand.