A look at the worldwide activities of the
International Society for Krishna Consciousness (ISKCON)
India's "Nightingale" Sings for Krsna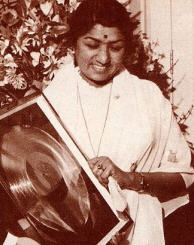 Lata Mangeshkar, the world's most prolific recording artist (with more than twenty thousand songs to her credit), recently went on a rare concert tour of North America.
Known as "the nightingale of India," the humble Miss Mangeshkar has won the Padma Bushan, India's highest national award, and so many "Filmfare" awards (her country's equivalent of the Oscar) that she's had to declare herself ineligible for more. Time magazine called her "the indisputable and indispensable queen of India's playback singers."
When she went on stage last January 30 at Los Angeles' Shrine Auditorium, Miss Mangeshkar told her audience, "I'm giving this concert as a benefit program for the International Society for Krishna Consciousness. The proceeds are going to a cultural theater they're building in Bombay." She then captivated her fans with a three-hour concert beginning with the Bhagavad-gita and going on to the popular songs that have made her India's most famous vocalist.
"I began singing at age five," she said after the concert. "My father taught me our classical music ragas from the Vedas. When I was a child, I learned to sing only for God." And why the benefit concert? "My whole family are members of the Hare Krsna society… When I sing for Lord Krsna; everything is complete."
Devotees Delight Indian Villagers
During the last few weeks the residents of over forty villages along the holy Yamuna and Ganges Rivers have been startled and delighted by an unusual sight: a lively group of ISKCON devotees riding into town in a bullock cart. Dressed in flowing saffron robes and loudly playing drums and small cymbals, the devotees quickly draw a crowd with their enthusiastic chanting of Hare Krsna and then liberally distribute free, sanctified food (prasada) and Krsna-conscious literature written in the local language.
Srila Prabhupada recently requested a few of his disciples to begin this ancient, Vedic method of sankirtana (spreading the glories of the Lord), and under the guidance of His Holiness Lokanatha Swami the program is meeting with great success in the simple villages of rural India.
Alice Coltrane: A New Album
Just arrived in the stores is a new release by Alice Coltrane; wife of the late master saxophonist John Coltrane. The current Warner LP, Radha-Krsna Nama Sankirtana ("singing the names of Radha and Krsna"), features Arjuna John Coltrane, Jr., on drums and Alice (Turiyasangitananda) on keyboards and harp. "The Hare Krsna mantra," she says about one cut, "is the Maha-mantra Maha: great of all the mantras… It is a liberating mantra because it contains three of the most powerful names of the Supreme."
Religion Professor Praises ISKCON
Is the International Society for Krishna Consciousness a pseudo-religious "cult" or a genuine religious culture? Here's what Dr. George Bond, Assistant Professor of Religion at Chicago's Northwestern University, said recently about ISKCON:
"The Krishna Society represents a Western outgrowth of a living religious movement in India which goes back over two thousand years. Since my field of study is Eastern religions, I have been interested to observe many of the Eastern religious movements which have arisen in the U.S. and to compare them with the beliefs and practices of the religions of Asia, If you make this comparison; you will find that in every respect the Krishna Society reflects the authentic teachings of Hinduism. Their religion centers around the ideas of one of the main Indian holy books, Bhagavad-gita, the book which Mahatma Gandhi read daily as his chief inspiration. They follow a peaceful philosophy stressing the unity of all beings and God's love for humanity. They have brought this religion, which is followed by millions of Indians, and established it in the West as an alternative and a complement to Western religions.
"Their books represent translations of some of the most important Hindu scriptures as well as commentaries upon Indian philosophy. These books exemplify the highest ideals of Indian thought. To quote but one opinion of these books, Dr. John L. Mish, head of the Oriental Division of the New York Public Library, has said, 'The Bhaktivedanta Book Trust editions of famous religious classics of India, with new translations and commentaries, are an important addition to our expanding knowledge of spiritual India.'
"The founder of the Krishna Society, A.C. Bhaktivedanta Swami, stands in the best tradition of Indian religion. Describing this man's writings, Professor J. Bruce Long of Cornell University has said, 'A.C. Bhaktivedanta has combined a healthy mixture of the devotion and aesthetic sensitivity of a believer, and the intellectual rigor of a textual scholar.' "