Delhi's Yamuna River to Be Revived with Help from London Vrindavan, UP: London is to help India revive Delhi's Yamuna River, once revered as one of the country's most sacred waterways but now regarded as toxic and lethal by environmentalists. While its waters are from pure Himalayan glaciers, by the time it reaches the capital Delhi the Yumana is a 'dead' river which passes millions of tons of chemical waste, sewage and industrial pollutants downstream to Agra.
Bhumi Project Encourages Hindus Worldwide to Go Green London, UK: The Bhumi Project, a new effort led by Gopal-lila Das, is attempting to bring together Hindu communities – including Vaishnavas and ISKCON devotees – for environmental action.
The project was born in early 2009, while Gopal-lila was working as a part-time intern at the Oxford Centre for Hindu Studies. The plan includes developing a worldwide network; partnering with major conservation projects; starting a Bhumi Awards to recognize good environmental practices; organizing academic conferences and online seminars to teach the Hindu perspective on the environment.
Millions Enter River Ganga during the Maha-Kumbha-mela : Once every 12 years, tens of millions of pilgrims stream to the small northern city of Allahabad from across India for the Maha Kumbh Mela, or Grand Pitcher Festival, at the point where the Ganges and Yamuna rivers meet with a third, mythical river.
During these two months more than 100 million people passed through the temporary city that covers an area larger than Athens on a wide sandy river bank. That would make it larger even than previous festivals.
Bhakti Bhavan Immerses New Devotee Women in Ashram Life Alachua, Florida: The upcoming "New Devotee Training Retreat" (March 16 – April 6, 2013) at the Bhakti Bhavan here promises to give new devotee women a solid basis in Krishna consciousness by immersing them in the kind of asrama experience that's rarely seen in ISKCON today. Seven women from across the US who are new to Krishna consciousness will reside and learn at the asrama, tucked away in a quiet, peaceful corner of ISKCON Alachua's 127-acre farm.
It was devised by Laksmi moni Dasi and Akuti Dasi, both long-time educators in ISKCON.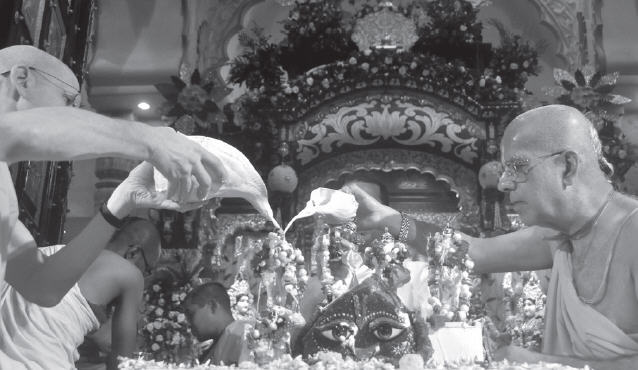 President of India Calls on ISKCON Pune, India: President Pranab Mukherjee inaugurated ISKCON's New Vedic Cultural Centre in Pune on February 24, 2013. Speaking on the occasion, Mukherjee deeply appreciated the contribution made by ISKCON and called upon the center to dedicate itself to the cause of humanity by spreading the message of peace, harmony, love and compassion.
ISKCON Juhu Celebrates Its 35th Anniversary: One of the most special festivals of the year at ISKCON luhu in Mumbai was celebrated on January 14, 2013, on the occasion of the 35th anniversary celebrations of Sri Sri Radha-Rasabihari temple. It was on this day in 1978 that the supporters and disciples of Srlla Prabhupada inaugurated this temple.
"Krishna Fest" Thrills Gujarat Ahmedabad, Gujarat: Indradyumna Swami's team of devotees organized the Krishna Fest, a major festival tour throughout Gujarat between January 12 and February 6. "We also take part in Woodstock Festival-the biggest open air festival in Europe, which draws over 750,000 people," says Nandini Dasi, one of the main members involved in the organization of the Festival of India in Poland and worldwide.
After Krishna Fest's success, Indradyumna Swami hopes to receive more invitations from other ISKCON communities in India. He has also already planned to return to Gujarat in 2014.